River park attracts crowds, critics
September 6, 2009 - 9:00 pm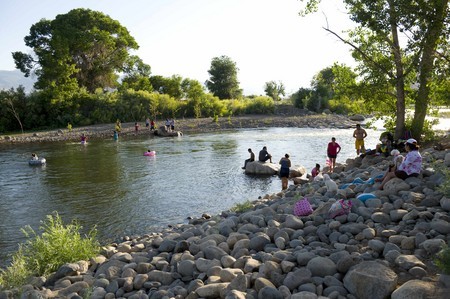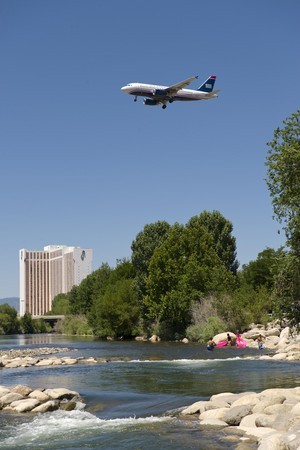 SPARKS
City officials in Sparks expected to attract tourism dollars and local residents eager for free recreation when they built a whitewater kayaking and tubing park along a stretch of Northern Nevada's Truckee River.
They didn't expect criticism to come pouring in from state and federal wildlife officials.
Bubbling up from the churning waters that flow from Lake Tahoe are worries that the new whitewater park will harm the threatened Lahontan cutthroat trout and other fish in a stretch of the river that had some of the last natural fish habitat within the city's limits.
Concerned federal officials say they're not likely to approve any more similar whitewater parks in Nevada. And some conservationists are warning against construction of the parks, which are growing in popularity across the country.
In Spokane, Wash., the city parks department has run into opposition from area environmentalists who fear a proposed whitewater park on the Spokane River will harm a spawning area for the wild redband trout.
"It's one of the free flowing stretches, and there are not a lot of them left," said Rachael Paschael Osborn, executive director of the Center for Environmental Law & Policy in Spokane.
American Whitewater, a North Carolina-based river conservation group, says any city planning to construct a whitewater park in a riverbed still in its natural condition should stop and relocate the park.
In Northern Nevada, critics say shaving off vegetation that covered the river banks along Truckee and cutting down cottonwood trees shading the chilly water have ruined the fishery.
"When they first identified this as the location for the next whitewater park, we were devastated because it was what we felt was some of the best habitat in Sparks," said Kim Tisdale, western regional fisheries supervisor for the Nevada Department of Wildlife.
Tisdale said the stretch of the natural river the length of five football fields once held lots of big fish. The river is now too wide, too warm and too shallow in places to support fish.
"The habitat is gone, and I don't think we are ever going to get it back," she said.
Bob Williams, U.S. Fish and Wildlife Service supervisor for Nevada, said he was surprised how many trees and other vegetation the city removed, but his agency only had jurisdiction over the river itself under the Clean Water Act.
"Now I think you may be seeing our worst fear, that the 1,000 feet of river and probably another 5,000 feet up and down will no longer support fish on a permanent basis, especially while people are there," Williams said.
On a recent morning, longtime fly fisherman Jerry Torvinen, 79, strolled along the riverbank. He believes fish adapt better than most people think.
"I think anything that provides for more recreation for people is good," said Torvinen of Reno.
Chris Cox and the three young children with him were among those who hopped on inner tubes to float through the whitewater park rather than join the hundreds of children who paid $25 each to swim at a nearby water amusement park.
"Affordability is a key thing for us," said Cox, of Sparks. "This is really nice."
The park has been extremely popular since it opened in June, said Stan Sherer, director of Sparks Parks and Recreation.
"There have been thousands of people a day using it," Sherer said. "If you go in the afternoon, there is no place to park."
City officials said they had to remove trees to improve access to the river and establish clear sight lines so parents could watch children in the rapids. Many have been replanted.
Pete Etchart, the city's deputy public works director, said he resents the criticism of the park.
"The Fish and Wildlife Service looks at only one issue: fish or fish habitat," he said. "We had to look at a variety of things: accessibility, public safety, the cost and land use issues."
Etchart said most of the trees that were removed were on the north side of the river where they did little to shade the water. New trees have been planted, especially on the south banks, which should provide significant shade within five years, he said.
So far, monthly water temperature readings have been within the historical range, said Helene Decker, a chemist with the Truckee Meadows Water Reclamation Facility.
"It's a great fishing spot with great accessibility, where before it was hard to get to the river," Etchart said.
He said the criticism is because wildlife officials are concerned about the possibility of more whitewater parks.
"This is more about the future than this park. It's not about our park," Etchart said.
Conservationists have a different take in Colorado, which has at least a half dozen whitewater parks.
Drew Peternell, director of Trout Unlimited's Colorado water project, said the biggest threat to fish across much of the arid West is diversion of water from streams for agriculture, industry and municipal growth. In his state, unlike most, he said builders of kayaking parks can obtain water rights to ensure adequate flows.
"Because these parks can serve the purpose of protecting water in the stream, we in general have been supportive of recreational water parks and the water rights available to them," Peternell said.
At least 18 whitewater parks operate in the United States, half of them in Colorado; and 11 more are either planned or under construction, according to the Web site for Ripboard Inc. of Lakewood, Colo.
American Whitewater reports similar numbers of whitewater parks.
Williams, the fish and wildlife agency supervisor in Nevada, said there's a difference between where whitewater parks are located, such as a popular nearby stretch of the Truckee in downtown Reno.
"It already had been channelized with concrete walls on both sides, and it was just upstream from a bridge," Williams said.
"But in Sparks they took a natural piece of river, as natural as you can get in the city," Williams said.