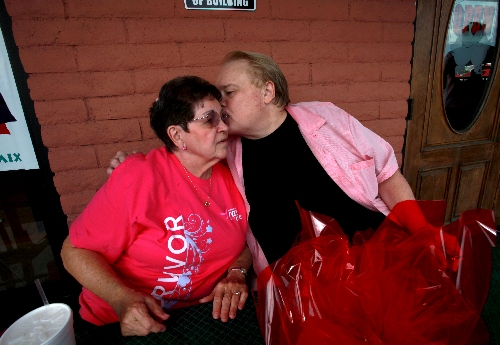 You could say the Las Vegas Review-Journal was "in the pink."
Thursday's special pink edition of the paper was a toast to good health and a way for Nevada's largest newspaper to raise awareness about the fight against breast cancer.
The paper teamed up with the Southern Nevada chapter of Susan G. Komen for the Cure to bring the lives of those who have been touched by the disease to the community. Stories featured patients undergoing treatment and the doctors who conduct essential research to keep them alive.
All of the day's proceeds, about $20,000, went to the foundation, said Dean White, director of marketing and promotions for the newspaper.
Local celebrities, including Las Vegas Mayor Oscar Goodman, comedian Louie Anderson and UNLV basketball coach Lon Kruger, and some of the newspaper's staff pounded the pavement to sell issues at coffee shops and restaurants.
"It was a really fun day for us," White said. "We got a lot accomplished in the fight against breast cancer."
An estimated one in eight women will be affected by the disease during their lifetimes, according to the American Cancer Society. In 2009, about 1,350 women were diagnosed with breast cancer in Nevada, and 330 of them died.
Stephanie Kirby, Komen executive director, said the bright pink paper brought much-needed attention to an issue that affects so many.
"We've done an insert for the past few years that goes out at the beginning of October," Kirby said. "It had so much wonderful information with wonderful content, but this is such a visual. The insert wasn't as visible. With this pink paper, you couldn't help but look at it."
In October 2009, the organization raised between $26,000 and $30,000. With the expected donations from the Review-Journal and other companies, the group will raise considerably more money than last year, Kirby added.
Donations will include proceeds from an event at Ricardo's Mexican Restaurant, where workers will celebrate the restaurant's 30th anniversary by attempting to make the world's largest margarita at 7,500 gallons. Their goal is to raise $100,000 for the foundation.
Contact Kristi Jourdan at kjourdan@reviewjournal.com or 702-383-0279.