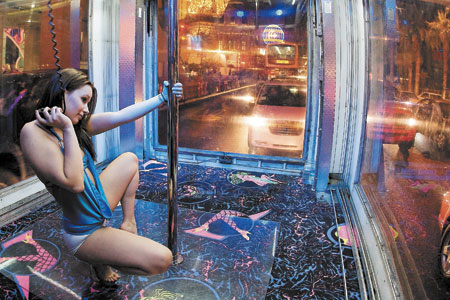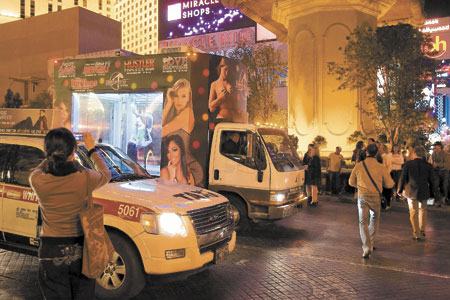 The young stripper wrapped herself around a chrome pole inside a giant Plexiglas box on the back of a rolling truck.
Heather "Passion" Matson, 21, beckoned drivers and pedestrians on the Strip with her skimpy outfit, come-hither smile and suggestive moves that included flipping upside down with legs spread.
Even under the Strip's chaotic neon, the lone pole dancer encased beneath a bright, stagy light drew wide-eyed stares late Tuesday night.
Couples stopped, pointed and smiled. Cameras flashed. Carloads of people gave her thumbs-up signs.
"It's interesting," Matson said about the reactions. "It's good to know people are still excited about our club … and the fantasy offered."
The all-nude clubs Déjà Vu Showgirls and Little Darlings began hauling dancers up and down Las Vegas Boulevard a couple weeks ago to lure patrons, whose numbers have dwindled in the recession.
But the experiment could be short-lived because one Clark County leader fears it might work too well.
Commissioner Steve Sisolak said he opposes live entertainment on wheels because he thinks it's far more distracting to drivers than static images such as billboards mounted on trucks.
Although he has received some complaints about the risqué element, he considers that a lesser concern.
Sisolak will recommend at the commission's Nov. 17 meeting to ban mobile shows or at least tightly restrict them. Otherwise, they will proliferate and grow more extravagant in a town where businesses constantly try to one-up rivals, he said.
Before long, 20 women in g-strings and pasties will be dancing lewdly on a long flatbed truck, he said.
"Let's get a handle on this before it gets out of hand," Sisolak said. "This is more like a parade float. I don't care if it's strippers or Chippendale dancers or a juggler. It doesn't belong on the Strip." Larry Beard, Déjà Vu's marketing director, said the creative marketing tactic is needed in the economic downturn, especially in a city with short attention spans and myriad choices for entertainment.
"You've got to stand out and grab their attention in the moment," Beard said.
Beard said the road shows have increased foot traffic in the clubs noticeably, but he couldn't say by how much.
The road shows start about 10 p.m. and go to 2 a.m.
He argued that the Strip has far more distracting sights and sounds than a few bikini-clad women dancing in a plastic box. There's an exploding volcano, cannon fire a musical fountain and gigantic neon signs, he said.
Sisolak countered that all those attractions are stationary and not cruising alongside motorists.
Commissioner Chris Giunchigliani plans to use this topic to bring up a different pet peeve of hers: mobile billboards on the Strip.
She wants the county to look into whether the 1999 ban on new standing billboards applies to mobile ones.
Her complaint has less to do with racy content — such as signs advertising escort services — than having slow-moving trucks clogging traffic and blocking scenery, she said.
Matson, during a pole routine, noticed a rolling billboard ad that said "Hot Babes Direct To You!"
"That's more dirty than I am," she said, giggling.
Matson seemed to enjoy performing for crowds lining the streets but didn't like giving up an hour's worth of lap dancing tips to be here.
Dancers ride in the truck for free with the aim of boosting the clubs' business and benefiting themselves.
The only thing that made Matson uneasy was the truck stopping or turning abruptly while she was on the pole.
At a stoplight, she struck a lewd pose and, using a loudspeaker, invited several young men in an adjacent car to the club. They acted embarrassed and refused to look at her.
In front of Paris Las Vegas, a group of female college students took in the stripper on display.
"I'm not surprised in Vegas to see a girl dancing on a pole," 19-year-old Samantha Johnson said. "I think for a tourist and for someone visiting, it's a great marketing tool. But it's not the classiest thing I've seen." Balazs Berder, 22, had a different perspective.
"I've never seen such a thing before," he said. "It's amazing. It's a good idea. It's very sexy."
Matson said she hopes the mobile stage works as intended. She estimates her income has dropped by 75 percent in the past year.
"I used to make $800 a night," Matson said. "Now I'm down to $200."
Contact reporter Scott Wyland at swyland@reviewjournal.com or 702-455-4519.