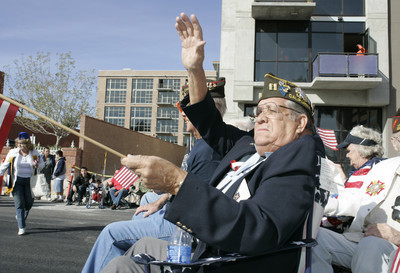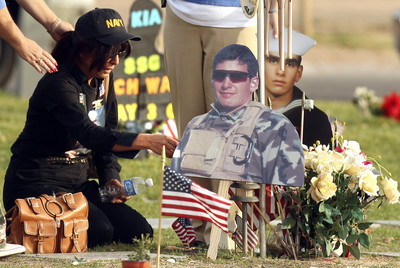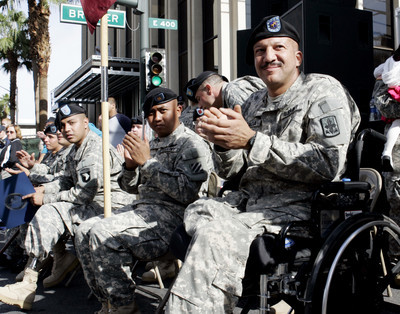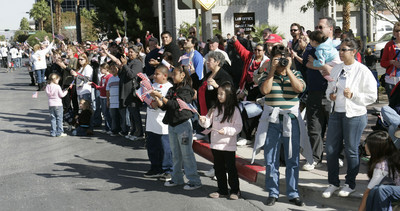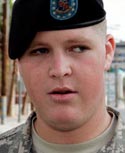 There was a tank, and Humvees with machine guns, and restored military Jeeps.
There were World War II veterans and Vietnam vets and veterans in black leather flying big U.S. flags on their big motorcycles.
There was a replica of a Navy ship, as well as rows and rows and rows of marching high school students in junior ROTC programs.
There was even a bullwhip-cracking Indiana Jones impersonator.
But the focus of the Las Vegas Veterans Day parade was a group of more than 40 wounded veterans from the Naval Medical Center in San Diego who were brought to town for four days in recognition of their service.
"It's really wonderful, the benevolence of the community to take them in," said Brig. Gen. Gary Cheek, who heads the Army's Warrior Care and Transition Office. "It's a big part of their recuperation.
"It really means a lot. The thing that is so great right now is the love shown for returning soldiers."
A lot of that was on display Tuesday morning during the downtown parade — signs that said "Thank you!," individuals shouting "Thank you!," people saluting as the group walked by or giving long rounds of applause.
The trip was organized by Mark Christianson and Billy Stojack, two Vietnam veterans behind the Stars and Stripes Foundation, and promoted by the city of Las Vegas.
"This is one of a kind. It was absolutely amazing," said Army Spc. David Foss, who lost his left leg to an improvised explosive device shortly after arriving in Iraq with the 3rd Infantry Division.
"Just to have a whole street cheering for you, it's humbling to know what we do isn't going unnoticed."
Like the others traveling with him, Foss is in a program aimed at helping him adjust to his new circumstances while getting ready for either continued Army service or civilian life.
He's not sure what he's going to do next.
If you run into someone who has served in combat, "thank 'em when you see 'em," Foss said. "That's what matters to me."
Sgt. 1st Class Jonathan Mann is also facing uncertainty. He's not sure if he's going to be able to keep his right leg. While serving in Iraq as a military policeman, he was hit by a roadside bomb and lost an inch-and-a-half of bone and 1.5 pounds of muscle.
He wants to stay in the Army — "If they let me, I'll do 100 years" — but may not be able to. His medical treatment has taken him to several cities, and he said, "I've never been treated by a city as well as I've been while we're here."
Pfc. Drew Goin also appreciated the Las Vegas welcome, but he said he felt a little strange accepting it.
"People make you seem like you're some hero. To me, I just did my job," he said. "They told me to get in a truck, and I did."
Goin, an infantryman, was hit in the left side of his face by a roadside bomb, leaving him with metal plates in his head and no sight in one eye.
"I have much more appreciation for life," Goin said, adding that the first thing he did when he got out of the hospital was lie in a patch of grass and look at trees. "I have a lot more appreciation for the little things. Every breath I take is a miracle."
Goin is getting military help with his college education and plans to leave the service to become a youth pastor.
There is little at first glance to distinguish Goin as a seriously injured soldier. The only exterior evidence is a wicked scar by his left ear.
"I like it. It's how I pick up the chicks," he said. "I'm kidding."
Contact reporter Alan Choate at achoate@reviewjournal.com or 702-229-6435.
View video and slideshow