February 7, 1999 - 1:31 am
Updated February 7, 1999 - 7:46 pm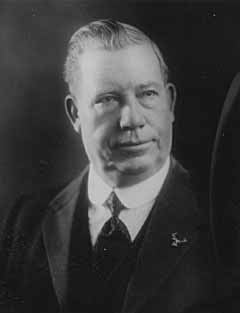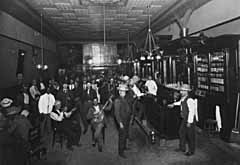 It was right after Christmas in 1910. Sam Gay was going about his duties as sheriff of Clark County, busting up a hobo camp outside of town. It was a fairly successful operation. A couple of muggers were identified and arrested, a cache of stolen goods and money was recovered and a convict who had fled the Idaho State Prison was nabbed.
Meanwhile, someone stole a furnished house and carried it away. Just a tent house, with a wooden foundation, mind you, but it was gone. And, as far as anyone knows, it was never recovered. Fact is, it just wasn't the kind of case in which Sam Gay excelled. He wasn't a detective, though he later solved some tough cases. Not a very good politician, either, though the voters kept returning him to office.
But he was big, 6 foot and 260 pounds, fearless, and equipped with a pair of fists that were so efficient he almost never saw the need to carry a gun, let alone use one. He was also compassionate, never known to abuse his authority or mistreat prisoners. In fact, he was constantly criticized for being too lenient. But he was the right man for the job in his time and place, and is probably the most popular and beloved lawman Clark County has ever had. In later years, he described the town he policed this way:
"From 1905 to 1910, Las Vegas was a rough and tumble western town. Five men dead for breakfast one Sunday morning and 10 men wounded. The boys put on a show that would make Bill Hart ashamed of himself (referring to William S. Hart, a cowboy star of the silent film era)."
Sam Gay was, in a sense, one of those "boys." He enjoyed his whiskey and claimed to have been trained in boxing by the legendary John L. Sullivan.
Gay thought the men who toiled in mines or drove freight wagons were entitled to get drunk, gamble and raise hell. His job was to keep them from killing, robbing or seriously injuring each other.
This view was not shared by all of the other leading citizens of Las Vegas.
Born March 1, 1860, on Prince Edward Island, Canada, Gay grew up in Massachusetts, where he spent his very early years running a stock and dairy farm. Like so many of his generation, he went West, and spent some time running a North Dakota wheat farm. Just before the turn of the century, he was in San Diego, where he was a motorman and conductor on the San Diego Electric Railroad. In 1900, he moved to Nome, Alaska, presumably because of the gold rush, but returned to San Diego the following year. Three years later, he got his first job in law enforcement as city marshal in nearby Coronado, Calif.
He didn't stay long. Again, the smell of gold came wafting into San Diego, this time emanating from Goldfield. Big Sam worked in Goldfield's deep mines for a while, but was soon hired as a bouncer by Tex Rickard, who owned the Northern Club, and would later became one of the world's great boxing promoters.
In the autumn of 1905, at age 45, he arrived in the embryonic town of Las Vegas. He was again hired as a bouncer, this time by J.O. McIntosh, proprietor of the Arizona Club. The joint was situated in Block 16, the only section of the city where booze and prostitution were allowed. Gay was adept at handling the roughest of customers without resorting to the gun. This fact brought him to the attention of Lincoln County Sheriff Jake Johnson, who likewise loathed the indiscriminate use of incendiary hardware. In January 1906, Johnson appointed Gay night watchman for Las Vegas, and he was elected town constable a short time later. When Orrin K. Smith was elected sheriff of Lincoln County in 1908, he hired Big Sam as his deputy for the southern part of the vast county.
The job description was to keep the peace in the increasingly rowdy Block 16. As a practical matter, this meant breaking up barroom brawls. Gay's usual technique was to wade into the crowd that invariably formed, identify the combatants, then grab each by the scruff of the neck and bash their heads together. This was repeated as required. If the warriors persisted in hostilities, they were dragged outside, tied together at a hitching post, and doused with a hose until their temperament improved.
In 1909, Lincoln County was split, and Clark County created. Charles C. Corkhill, former editor of The Las Vegas Age, the town's first newspaper, was elected sheriff, and he retained Big Sam as his deputy. But they were quite different men. Corkhill was "by the book." Gay relied on on his own judgment and experience. Their first clash was not long in coming.
The local jail was basically a large, windowless shack constructed of sheet metal and railroad ties, located between North First and Second streets.
In the summer of 1910, Sam Gay opened the doors to the airless, rat-infested jail, chained the men together, and marched them down to the old Las Vegas Ranch. There, he tied them loosely to the giant cottonwoods along Las Vegas Creek, where they were able to stay cool.
Corkhill was infuriated, and fired Gay. For Corkhill, it was a mistake. The well-liked deputy challenged him at the polls. One of his backers wrote a campaign poem published in The Las Vegas Age in November 1910. It was titled "A Gay Lay" and concluded:
Politics are out of place
When we see Sam's honest face;
When we wave our hats and say,
Here's a vote for Big Sam Gay.
First and last and all the time
This will be our campaign rhyme.
Friend and foe alike will say
Here's a vote for our Sam Gay.
— A Democrat
It is doubtful that such well-intentioned doggerel earned Gay very many votes. But it is very likely that he got a significant boost from a pre-election story that ran on the front page of The Las Vegas Age. It is, incidentally, one of the rare reports of Gay using a firearm to settle a dispute.
The piece was headlined "Bloodless Scrap; Adam Kramer and Sam Gay Talk Politics With Rock and Gun."
Adam Kramer, who owned a barber shop, met Gay one afternoon in the summer of 1910, and made a remark The Age described as "impolite." Gay, nearing 50 but still game, invited Kramer to step behind the building and repeat himself. The war of words continued until, according to The Age, Kramer decided that, "Sam, properly fixed, might be a very desirable candidate. It also appearing that the proper way to fix him was with a big, hard rock, Adam carefully selected such a one as he deemed best and most suitable for the fixing and started for Sam to enter at once upon the work. Sam, not desiring at that time to be worked over with a boulder in the hands of Adam, even to better his candidacy if such might be the case, promulgated an argument in the shape of a Colt's .44, which induced Adam to replace the rock in the bosom of Mother Earth and give over, at least for the time being, all idea if fixing anybody." Kramer was fined $1 for disturbing the peace. Gay was elected in November and, in 1911, became the second sheriff of Clark County.
His popularity grew with each year, a fact that served him well when he faced his next major crisis in 1915. Though slow to draw his weapon on duty, he enjoyed using it for recreational purposes. One of his favorite amusements was to get quite drunk and shoot out electric lights. One night, full of corn juice and mischief, he took aim at some lights on Fremont Street, and found himself charged by District Attorney Albert Henderson with gross intoxication.
In court, Gay did not defend himself, nor admit guilt. Instead, he told the court, "so long as I am sheriff of Clark County, I will not take a drink of intoxicating liquor. If I do, I will hand in my resignation." The charges were dropped, according to The Age, which, in relating the sheriff's declaration, used the word "manly" three times. It seemed that all was forgiven, but it was actually the start of a long feud between Henderson and Gay.
Most people believed that Gay kept his temperance pledge, though some doubted it. In later years, Gay said that Prohibition, which started in 1919, helped him to keep his promise.
"I quit after they started making the stuff out of old shoes," he said. "They call it good whiskey and make faces when drinking it. When I did my drinking, men smacked their lips as it rolled down."
The month after his dramatic courtroom pledge, Gay was met on the street by a 5-year-old girl, Marjorie Schaeffer, who handed him a small box marked "Sheriff Sam," and scampered away. He took it with him to his office, and opened it. Inside was a heavy solid gold badge with the words, "Sheriff, Clark County, Nevada" on its face, and the inscription, "Compliments of Las Vegas friends."
The big man was quite moved, and told The Las Vegas Age that he would keep it "bright and unsullied."
Technically, gambling had been outlawed in Nevada since 1910. As a practical matter, however, it went on as if the law did not exist. This did not perturb Gay, who enjoyed a friendly game himself. In 1916, District Attorney Henderson charged Gay's young deputy, Joe Keate, with not only allowing a poker game at the Northern Club, but with participating in it. It being an election year, Gay fired Keate — but only for one day.
Keate cultivated his own feud with Justice of the Peace William Harkins, which erupted on Sept. 19, 1917. Keate had been ordered to fetch a prisoner from jail to the courtroom. Since the order came from Harkins, he took his time, dawdling, stopping to chat on Fremont Street. By the time he arrived, he was an hour late, and Harkins slapped him with a $5 contempt of court charge.
Keate refused to pay, and rushed out of the courtroom and went to borrow a gun. When he returned, court had adjourned, but Harkins was still on the bench. Keate threw the borrowed gun down in front of Harkins, and "called him out." Gay heard the ruckus, and came into the courtroom just in time to catch the last few moments of the drama, the homicidal Keate poised with hand over holster; the ashen-faced Harkins sitting motionless, staring at the pistol in front of him. Henderson screamed at Gay to arrest his deputy, but Gay refused. He waited until he thought things had gone far enough — and Keate had calmed down a bit — then he led his deputy away.
Gay was hastily sacked for failing to discharge his duties, but he fought back in court asserting that as an elected official, he could not be fired. The case went all the way to the Nevada Supreme Court, which upheld the sheriff's firing. To replace him, Will Mundy was appointed interim sheriff, but quit after one week saying the job was "too hazardous." Mundy was replaced by Jay Warren Woodard, who fought valiantly to retain his post, but lost the 1918 election to Gay.
In the summer of 1922, a railroad strike threatened to turn violent, and Sam Gay took the side of the working men, deputizing several of them to keep the peace. The tactic was successful.
The electorate returned the 66-year-old Gay to office in 1926, and would have done so again in 1930. But Sam was tired and the town was changing too fast for him.
"Too many crooks coming to Las Vegas, now they're building Boulder Dam," Gay said, in announcing his retirement. "I've dealt with honest men so long, I wouldn't know how to act around crooks. I'm used to tough hombres who shot each other up once in a while. I'm used to gunfights. But I ain't much good running down racketeers. My notions is too old-fashioned. You can't deal with these new gunmen with a single-action .45. Need a machine gun. I'm too old to learn to run one, so I quit."
In reality, he was tired of cooperating with Prohibition agents who were trying to suppress something he himself enjoyed; tired of enforcing the gambling laws he thought foolish.
In the summer of 1932, he traveled to California for a holiday. One day, as he was racing to catch a streetcar, he seems to have suffered a minor heart attack, which went untreated. On his return to Las Vegas in August, the big heart attack came, and he died in the Las Vegas Hospital.
In the big sheriff's obituary in the Evening Review-Journal, Al Cahlan wrote of him, "Sam Gay numbered his friends by the thousands, and was always the friend of the underdog. That's why men used to ride hundreds of miles to cast their ballots for him when election time rolled around. He had a following that was loyal almost beyond belief, and that, more than any words I might say, constitutes a eulogy complete. Sam Gay was a Clark County institution."
Part I: The Early Years