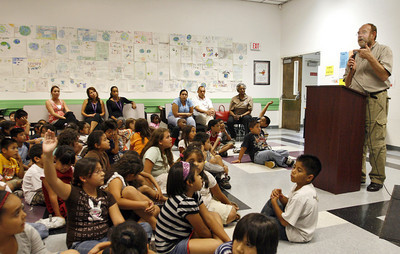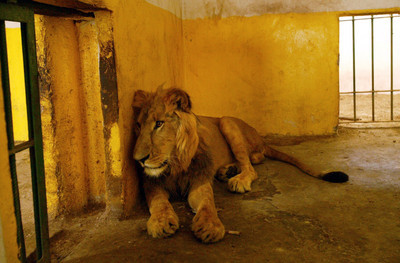 Lawrence Anthony has seen former Iraqi and American combatants come together to save the Baghdad Zoo. Now he's hoping Las Vegas and South African schoolchildren will unite to save the planet.
One high school student from the Clark County School District will be chosen from an essay contest next year to tour Anthony's Thula Thula game preserve in South Africa and make a return visit the following year with three additional students.
Plus, students at Greenspun Junior High and Mack Middle School will begin an online correspondence with a South African school located just outside Anthony's game preserve.
"It's about awareness," the conservationist said in a talk with Clark County school administrators on Friday morning. "We've got to get awareness to the children. From there, we can change things."
Anthony has been a witness to the species extinction that's threatening the "fragile web" of life. In just one game preserve in the Congo, Anthony said poachers have decimated thousands of elephants and hippos and killed the park's only four white rhinos, who were members of a rare species.
"If we're going to hold this little spaceship called Earth together, it will be because good people will do it," said Anthony, who is in town to help promote a new environmental curriculum and tour local schools.
Anthony believes in finding creative solutions. He is perhaps most famous for organizing the rescue of the Baghdad Zoo when the Iraqi war began in 2003. It's the subject of his book, "Babylon's Ark." The United Nations has recognized him for his service.
Afraid the Baghdad Zoo would perish like zoos in other war zones like Afghanistan, Anthony said he literally bluffed his way into Iraq, telling the U.S. military he was the person responsible for the zoo's safety. He drove into Baghdad in a rented Toyota Corolla from Kuwait.
He got the cooperation of South African mercenaries and Iraqi and Americans soldiers "who were once shooting at each other" to come together to protect the zoo from looters.
"I can't say enough good things about the American soldiers," said Anthony, recalling that many came to the zoo during their free time to help out.
To shame looters, some repeat offenders were put in a zoo cage under the Latin-sounding title, "Human horriblus."
Unfortunately, only 35 of the 650 zoo animals were able to survive the fighting and an Iraqi public starving from war-time sanctions. Only the "big animals with claws — the bears, tigers, cheetahs and hyenas" were left in the zoo when Anthony arrived, soon after the "shock-and-awe" bombing campaign had ended.
The conservationist said he doesn't even like zoos, but he did it for the animals. Anthony is also known as the "Elephant Whisperer" for his rapport with the animals.
Eva White, assistant superintendent for the Eastern Region of Clark County schools, recalled seeing Anthony feed an elephant fruit on his preserve in South Africa. When Anthony told the elephant there was no more food left, the elephant shrugged its head in disappointment like a human would, White said.
The Henderson Chamber of Commerce took White along on a trip to South Africa earlier this spring, paying her travel expenses. Both the Henderson Chamber and the non-profit American Schools Program are helping underwrite the costs of Anthony's visit and a new environmental curriculum for Clark County schools. A fundraising campaign will also pay for the costs of the win-a-trip to South Africa essay contest.
White said she wants to engage students in a "dialogue on global issues." Threatened species and the scarcity of water, for instance, are relevant to both Nevada and Africa.
Students e-mailing students in Africa are not unlike elephants, who can communicate with other herds hundreds of miles away, Anthony said. Elephants actually communicate through their stomachs by making rumbling noises. Other elephants can tune into the distinctive wavelength and feel vibrations in the ground.
For his next book, Anthony said he is writing about the "emotive" power of elephants because they literally control the moods of everyone around them. If an elephant is happy, people around them will begin to feel happy too.
Contact reporter James Haug at jhaug @reviewjournal.com or 702-799-2922.