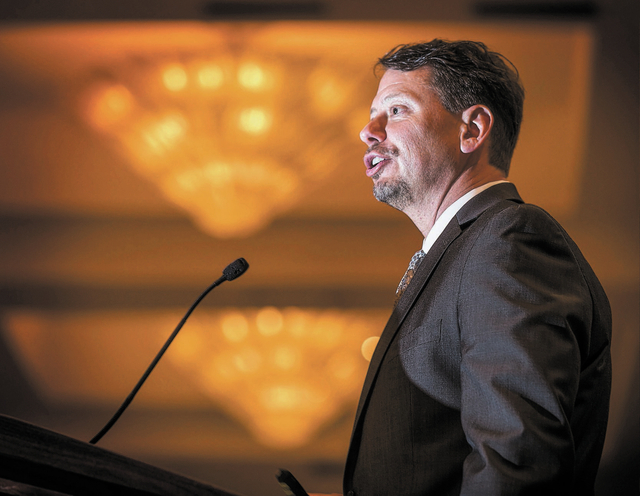 Clark County's schools chief could be stripped of his absolute power to promote and transfer administrators because one of his high-ranking officials may have inappropriately influenced a hire, education sources said.
"Promotions, dismissals, anything dealing with employment should all come to the School Board for approval," insisted Clark County School Board Vice President Linda Young, who initiated the discussion at a Thursday meeting and recommended returning to an old policy.
That policy, previously in place for about 30 years, required the Clark County School District superintendent to obtain board permission in public meetings for every change to administrative personnel. About a decade ago though, the board stepped back and allowed the superintendent to promote and transfer administrators at will, as long as the privilege wasn't abused. That freedom remained in place for three superintendents — Carlos Garcia, Walt Rulffes and Dwight Jones.
Young wouldn't reveal Thursday the case that prompted the suggested limitation to Superintendent Pat Skorkowsky's authority, which comes just eight months into his tenure. The board vote to appoint him was unanimous.
Stephen Augspurger, executive director of the administrators union, had no such reservations.
"The (hiring) process was influenced inappropriately by a high-ranking administrator," Augspurger said of the Clark County Association of School Administrators and Professional-technical Employees, who wouldn't disclose details about the job or job recipient.
Skorkowsky said he's willing to discuss approval processes for his administrative hires and a "system of checks and balances." But the hiring process — how candidates are narrowed to one finalist — is at the "superintendent's discretion," he asserted. The School Board should not interfere with district operations, he said Thursday.
"As you say that, I'm pulling back the reins a little," responded Carolyn Edwards, a senior member of the board that evaluates the superintendent and decides whether to renew his contract. "This board has a right to have some say in how we hire and to give some direction to you."
Edwards said she won't "relinquish" that power. The district is the nation's fifth-largest school system, employing 39,000 workers, including 1,300 school-level and central administrators.
Although Edwards and several board members supported discussing curbing the superintendent's authority to make administrative changes, only Young sought a return to the old policy, claiming it "worked quite well."
Board members Chris Garvey and Edwards said they're wary of making board approval mandatory as it was a decade ago.
"I think that is micromanaging to the extent that we'll tie the hands of the superintendent," Edwards said.
Augspurger was of a similar opinion, remembering when he was a principal sitting in the audience of School Board meetings awaiting board approval for his change of position. The answer is not to "go back to yesteryear," but the hiring process must be "fair. It has to be open. It has to be transparent. It has to have fidelity and integrity."
"We have to do something to restore confidence," said Augspurger, calling for the latest administrative hire in question to be undone and that position reopened. The high-ranking administrator must not be involved in the hire in any way, Augspurger said.
"That will restore confidence in the process," he said, "and we won't have to go back to the old days."
Contact reporter Trevon Milliard at tmilliard@reviewjournal.com or 702-383-0279.