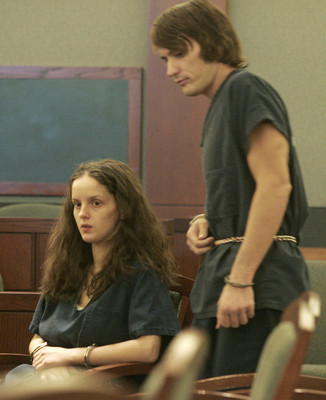 Two people accused of killing a 17-year-old girl and mutilating her body to hide her identity waived their right to a preliminary hearing in Las Vegas Justice Court on Wednesday.
Gabriel Yates, 31, and Anne Osburn, 21, could be eligible for the death penalty if convicted of the slaying of Nichole Yegge in July.
A Clark County death penalty review committee will decide whether to seek the maximum punishment for the crime, Deputy District Attorney Robert Daskas said.
In shackles and blue prison uniforms, the pair appeared in Judge Deborah Lippis' courtroom Wednesday.
Osburn smiled and chatted with a bailiff before the hearing, while Yates made hand gestures and mouthed words to a friend in the gallery.
At one point, Yates said something to the friend on the way out of the courtroom, prompting a bailiff to threaten to remove the friend for talking.
Lippis asked Yates whether he understood the ramifications of waiving the hearing, a process where prosecutors lay out their evidence and a judge determines whether the evidence is strong enough for the case to go to District Court.
Yates replied in a drawl: "I do your honor."
Both defendants are expected to plead not guilty and have an appearance in District Court on Sept. 23.
Yates and Osburn were arrested Aug. 3 after Las Vegas police detectives on surveillance overheard Osburn describing the slaying and observed Yates drive to the desert where Yegge's body was buried, according to their arrest reports.
An FBI informant in Alabama who talked to the couple told police they knocked out the runaway teen's teeth, cut off her tattoos and stuffed her body in a hockey bag, the reports state.
They then buried the teenager's body in a desert grave and threw the teeth and tattoos in a lake, the informant said.
Police believe Yegge was in a love triangle with the couple and was being put up for prostitution by Yates on the free classified advertising site Craigslist.
Contact reporter Lawrence Mower at lmower@reviewjournal.com or 702-383-0440.