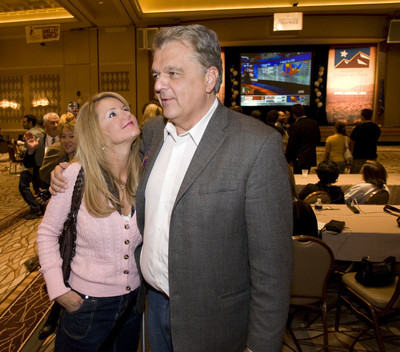 Clark County Commission is all-Democratic for the first time in 40 years.
Regent Steve Sisolak, a Democrat, narrowly defeated Republican Brian Scroggins late Tuesday by 1,585 votes in what had been a hard-fought race. Democratic candidate Larry Brown far outpaced Republican opponent Valerie Weber.
The commission has never been purely Democratic since becoming a seven-person body in the late 1980s.
Both races turned rancorous as the candidates fought for the seats the commission's last two Republicans will vacate in January.
Sisolak will succeed 28-year incumbent Bruce Woodbury, the longest-serving commissioner. Woodbury couldn't seek re-election because of 12-year term limits passed by voters in 1996.
"It was a tough campaign that got really nasty in the last few weeks," Sisolak said. "People knew me as fiscal conservative, and I think that played a big role in this election."
Scroggins couldn't be reached for comment.
The battle for Woodbury's seat in District A was especially bitter as the rivals pounded each other with attack ads.
Sisolak amassed $1.13 million in campaign money and Scroggins raised $620,000. Both men spent heavily on negative advertising.
In the District C race, Brown, a Las Vegas city councilman, beat Weber, a state assemblywoman, by 57 percent to 38 percent.
"It's been a long, hard campaign," Brown said. "I look forward to working with the county commission. I think it's a great team."
Weber conceded earlier in the evening. "I was glad to run the race to include business owners and the voters of Clark County," Weber said. "I had the time of my life."
Political experts, historians and activists have said that Democrats filling all commission seats won't lead to a sea change in policy-making, given that Democrats in the region tend to be moderate and the commission is mainly nonpartisan in its duties.
At a Sunset Park polling place, some voters split along party lines.
"I voted for Scroggins," said Charito Cosper, 45, of Henderson. Cosper also voted for Sen. John McCain. She said she liked the radio ads she'd heard about Scroggins.
Darlene Jackson, 49, of Las Vegas, said she would vote for Sisolak, partly because he's a Democrat like Sen. Barack Obama. Also, he showed commitment to the job by advertising so extensively, she said.
"It means he's spending his money on TV," Jackson said.
In other commission races, Democratic incumbents Tom Collins and Lawrence Weekly cruised to easy wins. Collins had 67 percent of the vote and Weekly had 84 percent.
Collins' Republican rival Gary Hosea got 27 percent. Weekly's opponent Tom McGowan, an Independent American Party candidate, received 16 percent of the vote.
Contact reporter Scott Wyland at swyland@reviewjournal.com or 702-455-4519.