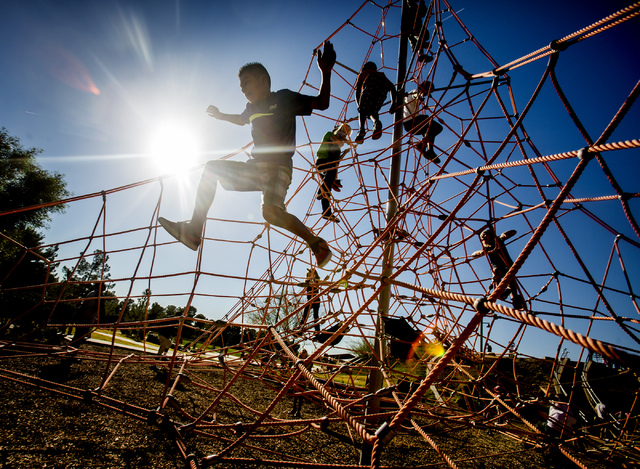 North Las Vegas' Craig Ranch Regional Park debuted Friday with a whoosh and a bang.
That's about all first-time visitors could hear during the early hours of the park's daylong grand opening: the whoosh of skateboarders veering erratically across swimming pool-sized skate bowls, then the inevitable bang as they and their boards crashed against steep-sided concrete at the park's 65,000-square-foot skateboard complex.
Thomas Biesiadecki and several dozen other bikers and skateboarders staked claims near the skatepark hours before its 9 a.m. grand opening.
It wasn't long to wait, he said, after three years of park construction.
"Our old home park got torn down, so we've been waiting for this park since we first heard about it, for like a year," the 18-year-old North Las Vegas resident said. "Hollywood's (skatepark) is bigger, but this is the best in Nevada so far."
The skatepark, one of the largest in the U.S., might count for a carat or two at the "crown jewel" of North Las Vegas' park system, but stay-at-home mom Carolina Rodriguez' four kids seemed to prefer the playgrounds.
Rodriguez agreed the park was well worth the wait and the $130 million price tag.
Her only concern was the revenue-starved city's ability to keep pace with an estimated $2 million in annual maintenance costs.
"It's very beautiful," Rodriguez said. "It seems like they spent more than ($130 million).
"When they were doing construction, someone (tagged) the skate park, but they got that cleaned up pretty quick; so I hope there's no graffiti. I hope they can keep it like this."
Park planners hope to draw attention from all ages with park access through a county regional trail system path along Long Mountain Road, where Parks and Recreation Director Mike Henley said he made sure hikers and bikers would find easy access to ponds, tree-shaded picnic shelters and many of the park's 62 community garden plots.
Both of Craig Ranch's adventure playgrounds and at least a few of its basketball courts attracted curious opening day visitors.
Others gravitated to the 170-acre park's green spaces, including the wide open 5-acre dog park.
None of the hundreds in attendance at Friday's grand opening seemed to run out of leg room, though city officials are already planning an additional 30 acres of soccer fields set to debut after workers wrap up construction on a 7-acre Clark County-subsidized amphitheater and pond in the parks northeast corner.
Former Mayor Mike Montandon, who spearheaded Craig Ranch's purchase and development under the Southern Nevada Public Lands Managment Act during his tenure in the early-2000s, lauded those park additions at a formal park dedication earlier this week.
Montandon shared some of Rodriguez' concerns over park maintenance, but said after seeing the place, he doubts city leaders will let it fall victim to crime or graffiti.
"It's so exciting, a dozen years after starting this, to come back and see it," Montandon told state and local officials at Wednesday's dedication. "This is our park. I know it'll always be used and taken care of.
"If there's somebody who feels otherwise, who would think about marking it up or something, I think those people have too many thumbs."
City officials planned to wrap up Friday's grand opening with a three-hour concert featuring special guests New York West, Nuff Said and Richard T and the Stereo Band.
Contact reporter James DeHaven at 702-477-3839 or jdehaven@viewnews.com.