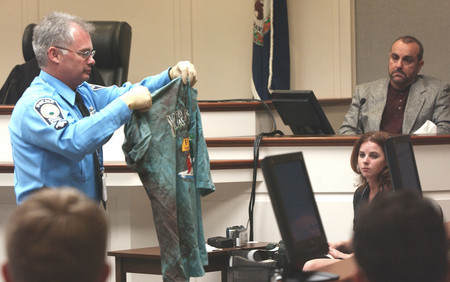 For Maryland native Paul LaRuffa, Tuesday night brought relief to one of the first victims of the Washington, D.C.-region sniper rampage and closed a life-changing chapter that he has lived through for seven years.
John Allen Muhammad, the mastermind behind the attacks that killed 10 people in Maryland, Virginia and Washington, D.C., at grocery stores, gas stations and other public places, was executed after spending seven years on death row for a single killing, that of Dean Harold Meyers, fatally shot as he pumped gas into his vehicle in October 2002 in Manassas, Va.
A month earlier, LaRuffa was shot five times with a .22-caliber handgun outside of his pizzeria. Muhammad's accomplice, Lee Boyd Malvo, a teenager at the time, is spending the rest of his life in prison without the possibility of parole.
Muhammad and Malvo, who pulled the trigger that night, stole from LaRuffa his Sony Vaio laptop computer and $3,500, which bankrolled the rampage that lasted for more than three weeks. The computer was used to map shooting sites and mark locations of future attacks.
Both of LaRuffa's lungs were punctured in the attack, and he suffered nerve damage.
"It's never really over, but it is a chapter and it is progress and it is positive," LaRuffa said of the execution. "On the other hand, it's not happy. It's not joyous. You don't jump up and down. It's just different because it's not the same as it was seven years ago. There's a different mentality. I would have killed either of them with my bare hands had I the chance in 2002."
But LaRuffa added that he does not harbor the strong anger he did shortly after he was attacked, fearing it unhealthy. He did not attend Muhammad's execution.
"I don't feel he is any less responsible or any less evil than I did then. It's just I don't have the same anger I used to about it," he said.
That is why LaRuffa instead scheduled dinner in a Virginia restaurant with his wife, son, grandchildren and other family and friends to "make the day as normal as possible."
"I don't need to see him die. I don't think I need him to die," he said. "I'm spending the day with my family and not talking about Muhammad dying — not that it won't be on my mind anyway. I'm not dumb enough to say it's not going to have an effect. It's over for him. It's not over for me. It's certainly a step in that nothing else can happen with him and me. That part of it will be over."
LaRuffa said he didn't know whether he would feel differently after the execution than he did when "they were captured or tried or convicted."
"That's where you said, 'Now I got through that,' and you go on to the next thing. This step is more final than the others."