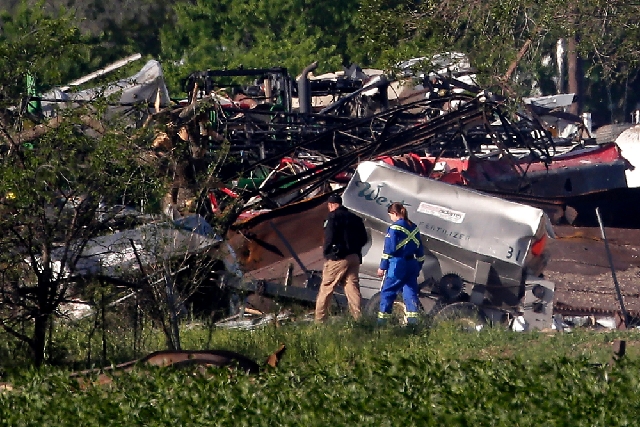 WEST, Texas — After days of waiting, the first group of residents who fled their homes when a fertilizer plant exploded in a blinding fireball will be allowed to go home, a town official said Saturday.
The news came after a nervous day where officials told residents packed in a hotel waiting for updates about their neighborhood that leaking gas tanks were causing small fires near the blast site, keeping authorities from lifting blockades. But officials emphasized that the fires were contained, and said the town was safe.
"It is safe, safe and safe," City Council member Steve Vanek said emphatically at a midday news conference.
He said that a group of residents in a small area would be let back in later Saturday afternoon, but gave no indication about when all evacuated residents could return. Those being let back in would be subject to an evening curfew, and were warned to stay in their homes.
Authorities prepared for the limited re-entry by using a crane to lay concrete pylons across the entrance to side streets. Residents with homes inside the zone were told to assemble at a designated location and show identification. Cars permitted in the area would be tagged.
Evacuated residents have waited anxiously to return and assess what remains to roughly 80 damaged homes after the blast Wednesday night at West Fertilizer Co. that killed 14 and injured 200 more.
Many are hoping to find key documents such as insurance papers and family records to help with recovery. Others simply hope to reclaim any belongings that might be buried under splintered homes.
At the hotel where evacuees huddled, Bryce Reed, a paramedic and spokesman for the town of West, told residents Saturday morning that small tanks were leaking and had triggered small fires. He said they were small and were contained, and didn't cause further injuries.
"The whole place is still on fire, smoldering, all that kind of stuff. It could spark up," Reed said. But, he cautioned, "There isn't really enough structure left to light up and burn."
Reed described dozens of portable, white tanks at the site that are typically filled with anhydrous ammonia from larger storage tanks for when farmers request them. The tanks get weak when they are exposed to fire and bleed, he said.
The tanks are attached to plows pulled by tractors and feed streams of the chemical into the ground as the plow passes to fertilize. Reed said they resemble large, horizontal propane tanks, and told residents to imagine a very big hot water heater.
"You're safe where you're at," he told the residents. "Otherwise I'd be dragging you out of here myself."
One of the residents listening, Gene Anderson, 64, said Reed's comments helped avoid panic: "He just nipped it in the bud like it should be."
But closer to the site, things were far more tense. Ron Price, a 53-year-old construction worker, said he approached the police barricade Saturday to check on his son's home, which was damaged in the explosion.
Price said he drove his truck up to the roadblock and was trying to get in when state troopers "came flying down the road" from a half block away and told everyone to get back because there was another chance of explosion. People in their backyards outside the barricade were also told to get back, he said.
"It was pretty scary everybody just jumped and took off running," Price said. "They jumped in their cars and we all started heading back."
Dorothy Sulak, who lost her home and her job when the blast went off, was among those hoping she could get back in.
Sulak worked as a secretary at plant. She fled so fast she only had time to leave with the clothes on her back. There's a hole in her roof now, and her medicine, cash, even her glasses are somewhere in the rubble.
"Yes, it's just stuff. But it's my stuff," said Sulak, 71, who used reading glasses to see for three days, but finally got a ride to nearby Waco on Saturday to get fitted for new prescription frames.
Sulak said she had been told that her home on North Reagan Street was so close to the explosion site that she may not be able to return until at least Monday.
———
THE ASSOCIATED PRESS Paul J. Weber in West, Texas, contributed to this report.