Dying in Las Vegas is a unique experience
October 25, 2015 - 7:13 am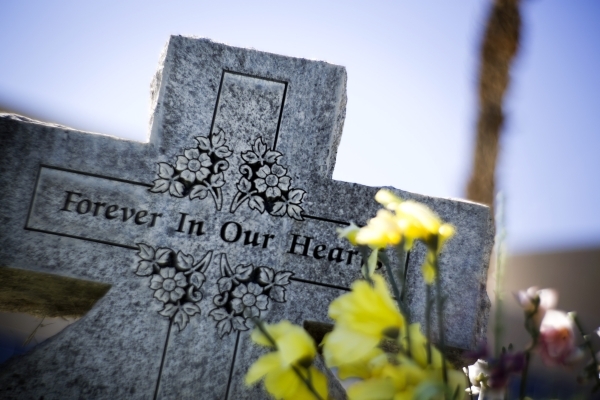 Dying in Las Vegas can be just as peculiar as living here.
Each year, hundreds succumb to natural causes while vacationing in this global entertainment hub, leaving locals with the morbid task of shipping human remains all over the world. Southern Nevada is the country's cremation capital, where Las Vegans put their loved ones to rest in unique ways, such as shooting their ashes into outer space or making keepsakes from their remains.
The state has one of the highest suicide rates in the country, which experts blame partly on the 24-hour vices such as drinking and gambling that draw millions from around the world.But in some respects, death trends here largely mirror those seen nationwide.
Declining mortality rates in Clark County, for instance, largely follow patterns seen in the rest of the U.S. And on the whole, people who die of natural causes in Southern Nevada are on par with other communities nationwide.
Las Vegas is home to the nation's most transitory population, with 75 percent of Nevada's residents born elsewhere, according to a New York Times analysis published last year. That mix of people, coupled with the city's reputation for the excessive and the bizarre, makes Sin City a compelling stage for life and death.
A Place to Die
The last thing most incoming vacationers probably think about is whether they'll return home alive. But many tourists die while visiting Las Vegas. Of the more than 40 million visitors who descend on the city each year, about 1,100 die here — most from natural causes.
That means resorts, funeral homes and airport officials often have to figure out how to get their remains home, a lurid part of everyday Las Vegas life that few know about.
"Las Vegas resorts are associated with happiness, celebrations, anniversaries, 21st birthdays and coming here for a good time," said Virginia Valentine, president of the Nevada Resort Association. "(Death is) almost the exact opposite of what people come here to experience."
Still, many visitors and residents choose to die in Las Vegas — on average, suicides happen more than once per day in Clark County, making Nevada one of the 10 worst-ranked states in the country. It lies in a so-called "suicide belt" that includes Montana, Alaska, Utah and Colorado — all large Western states with big rural areas that can foster isolation, especially when coupled with Nevada's transiency. In Clark County, suicide accounts for more deaths than car crashes and homicides combined — nearly 400 last year alone.
"We may have some of the same factors as other states — but we just may have a larger combination of them," said Richard Egan, who handles Southern Nevada operations for the state's suicide prevention office. The region's economy thrives by feeding habits that can lead to addiction and financial or health problems, which ultimately drive many to suicide, experts say.
Another peculiar aspect of death in Las Vegas is the way corpses are disposed here — no other state cremates more than Nevada, where three out of four bodies end up in urns, according to the Cremation Association of North America. That rate, the highest in the nation, vastly surpasses the U.S. average, which is 47 percent.
Cremation is a thrifty option for Clark County residents, who are still reeling from the economic downturn of the late 2000s. It's also convenient in migratory cities such as Las Vegas with fewer ties to community and religion. And incineration makes it easier for people to commemorate their loved ones in novel ways — one local funeral home, for instance, offers flights into outer space for human ashes. Locals can also use ashes for keepsakes such as pendants that hold cremated remains.
"To most people who are choosing cremation, it seems like a simpler, cleaner easier way," said Larry Davis, general manager of Palm Mortuary-Downtown.
Expected in Death
Despite those quirks, many other death trends in Las Vegas are surprisingly unremarkable. Statistics here generally match national figures, according to a Review-Journal analysis of data from the Clark County coroner's office and the Centers for Disease Control and Prevention.
The leading killers in Clark County and in the entire U.S., for instance, are heart disease, cancer and lung disease. And just like in the rest of the country, suicides in the county outnumber homicides and traffic fatalities combined, while apparent overdoses are the leading accidental cause of death.
Homicides in Southern Nevada have fallen from nine deaths per 100,000 in 2005 to five deaths in 2013, closely resembling U.S. averages.
"We're no different than any other city," Las Vegas police investigator Ken Hefner said of the county's homicide trends.
Clark County's life expectancy, meanwhile, has climbed steadily in the past century, mirroring U.S. numbers. According to a survey of data from the Centers for Disease Control and Prevention and the U.S. Census Bureau, people in Clark County had an average life expectancy of 78 in 2010, up from 73 years in 1980. Local figures are similar to those nationwide, which show babies born in the early 1900s — when Las Vegas was founded — generally didn't live past 50.
Living longer means more people are living with diseases today than ever before — for instance, the CDC reports that in 1995, 15 people per 100,000 died of causes related to HIV infection. In 2013, three per 100,000 died of similar causes.
Thanks to medical advancements and improvements in quality of life, many with disease are also healthier and happier than they were just a decade ago, such as Joshua Montgomery, a Las Vegas man who was diagnosed with HIV 18 years ago. Montgomery, 46, is a former methamphetamine addict who got sober after learning he was infected. Today, he heads prevention efforts at the Gay & Lesbian Center of Southern Nevada.
"When I found out my status, it just kind of woke me up," he said. "Now I own a home, I have a great job and I have a partner. I wouldn't change my life for anything."
Review-Journal writers Henry Brean, Eric Hartley, Wesley Juhl, Colton Lochhead and Richard N. Velotta contributed to this report.
Contact Ana Ley at aley@reviewjournal.com or 702-224-5512. Find her on Twitter @la__ley
One sure bet: Death in Las Vegas