Better start saving: Buying a home today takes planning, persistence
March 26, 2016 - 11:04 pm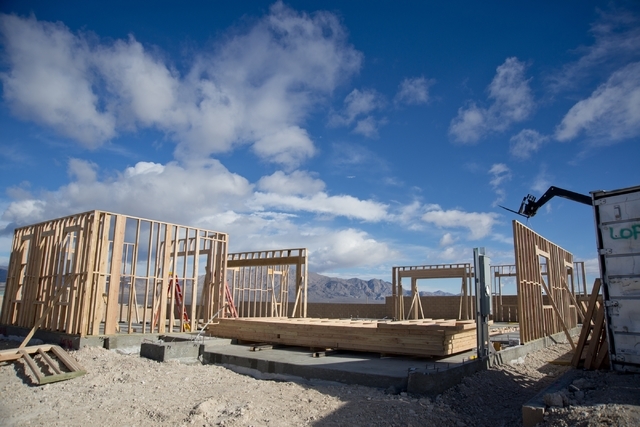 The year was 2007.
Many people were buying houses they could otherwise not afford, gambling on the chance that prices would continue to rise, allowing them to eventually refinance or sell at a profit.
In between the creative financing, looser credit standards and easy loans was a chance for them to attain stability and security — until homebuyers realized they had played the wrong cards.
"Everyone wants to realize the American Dream," said Jodi Mobley, director of housing programs at Nevada Partners. "When you have someone telling you, 'I can make that a reality for you,' well, that's exciting. And that's what they (the lenders) were counting on — that excitement. When first-time homebuyers go into this very intimidating and daunting transaction, they expose themselves to the predators in the mortgage industry."
Almost 10 years later, Las Vegas is still barely escaping the grip of the subprime mortgage crisis. In its wake, it left a trail of foreclosures, underwater mortgages and broken dreams. From the time the Great Recession began, many would-be buyers had left their ambitions of owning their own home to rot, but now people are slowly bringing those dreams back into focus.
THE DEATH OF A DREAM
The pre-2007 housing market was a predatory environment driven by greed and risks. In the time leading up to 2008, people could qualify for a home loan with a credit score of less than 600, Mobley said, adding that, at the time, nontraditional mortgages were popular, with adjustable-rate mortgages (ARMs) accounting for roughly 60 percent of loans (they now account for 5 percent).
The ARMs were particularly attractive because they had a lower interest rate to start than a 30-year, fixed-rate mortgage. Many homebuyers were opting for 2/28 ARMs and interest-only mortgages that offered low introductory rates and minimal initial costs, such as no down payment.
"You could make the mortgage payment, or you could pay just the interest, or you could pick your payment, which would result in what they called 'negative amortization,' or owing more than what you borrowed," Mobley said. "Primarily, it was an environment where anybody can get a loan even if you didn't quality."
After the housing market bubble burst and prices dropped rapidly, mortgages reset. Numerous homeowners were unable to refinance to lower rates, as there was no equity being created as prices fell. Instead, they were forced to reset their mortgage at higher rates, which many could not afford, and they had to default on their loans.
"What it came down to was that they just made it too easy to buy a home — that's why we got into so much trouble," Mobley said.
"I think that, back then, there was no education; the environment was just so different," said Rene Coreas, a participant in Nevada Partners' homebuyer education program. "Back in 2005, I bought a house that was overpriced. It was a huge mistake. I invested all of my money in it, and I lost the house in 2007."
As of December 2015, Nevada ranked fourth in foreclosures, according to RealtyTrac, with a foreclosure rate of one in every 781 homes.
Although the housing industry has started to revitalize, the rate of underwater mortgages is still an issue. According to online real estate database company Zillow.com, one in four Las Vegas metro homeowners with a mortgage — more than 83,000 — are in negative equity, or underwater, meaning they owe more than the home is worth, and Las Vegas remains one of the highest metros nationally at 22.1 percent.
In order to unload an underwater home, the owner needs to bring money to the closing table to satisfy the difference between the outstanding loan and the sale amount, or work out a short sale — an often lengthy and complicated process.
Despite such obstacles, the road to housing market recovery looks steady.
"The economic outlook is looking pretty strong," said Edward Coulson, director of the Lied Institute for Real Estate Studies at UNLV. "There's lots of good movement. Unemployment is down, and incomes and wages are up. There's a lot of strength right now in the economy, and it'll be interesting to watch it unfold in the next couple of years."
LOOKING AHEAD
Fast-forward to 2016, and real estate agents are optimistic. The Greater Las Vegas Association of Realtors (GLVAR) reported the median price of existing single-family homes sold during December 2015 in Southern Nevada was $217,000, up 6.4 percent from one year ago. The price dipped slightly from November to December after holding steady at $220,000 from August through November.
"Now is the time to buy," said Scott Beaudry, GLVAR president. "Although forecasts are hard to predict, I think we expect a similar housing market (in 2016). We still have plenty of market overhang. We have some vacancy issues, but it's not nearly as bad as it was three to four years ago. On the other hand, not a whole lot of new construction is coming in the market, either."
Beaudry said that, as of January, there is about a three-month housing inventory — which is low, considering a six-month supply is perceived as a balanced market.
While it does present a challenge for new homebuyers looking for variety, home sales continue to see a steady increase. For 2015, GLVAR reported a combined total of 38,578 single-family home, condominium, townhome and high-rise condo sales, up from 35,806 in 2014. The total number of existing local homes, condos and townhomes sold in December was 3,290, up from 2,734 in December 2014.
Sean Hulsey, area sales manager at Wells Fargo Home Mortgage, said there are numerous up-and-coming communities in the valley, with Henderson and the Summerlin area the most popular.
"Those are considered the hot spots because they are communities where you can live, play, eat and work," he said. "They are very community-centered, and you don't have to drive more than five minutes to do any of those things."
In recent years, GLVAR has been reporting fewer distressed sales and more traditional home sales, where lenders are not controlling the transaction. That continued in December, when 6.8 percent of all local sales were short sales, down from 10 percent of all sales one year ago. Another 6.9 percent of all December sales were bank-owned, down from 8 percent one year ago.
There has been a 6.4 percent increase in home sales for four straight months as of January, with a medium market price of $217,000.
"In essence, the housing market is stable and back," Beaudry said. "We're looking forward to the future."
BUYING A HOME TODAY
After the subprime mortgage crisis, some people are understandably hesitant to purchase a home.
Since the housing calamity, the federal government created the Consumer Financial Protection Bureau, an independent agency that helps consumers make informed decisions and enforce rules.
"Knowledge is power," Mobley said. "The more you know, the more powerful you are. I tell all homebuyers that they are in charge of putting together a team, and they are the leader of this team, which consists of a lender, Realtor, title company officer, appraiser and inspector. They are there to answer your questions. If at any point you feel uncomfortable during the transaction, make sure that they address that feeling."
Potential homebuyers are now encouraged — and even required with certain programs — to attend new homebuyer education classes. The housing crisis also taught people that buying a home takes more than a dream and a few signatures.
"I'm preparing more now and getting information about buying a home," said Adriana Torres, who took part in a recent Nevada Partners homebuyer class. "When I first applied for a home in 2004, they approved us for a house that was honestly way over our heads. We came in with our eyes closed and said yes because we wanted to have confidence in them. They made us lose our house. Now, I'm trying to learn all that I can about this process."
There are a few tips homeowners are advised to keep in mind. Hulsey said the biggest challenge in retaining a loan today is demonstrating the ability to repay by showing proof of all income.
"If you can't prove your ability to repay, you can't qualify for a loan," he said.
Home loans are either insured by the Federal Housing Administration, or as is the case with conventional loans, by a private lender. Mobley said an FHA-insured mortgage has a 3.5 percent down payment required, as opposed to the less than 20 percent down required by a conventional loan. Another difference, she said, is that FHA loans focus primarily on whether the borrower can afford the mortgage, whereas conventional loans focus on credit score.
Nevada Partners encourages new homeowners to follow the 70/20/10 rule, meaning that 70 percent of one's income should go to everyday expenses such as rent, food and clothing, with another 20 percent going into savings. That leaves 10 percent for debt.
Hulsey added that the borrower's total debt should not exceed 36 percent of gross pay — so, for someone with $1,000 in monthly income, monthly debts should not exceed $360.
One's credit score is an important factor in homebuying. Different loans require different scores, though Mobley said, for the most part, a score of 640 or higher is standard for conventional loans.
Although it's not always required, potential homebuyers should also be able to show a down payment of at least 20 percent, in addition to having at least six months' worth of savings, Hulsey said.
"Most people are intimidated by the homebuying process, but getting that loan and securing that loan is the easy part when it comes right down to the truth," Mobley said. "The hard part is maintaining homeownership; that's where the work comes in."
To reach North View reporter Sandy Lopez, email slopez@viewnews.com or call 702-383-4686. Find her on Twitter: @JournalismSandy.
Neon Rebirth: The post-recession American Dream in Las Vegas