Learning from the struggle: How the recession changed our values
March 26, 2016 - 11:18 pm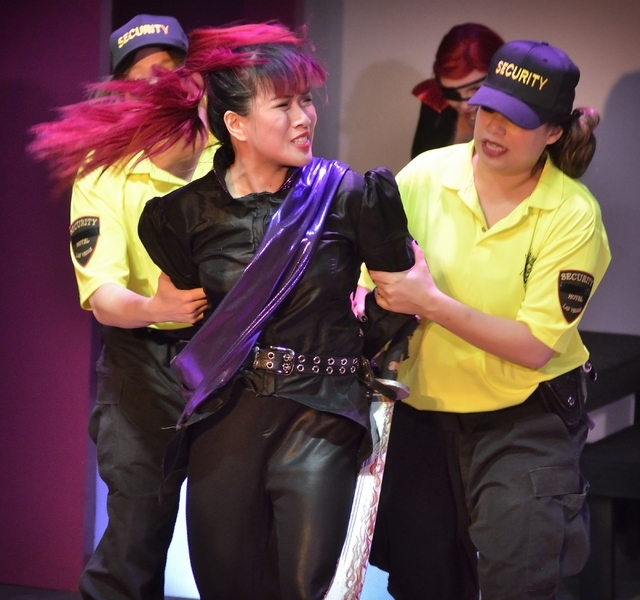 It was anything but drama-free on the local theater scene in various regards during the recession years. The economic downturn in 2008-09 caused Las Vegas Valley residents to tighten their belts when it came to spending on nonessentials such as entertainment.
Live entertainment tax revenue in Nevada during those years for gaming establishments sank from $122 million to $112 million in 2009 to $108 million in 2010, according to the Nevada Gaming Control Board.
Still, some local theaters took center stage, drawing new audiences as residents sought cheaper alternatives to major venues, such as those on the Strip, according to Sarah O'Connell, who has been artistic director for the nonprofit Asylum Theatre since 2002.
"We became a better option for your average person in Vegas," said O'Connell, who also founded Eat More Art Vegas in 2015 at eatmoreartvegas.com, to offer dining and entertainment listings and show reviews. "So people were going to local theaters where they would have ignored them before."
Adult attendance at performing arts events in the Las Vegas-Clark County Library District, where admission ranges from inexpensive to free, rose 5.4 percent during fiscal year 2008-09, compared with the previous year, according to Karen Bramwell-Thomas, the district's public relations manager.
"The recession also impacted the library district's programming budget," she wrote in an email. "In order to stretch the funding, we partnered with more local organizations to present entertainment options for our community."
At the Clark County-run Winchester Cultural Center, 3130 McLeod Drive, attendance suffered despite the venue offering average ticket prices of $10 in advance and $12 at the door. The facility lost its mailing budget due to the recession, crippling its ability to spread the word about events, said Patrick Gaffey, cultural program supervisor.
According to Gaffey, the annual budget for printing and mailing was $35,000.
"That was the prime way we reached out to customers," he said. "People who had been here — we collected their addresses."
The mailing budget has not been reinstated, but Gaffey said Facebook has become a primary tool for promoting arts events, although some potential audience members, such as older residents, do not use the Internet.
"We're building our audiences back, but they're still not as big as they were," he said. "A large part of our audience has always been seniors."
Troy Heard, who came to Las Vegas in 2009, is producing artistic director at the Onyx Theatre, 953 E. Sahara Ave. He was also guest director for the now-defunct Insurgo Theater Movement and at the Las Vegas Little Theatre, 3920 Schiff Drive, in 2010.
He said crowd numbers typically vary at the 96-seat Onyx. Its production of "Reservoir Dolls" — a gender-bending twist on Quentin Tarantino's "Reservoir Dogs" — ran Jan. 14-31 and saw 70 percent capacity for each performance in terms of audience turnout.
Prices for shows on the main stage range from $20 to $25, while studio productions cost $15, he said.
"Attendance is so variable; it depends from show to show," he said.
In addition to cuts in government funding for the arts, donations to theater troupes also dried up, causing some production companies and local venues to offer fewer performances or, in some cases, discontinuing them, O'Connell said.
"A lot of production companies full-on paused to make sure they didn't use all their resources up, with nothing left for the future," she said.
Also, the cost of renting space increased at venues such as area libraries, creating additional problems for troupes that had no theaters to call their own, she added.
"Everybody was looking to charge more rent to make their bottom line because their programs were affected," O'Connell said.
Neon Rebirth: The post-recession American Dream in Las Vegas