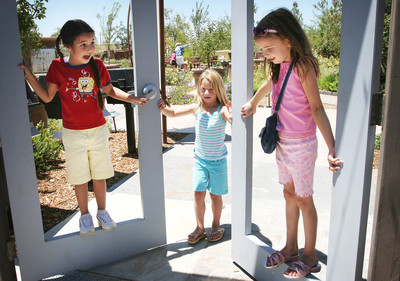 When the Springs Preserve opened one year ago today, architects of the $235 million attraction touted it as a Las Vegas version of New York's Central Park, a tranquil gathering place for residents and tourists alike.
Based on the numbers so far, they got it half-right.
Although local visitation exceeded expectations in the first year, tourists all but ignored the 180-acre collection of museums, galleries and desert plants.
Of the just over 200,000 people who have toured the Springs Preserve since it opened on June 8, 2007, fewer than 6,200 of them were from out of town.
That's well short of even the midrange projections for the preserve, which predicted approximately 600,000 visitors over the first 12 months, most of them tourists.
As a result, expenses are expected to outstrip revenues by more than $10.2 million in the first year, leaving the preserve's operator, the Las Vegas Valley Water District, to make up the difference. Revenues were projected at $1.72 million.
District General Manager Pat Mulroy seems unconcerned.
"It's a public facility, and public facilities generally have public support," she said.
No one expects the place to turn a profit any time soon, either. Under the preserve's own five-year plan, the district will still be subsidizing operations to the tune of $3 million a year in 2013. That's $500,000 a year more than the water district spent to operate the former Desert Demonstration Gardens, across Alta Drive from the Springs Preserve.
The district has already spent $121 million on the design and construction of the preserve. To complete the project amid escalating costs, the utility fronted another $39 million it eventually expects to recover through donations.
Mulroy said the preserve was developed to protect and showcase land the water district has owned since 1954. The site is considered the birthplace of Las Vegas, a desert oasis of freshwater springs that attracted the first human settlers to the area.
Mulroy acknowledged the attraction has fallen well short of what she described as its "modest goal": capturing 1 percent of the Las Vegas tourism market.
"I think we underestimated how long that would take," she said.
More than 35 million visitors came through Las Vegas during the preserve's first year of operation. One percent of that is 350,000.
"There is absolutely no reason we can't get those out-of-town visitors," said Jay Nichols, general curator and acting director for the attraction. "We're gaining new visitors everyday."
But one local tourism expert is not so optimistic.
Anthony Curtis is president of LasVegasAdvisor .com, which advises tourists on local attractions.
In the past year, he went out of his way to check out Station Casinos' new blackjack tournament, but he has never been to the Springs Preserve.
"I never deemed it important enough to go," he said. "It doesn't really fit into the visitor experience, I don't think."
With few exceptions, Curtis said, tourists come here to experience the Las Vegas they know from movies and television and the "What Happens Here" ad campaign. An off-Strip educational attraction with no gaming component, no matter how entertaining it might be, simply can't compete with that glittering row of megaresorts engineered to draw people inside.
"I'm not saying it's a bad idea that won't work. It's just a very, very, very tough sell to a visitor here for a limited amount of time," Curtis said.
Mulroy insists tourists haven't rejected the preserve; they just haven't heard about it yet.
Though the attraction was advertised in airline magazines and a few international travel publications, no concerted effort was made to directly market the facility to out-of-town visitors in the resort corridor, she said.
To really crack that market, preserve officials will need to curry favor with the concierges, cab drivers and tour bus operators who often determine where tourists spend their time and money.
That could prove difficult, Curtis said, because those people generally don't promote one attraction over another out of the goodness of their hearts.
"They want something in return," he said.
If the success of the preserve truly hinges on out-of-town visitors, "maybe it is a bad idea that won't work," Curtis said.
To him, it just seems to make more sense as a place for locals, and the numbers so far seem to bear that out.
According to projections, valley residents were expected to account for 93,400 of the paid visits to the preserve during the first year. Instead, nearly 109,000 locals plunked down money to tour the cultural and educational complex.
"In the first year we hoped the community would embrace the facility, and I think they did," Mulroy said. "Everyone that has gone through has been delighted."
First-time visitors have outnumbered repeat customers by two-to-one, which should come as no surprise considering how new the attraction is.
Officials estimate that between two-thirds and three-quarters of all visitors spent some money at the preserve, be it in the cafe, the gift shop or at the ticket booth.
The preserve's first few days were among its busiest. The attraction drew more than 9,000 paying customers during its opening weekend. Since then, a handful of events have drawn similar crowds, including the World Water Day walk in March and the Southern Nevada Cultural History Fair in May.
A new promotion was recently launched on Thursday nights that features a farmer's market, live music and cocktails in the cafe, and two-for-one admission to the museums and exhibits.
Thursdays at the Springs, as the event is called, has drawn as many as 700 people at a time, Nichols said.
The preserve has also seen a steady stream of school children. Approximately 25,000 students from 200 local schools have taken free field trips so far.
Officials insist the preserve is also gaining popularity, and some revenue, as a center for meetings and classes.
Over the last three months alone, the preserve's Desert Living Center has played host to about 80 different classes in such subjects as knitting, gardening, cooking, and tai chi.
"We have classes going almost every night of the week," Nichols said.
"I think it is penetrating the fiber of the community," Mulroy added. "That was really the push in the first year."
And work continues at the Springs Preserve.
In the coming years, four historic railroad cottages relocated from downtown Las Vegas will be restored and placed along the preserve's walking trails, which will be extended by more than a mile.
But the largest addition by far will come next year, when the new Nevada State Museum opens at the preserve.
The museum originally was slated to move from its current home in nearby Lorenzi Park this summer, but construction delays have slowed work on the 79,000-square-foot building at the preserve.
"I think it would be a great thing to have them open about the time of our second anniversary," Nichols said.
If you ask Curtis, though, the biggest potential draw for tourists might just be the preserve's eco-friendly restaurant, Café by Wolfgang Puck. Restaurants helmed by celebrity chefs are big in Las Vegas right now, Curtis said.
"Then again, there are other Wolfgang Puck experiences that can be found right next to slot machines," he said. "Maybe they need to get some green slot machines in there."
Contact reporter Henry Brean at hbrean @reviewjournal.com or 702-383-0350.
BY THE NUMBERS
Since it opened to the public on June 8, 2007, the Springs Preserve has drawn 200,783 visitors. Here's how the attendance figures as of last week break down:
General admission to the paid areas: 53,462 local residents
Out-of-town visitors: 6,172
Visitors with annual passes: 55,256
Visits to free attractions such as the gardens and the trails: 28,120
School field trips: 25,000
Other group visits and meetings: 7,773
Special-event attendance: 25,000