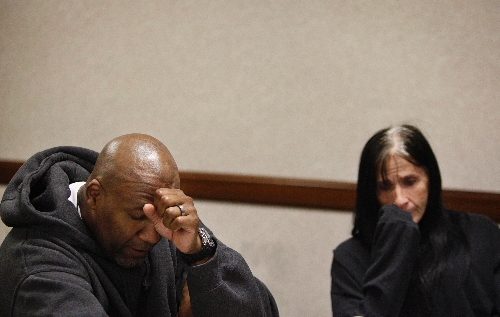 Rondha Gibson has one request. She wants you to remember the name Stanley LaVon Gibson.
If you don't remember that he was a Gulf War veteran, she'll understand. If you don't remember his lucky collection of elephant figurines or his cooking prowess, no problem. If you don't remember he was gunned down by Las Vegas police while sitting, unarmed, in his Cadillac Dec. 12, that's OK, too. Just please remember his name. That's all she asks for her husband who himself didn't ask for a lot.
All he ever wanted in life was a chance, Rondha says. "A chance to be a man."
As an adult, that meant providing for his wife, something his slashed Veterans Affairs benefits made increasingly difficult. As a freshman at Eldorado High School, it meant following in his big brother Rudy Gibson's footsteps.
Forget that those footsteps belonged to a guy 6 inches taller and 125 pounds heavier. In Stanley's mind, he was just as big. It's that thinking that led the 5-foot-9, 120-pound teenager to try out for the football team. If Rudy could do it, so could he.
"He got railed that first practice," recalls Rudy, who can't help but laugh at the memory.
But that's what made Stanley Stanley. He was a stubborn kid, stubborn teenager and stubborn man. And, his way was always the right way. Or, as his family came to call it, the "LaVon way."
It's the LaVon way that had his family eating burned ham one Thanksgiving and refusing to say a word about it. See, Stanley was the cook of the family. After a GI Bill in Colorado Springs took him through culinary school in his early 20s, he developed a passion for the trade. He later honed his skill at eateries at the Monte Carlo, San Remo and the Las Vegas Motor Speedway.
On this particular Thanksgiving, though, his culinary compass was a tad off. And so was the ham. But his family ate their way through the mistake. It was either that or listen to Stanley go into a lengthy, defensive explanation. Better to have burned ham, than cold, burned ham.
Stanley's family learned to adapt to his idiosyncrasies long before he came back from the war. When he returned, however, they learned to adapt to his sicknesses.
Stanley wound up wearing Army fatigues in Operation Desert Storm the next time he insisted on doing as Rudy did. It's the one time Rudy wishes his little brother wouldn't have followed him. Stanley brought back post-traumatic stress disorder and adenoid cancer — which he blamed on exposure to uranium — that affected the right side of his face and spread to his lung. Both led to never-ending benefits battles with the VA.
The PTSD caused bouts of extreme anxiety and paranoia. He would become convinced everyone was conspiring against him and no one could be trusted. When a fit would come on, Rondha would call brother-in-law Rudy to help calm her husband down.
What would Rudy do? Corner his "little runt brother" and bear-hug the demons away. The two would tell Stanley how much they loved him and that everything would be alright.
Smothering him with love snapped him out of it. Until the next fit.
For outsiders, it seemed like a burden too heavy for a marriage to bear. Not for Rondha. Friends would ask why she didn't leave. Love, she'd tell them.
They met in 2000. Stanley proposed to her over shrimp scampi he prepared himself in an apartment they'd just moved into. He wanted to do it earlier, but didn't have the money. If he couldn't take care of a wife, he wouldn't take a wife. That's the way a "man" would do it, so that's the way Stanley did it.
After back payments from the VA came in, Stanley got his green light, and Rondha got her marriage proposal. They married July 23, 2003.
Rondha had two grown daughters from a previous relationship, but she and Stanley couldn't have children together. When Rondha's daughter made them grandparents, Stanley was ecstatic.
Grace Celeste Mohlke was named after Stanley's mother. When she was born, he wasted no time spoiling his little "Bird." Stanley spent $800 to buy her and him matching Michael Jordan outfits and gave her a BlackBerry when she started kindergarten. Just in case the 5-year-old in Arkansas needed to call "Grampy."
Bird was just one of his babies. The other was 120 pounds of white fur. Rondha swears the day she put their Australian amstaff pit bull puppy in her husband's arms was the day he became a father. They named him Shalifi, which means master in elfin, a nod to Stanley's Dungeons & Dragons days as a kid.
Earlier this year, Stanley taught Shalifi to rescue him from the bottom of the swimming pool. "Do you know what it's like to see a polar bear coming at you?" Rondha asks. Her husband did. And he loved every second of it.
The good times with Shalifi were cut short in October. Rondha and Stanley suspect a neighbor intentionally poisoned him with antifreeze. They watched their beloved dog die a painful death. Stanley took it hard. As hard, Rondha says, as she's taking his death.
Today, her husband is out of his personal prison and back with Shalifi. Rondha is sure of that. What she's not so sure of is how to answer Bird when she asks if the police are bad guys. After what happened the night of Dec. 12, it's hard to blame her.
Stanley's troubles started after a VA doctor's office canceled his appointment recently, causing him to miss his medication for two weeks. He went into a tailspin of paranoia and anxiety that led to his arrest. Police told Rondha her husband would be put on a 72-hour psychiatric hold so doctors could evaluate him. He was released the same night.
The next day, trying to find his way home, Stanley turned into the wrong apartment complex. He was lost and confused. Police were called. They pinned his car in with patrol cars, and a 30-minute standoff ensued.
His family wasn't there to smother him with love or bear-hug the demons away. After a miscommunication, shots were fired, and Stanley was killed.
Rondha has been asked whether she plans to retain an attorney. She didn't have money before she met Stanley. She didn't have money after she met Stanley. And, she doesn't want money without Stanley.
An attorney called her recently, and she had one question for him: "What's my husband's name?" He got his first name right, but not his last name. She told him never to call back.
Rondha Gibson has one request. She wants you to remember the name Stanley LaVon Gibson.
Contact columnist Xazmin Garza at xgarza @reviewjournal.com or 702-383-0477. Follow her on Twitter @startswithanx.