State Department admits offering $10 million in rewards for Benghazi attackers
November 15, 2013 - 11:49 am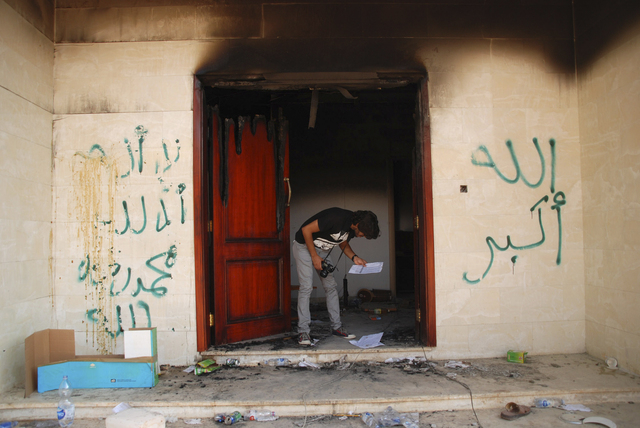 WASHINGTON — The State Department said Friday that it has been quietly offering rewards since January of up to $10 million for information leading to the arrest or conviction of any person involved in last year's attack on a US diplomatic compound in Libya.
In a letter sent to lawmakers on Friday, the department said the rewards were not advertised on its "Rewards for Justice" website or posters or matchbooks as is normally done because of security issues around the ongoing investigation into the Sept. 11, 2012, attack on the mission in Benghazi that killed U.S. Ambassador to Libya Chris Stevens and three other Americans.
A State Department official familiar with the letter to Rep. Michael McCaul, R-Texas, acknowledged that it's unusual not to publicize offers of rewards, but said investigators have other ways of making sure the information is known "as needed." In the course of the probe, investigators have made it known to individuals that cash is available for those coming forward with actionable information.
The official said the rewards have been in place since Jan. 7. The official was not authorized to speak publicly about the private correspondence and spoke on condition of anonymity.
Lawmakers had complained the department was not using all the tools at its disposal to catch the perpetrators. McCaul, chairman of the House Homeland Security committee, had been the lead author of a letter to Secretary of State John Kerry asking why rewards were not being offered for the Benghazi suspects.
The State Department had previously ducked questions about whether rewards for the Benghazi attackers had been offered, citing concerns about identifying possible suspects.
The State Department official said the rewards are not targeted at specific individuals but are rather "event-specific" and intended to solicit information about anyone who took part in the attack on the 11th anniversary of the 9/11 terrorist attacks in the United States.