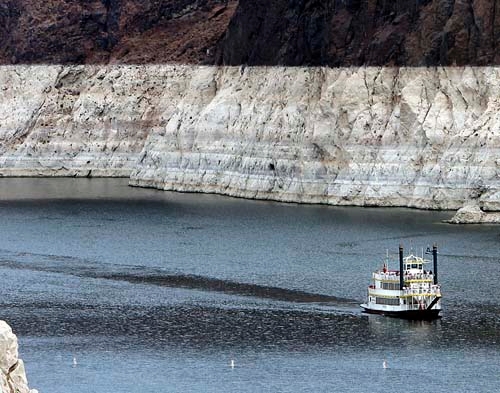 A report released Monday confirms what officials at the Southern Nevada Water Authority have known for years: Climate change will have a detrimental effect on millions of water users in the West for decades to come.
Southern Nevadans can expect decreases of 8 percent to 14 percent a year on the stretch of the Colorado River that they depend on for their water, according to the report.
The Department of the Interior's Bureau of Reclamation compiled the study to meet a requirement of the federal Secure Water Act. It combines data from previous reports that warn a warming planet poses significant risks to water users. The assessment looks at the risks for water operations, flood control and fish and wildlife in three river basins: the Colorado, Missouri and Rio Grande.
The Colorado supplies water for seven Western states, including Nevada, Arizona and California.
"(The study) looks at minimums and maximums," water authority spokesman J.C. Davis said. "As we get closer to 2050 and 2070, our maximum years, good water years, will be a little less good, and our bad years will be a little worse.
"What this tells us is that there is substantial uncertainty. What do we do to reduce our reliance on Colorado River water and how do we manage demand?"
Davis said that uncertainty over future allocations from the Colorado River is what motivated the water authority to apply for scores of groundwater rights in basins in rural Nevada. The authority continues to pursue the permitting process, which could take years.
"That's our safety net," he said. "That's how we become hydrologically independent."
The authority also is constructing a third intake at Lake Mead that will allow water to keep being drawn even if the lake level drops considerably.
The water authority has made substantial strides in conservation efforts. Since 2002, water use in Clark County has been reduced by 32 billion gallons even as the population grew by 400,000.
A turf replacement program that has eliminated 150 million square feet of sod, restrictions on how much grass homeowners can plant and a ban on grass for new businesses, restrictions on outdoor watering, and an innovative push to desert landscaping played a huge role in the dramatic savings.
Davis said the figures released in Monday's report are accurate insofar as large numbers can be accurate, but he also said climate change could render them moot.
"We're going to get wilder mood swings from Mother Nature," he said.
On the side of good news, Davis said the relative youth of Las Vegas means fewer leaks for the pipes and other infrastructure that handle the valley's water.
The water authority also has aggressive, systematic replacement programs that should save the valley from dealing with an antiquated system in the coming decades, he said.
Contact Doug McMurdo at dmcmurdo@reviewjournal.com or 702-224-5512.