Summer students stay engaged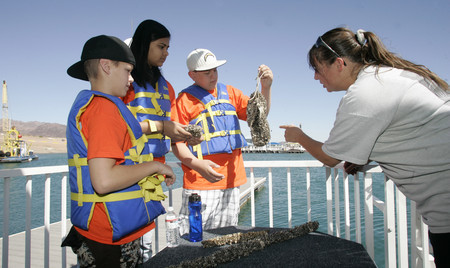 Summer is for baseball, movies and camping trips, but 12-year-old Sheldon Wimbish is hardly having a carefree vacation. He's studying the drought.
"I'm kind of worried that Las Vegas will run out of the water it needs," Sheldon said from the "Forever Earth" houseboat that cruised Lake Mead on Tuesday morning.
The middle school students on board were looking for plankton samples. Their cruise was sponsored by the Alexander Dawson Foundation Center For Excellence in Teaching and Learning.
Because of new summer programs like Dawson's six-week-long "Water: Science and Culture in a Changing Climate," students no longer have to put their academic interests on hold until the start of the new school year.
Other students this summer are performing lab experiments with researchers at the Nevada Cancer Institute and learning how to put feeling into a dramatic reading of a Shakespearean monologue.
"Even when the school district is closed, you still can find your passion," said Mary Catania, 22, who is teaching an acting class for middle and high school students at the honors college of the University of Nevada, Las Vegas.
Kwabena Boateng, 17, a senior at Rancho High School, is excited about the future. "I'm learning how stem cells will one day save lives," said Boateng, a summer intern at the Nevada Cancer Institute.
By popular demand, the Nevada Cancer Institute added a two-week immersion class this summer for 24 high school students, in addition to its eight-week internship program.
The two-week class is for students who wanted to learn more about the latest research and get more hands-on opportunities in the lab, said Alie Jones, a coordinator with the Keyser Foundation, which supports the internships and immersion classes.
The Summer Advanced Gifted Education program at UNLV is in its fifth year of offering intense, three-week long classes to middle and high school students. Students can earn three hours of university credit.
The program has served more than 300 students since 2004. Students must apply to get in, but in a way, it's also self-selective. "It's a definitely a special few who are willing to go to school during the summer," Catania said.
These new summer programs are a welcome relief for Mitch Winik, the father of a gifted student who worries his 12-year-old son Daniel is not getting challenged enough during the regular school year.
At same time, he does not want to his son to go to "school for 12 hours a day" either.
Daniel, a seventh grader at Hyde Park Middle School, recently returned from the "People to People Leadership Program" in Washington, D.C, a weeklong program. Students were selected on the basis of their scholastic merit and civic involvement.
One of the goals of the Dawson Center is to provide more "enrichment programs" to gifted or "high-performing students," since state and federal school accountability programs such as "No Child Left Behind" are targeted to helping low-performing students.
The Dawson Center made its summer program on the drought available to two students per middle school in the Clark County School District; 73 students enrolled in the tuition-free program. Transportation and lunch are provided by the foundation, which also supports a K-8 private school in Summerlin.
"We have one student coming every day from Mesquite," said Kevin Cloud, the director of the program.
Students will not get academic credit, but Amber Trowbridge, 12, noted that it "will probably look good on college applications."
As part of the Dawson program's multi-disciplinary approach, Nick Payne, a guest lecturer from Nottingham, England, also taught students how people think visually and how "Fortune 500" companies use logos and icons, such as the Nike "swoosh."
Cloud said he wanted to make sure the program offers students something they normally wouldn't get in their regular classes during the school year.
"If you're going to provide something extra, the summer is the time to do it," he said.
Contact reporter James Haug at jhaug@reviewjournal.com or 702-374-7917.