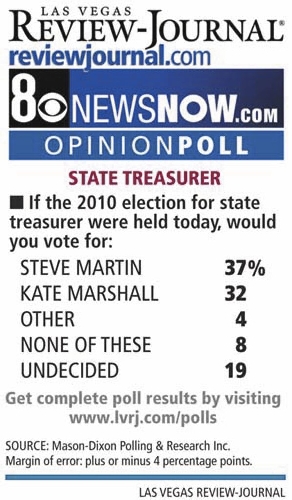 CARSON CITY — A surge in support for Republicans has turned around one race for a state constitutional office and might help other Republicans win in November, a new poll has found.
Trailing by 7 percentage points in late August, Republican accountant Steve Martin has come behind to gain a 5 percentage point lead over Democratic incumbent Kate Marshall in the race for treasurer, according to the poll conducted by Mason-Dixon Polling & Research for the Las Vegas Review-Journal and 8NewsNow.
Pollster Brad Coker said that if the Republican gains continue, then the GOP could see more victories in the constitutional office races.
"What you are seeing is kind of a Republican tide," Coker said. "Will it be enough to beat (Secretary of State) Ross Miller and (Attorney General) Catherine (Cortez) Masto in November? Probably not. But Nevada could go Republican."
He said most people don't look at the "down ticket" races until just before the election. That means who wins the undecided voters — more than 20 percent in some races — probably will win the election, he said.
The poll of 625 registered voters around the state was conducted Monday through Wednesday. All respondents said they were likely to vote in the election.
Marshall is the only incumbent trailing among the five constitutional officers seeking re-election in November.
The poll found Republican Lt. Gov. Brian Krolicki has opened up an 18 percentage point lead over Democratic challenger Jessie Sferrazza in his bid for a second term. He led by 12 percentage points in the previous poll.
Cortez Masto enjoys a 10 percentage point lead over Republican challenger Travis Barrick in the attorney general's race, but she was up by 17 percentage points in August.
Democratic Secretary of State Miller is ahead by 9 percentage points over Republican Rob Lauer. Miller was up by 14 percentage points in August.
But Democratic Controller Kim Wallin continues to hold a thin 4 percentage point lead in her battle for re-election against Republican Barry Herr. That is within the margin of error of plus or minus 4 percentage points. The race has been nip and tuck in three polls conducted by Mason-Dixon.
Wallin was 3 points ahead in August and 2 points in July, with the same margins of error.
Marilyn DeCianni, a registered Republican from Sun Valley, north of Reno, always has voted for some Democrats, but this election she is thinking of voting straight Republican.
"I am unhappy with what the Democrats did in Washington," said DeCianni, who was polled by Mason-Dixon. "They didn't listen to the people in their own state."
DeCianni said she has received no campaign literature so far from candidates for constitutional offices. She wishes they would send information explaining what they have done and want to do, rather than "bad-mouthing the other guy."
Mary Anne Harrison, a Democrat from Carson City, said she is proud to be a Democrat and intends to vote Democrat. But she concedes some of her Democratic friends have told her they plan to vote Republican.
"They don't realize it is going back to the good old Bush days," the poll respondent said. "I wouldn't vote Republican if someone put a gun at my back."
Republican Martin, who lost the state controller's race in 2006, expects to be elected the state's next treasurer in part because of the anti-incumbent views of voters.
"Last time, most Republicans got hammered," he said. "This time, the trend is hopefully in the reverse."
He also said he has better qualifications for the treasurer's job since he is a certified public accountant and Marshall is a lawyer.
Marshall responded by saying she is proud of her record and confident voters will support her once they learn about her accomplishments.
She said her office found $40 million in unclaimed property revenue to reduce the spending cuts made by the Legislature in 2008. It found another $20 million later that year before a second special session. The office also found $10 million to help offset cuts in the special session in February.
Marshall said her investments outperformed those of billionaire investor Warren Buffett last year and that she has cut office expenses by 15 percent in her next budget.
Controller Wallin said she is pleased she continues to hold the lead over Herr and has not lost ground like the other Democrats.
"Maybe next time I will be up by five?" she quipped. "If you do your job as controller, you don't get your name in the paper."
Wallin said her own polling shows that if people know her, then they probably will vote for her. But if they don't know anything about her, then they vote a straight party ticket, she said.
Although he still trails by 9 percentage points, even Lauer predicts the Republican surge will carry him to victory over the better known and better financed Miller.
"I think the Republican turnout will be higher than anticipated," said Lauer, who questions the Mason-Dixon polling. "This is a year the incumbents are in trouble."
Miller, the son of former Gov. Bob Miller, however, has raised $408,000 this year and last, as of the May reporting period, while Lauer raised $41,500.
Contact Capital Bureau Chief Ed Vogel at evogel@reviewjournal.com or 775-687-3901.