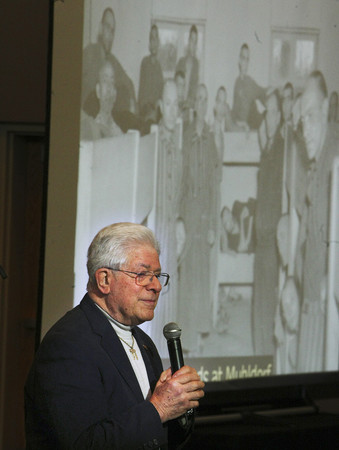 Stephen Nasser waited for more than 50 years to tell his story of surviving the Holocaust, but his tale seemed more relevant than ever when he shared it Tuesday with Northwest Career and Technical Academy students.
Lori Sublette, a former gym teacher at the high school, was transferred by the Clark County School District in January to a different campus after being accused of denying to students that the World War II genocide ever happened.
Nasser, 79, lives near the school at 8200 W. Tropical Parkway, near U.S. Highway 95, and volunteered as a speaker soon after he read about the controversy in the Review-Journal.
Nasser told a school assembly that Holocaust deniers are so ignorant and immature they don't deserve a response. He was unsparing in detailing his own experiences of traveling in a crowded and filthy boxcar to the Auschwitz concentration camp in Poland and seeing Nazis bludgeon to death his Aunt Bozsi and her baby, Peter.
Her husband and the baby's father, Charles Nasser, had been sent to the Russian front as a slave laborer. After the war, Stephen Nasser said he could not bear to tell his uncle what had happened and feigned ignorance.
"It was the biggest lie because I was an eyewitness when they were murdered at Auschwitz," said Nasser, a Jewish native of Budapest, Hungary.
Nasser waited for 50 years, until his uncle died, before publishing a book in 2003 based on the diary he kept in the concentration camp. The book is called "My Brother's Voice" in honor of his older brother, Andris, who didn't survive.
The book is published by Stephens Press, which is owned by Stephens Media, the company that also owns the Review-Journal.
Nasser also showed students a war-time photo of himself as a young boy alongside a stack of dead bodies. He was 14 at the end of the war and weighed 72 pounds.
Nasser, however, said he has never believed in "feeling sorry for himself." His attitude is to always "forge ahead." He told students that love is always "more satisfying than hate." He is always careful to distinguish the Nazis from the Germans because to condemn all Germans would be racist.
In addition to Nasser, eight or nine other Holocaust survivors made themselves available to speak to students and classes.
Clark County School Board President Terri Janison thanked Nasser for speaking and noted that her mother-in-law, Nicole Janison, is a native Romanian who also escaped the Holocaust. Terri Janison's husband, Kevin Janison, is a weathercaster for KVBC-TV, Channel 3.
Nasser frequently talks to school groups. Northwest Principal Frank Pesce introduced Nasser as part of a series of "very special presentations," similar to those on presidential elections and drunken driving that were given by other guest speakers.
School officials never publicly mentioned the classroom incident in which students said Sublette told them that the Nazis did not have the technology to carry out the genocide and that photos of the concentration camps had been distorted, according to a senior in the class.
Sublette was assigned to her home during the district's investigation of what happened and then transferred to Johnston Middle School.
During Tuesday's event, district communications staff would not allow students or school staff to be interviewed.
One student, however, told the Review-Journal after school that she was disturbed that Northwest officials tried to "hide the fact that (Nasser's) talk was being presented to us as a result of the Ms. Sublette drama."
Contact reporter James Haug at jhaug@reviewjournal.com or 702-374-7917.
Stephen Nasser speaks to students