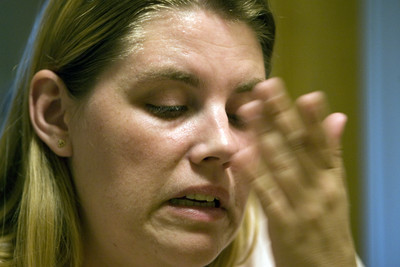 The man who plowed his truck into a Las Vegas bus stop Monday morning, killing one person and critically injuring another, has an extensive history of driving under the influence, authorities said.
Steven N. Murray, 44, was convicted four times in Texas for driving while intoxicated during the 1990s, said a spokeswoman for the Harris County district attorney's office, which oversees the Houston area.
In another two instances, in 1991 and 1994, Harris County prosecutors dropped charges of driving while intoxicated against Murray. Spokeswoman Donna Hawkins didn't know why the charges were dropped.
Murray is being held without bail at the Clark County Detention Center on two DUI-related charges for the early morning crash. Police believe he was under the influence of prescription drugs at the time and are awaiting blood tests results to be certain.
Murray's background should be cause for Clark County prosecutors to seek even harsher penalties, said Sandy Heverly, executive director of the nonprofit group STOP DUI.
"This guy has a horrific history," she said. "This is an example of one they should throw the key away if, in fact, he's convicted."
"What else can you do about somebody like this?" Heverly said. "Obviously he didn't get the message in all these years."
Murray's most recent convictions for driving under the influence in Harris County came in April and May of 1999, according to Hawkins and records from the Texas Department of Corrections.
The May conviction was alcohol-related, Hawkins said. She didn't know the causes behind the other charges.
Murray was sentenced later that year to three years in prison, but was released after about 13 months for good behavior and credit for time served during his court case.
But Murray should not have been driving alone during Monday's accident.
According to Nevada Department of Motor Vehicles' records, Murray had only an instruction permit, not a license. Records also show that he has three minor traffic violations on his Nevada driving record, two in 2006 and one in 2007.
DMV spokesman Tom Jacobs said adults sometimes receive a permit if they've had their license revoked for a period of time.
A driver with a permit has to have an adult 21 years or older in the vehicle at all times.
Murray was alone in the 2001 Dodge Ram 1500, police said.
He was heading northbound on Boulder Highway about 5:30 a.m. when he drove onto the sidewalk just north of Flamingo Road and hit a bus stop where two women were waiting.
One woman, 26-year-old Porshe Hughes, was critically injured and taken to Sunrise Hospital and Medical Center. Media reports said that the woman may have one of her legs amputated.
The other woman, 55-year-old Patricia Hoff, died shortly after arriving at the hospital.
Hoff's daughter, 30-year-old Robin Wynkoop, was combing through her mom's purse at her mom's apartment near the crash site Tuesday evening.
Hoff's purse strap was ripped at one end. A glass perfume bottle shattered inside the bag when the truck ran into her.
"We're all mad," Wynkoop said as she pulled out a business card for a church someone had given Hoff. It read, "Ticket to Heaven."
It was the fourth such card Wynkoop found in her mother's purse.
"I know my mom's in heaven," she said dismissively. "I don't even have to worry about that."
Hoff, originally from Ohio, moved to Las Vegas in 1993. She worked to support her two daughters and in the last few years supported Wynkoop financially so that she could pursue a bachelor's degree in criminal justice.
"She always wanted me to finish school," Wynkoop said. "Now she'll never see me graduate."
Hoff "did everything for her family," Wynkoop said.
She said it's difficult to control her anger toward Murray, but that her mother would want her to forgive him.
"She was saying, 'You can't hate people. You don't say that,' " Wynkoop said.
Murray is scheduled to make his first appearance in Justice Court today.
Review-Journal writer Brian Haynes contributed to this report. Contact reporter Lawrence Mower at lmower@reviewjournal.com or 702-383-0440.