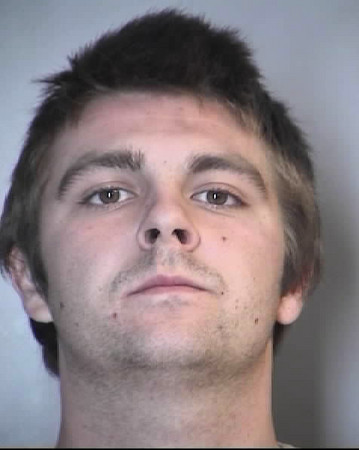 A Las Vegas man who in 2007 staged a car accident to cover up the death of his former girlfriend's child pleaded guilty to second-degree murder by child abuse Monday in District Court.
Trevor John Carter, 23, faces the possibility of life in prison. He also has pleaded guilty to three additional felony child abuse counts. He won't be eligible for parole for at least 12 years, according to the plea agreement worked out by prosecutor Vickie Monroe and Deputy Public Defender Norm Reed.
The mother, Amber Scott, 26, goes to trial in December. She faces three felony charges related to child abuse and neglect.
Carter crashed his car in the desert near Losee Road, about a mile from Las Vegas Beltway, one week before Christmas 2007. He told officers he wrecked while racing 4-year-old Trenton Quick to the hospital after noticing blood in the boy's mouth. Carter told police he had taken Trenton and his sibling out to target shoot.
From the start, North Las Vegas police doubted Carter's story, and an autopsy confirmed the suspicions. The coroner ruled Quick died from blunt trauma to his abdominal area and had been a victim of prolonged child abuse. Quick died before the accident.
The coroner ruled Quick had 35 injuries on his body, many that were caused prior to the accident.
When questioned by District Judge Douglas Herndon, Carter admitted he struck Quick with belts and his hands. In one incident, he pushed the boy off a ladder. He also admitted to abusing Tyler Quick, 6, and 3-year-old Trinity Quick.
Donna Carter, the defendant's mother, flew to Las Vegas from her home in Arkansas to hear her son enter his pleas. She said it is her "mother's hunch" that her son is innocent. She said Carter pleaded guilty in part to avoid having to look at autopsy photographs at a trial.
Herndon set a Feb. 16 sentencing date. Carter is expected to testify against Scott at her trial next month.
Carter has been in the Clark County Detention Center since December 2007. Scott is free on bail. Carter faces a sentence of 10 years to life on the murder charge; two to 20 years on the charge of child abuse causing substantial bodily harm; and one to six years on each of two counts of felony child abuse and neglect.
Contact Doug McMurdo at dmcmurdo@reviewjournal .com or 702-380-8135.