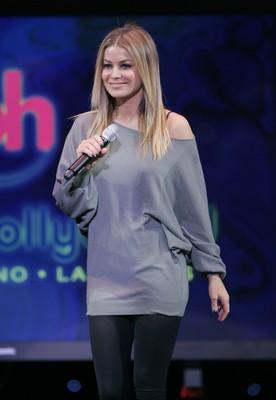 Carmen Electra's backstage drama is taking a toll on the new illusion show at Planet Hollywood Resort.
Insiders say Hans Klok's "The Beauty of Magic," which was to open for previews Thursday in the Theater for Performing Arts, has been postponed.
Electra has a three-month contract to be Klok's sexy assistant, but "she's throwing fits, crying; there's all kind of turmoil," a source said.
A rep for the show declined to comment on the situation but said the postponement is likely to move the May 12 opening to May 19.
HOT TICKET
The hottest ticket ever? The May 5 megafight between Oscar De La Hoya and Floyd Mayweather Jr. is taking Las Vegas ticket prices into new territory.
"It's the biggest fight in 10 years and will end up being the biggest ever, in demand, interest and ticket pricing, across the board," said Kenny Solky, president of lasvegastickets.com.
One fan is shooting for the moon: He's asking for $35,000 apiece for a pair of so-so seats at the ticket broker Web site stubhub.com.
With the fight two weeks away, choice seats are going for $7,500 to $15,000, Solky said. Seats in the nosebleed section will cost you $1,200.
"The last one that generated this kind of interest," Solky said, "was Tyson-Holyfield on June 28, 1997," the night Mike Tyson bit Evander Holyfield's ear.
This time the fans are feeling the bite.
'OCEAN'S' CAST COMING
The full cast of "Ocean's Thirteen" is expected for the gala screening June 6, opening night of the CineVegas Film Festival at Brenden Theatres at the Palms, it was confirmed Thursday.
Confirmed attendees include Brad Pitt, George Clooney, Andy Garcia, Don Cheadle, Ellen Barkin, Matt Damon and producer Jerry Weintraub, who will be honored with the CineVegas Vanguard Producers Award that evening.
The evening will be a fundraiser for Weintraub's charity benefiting Sudan's war-torn Darfur region.
The world premiere of "Ocean's Thirteen" will take place next month at the Cannes Film Festival. The Hollywood premiere is set for June 5.
MAY I RECOMMEND …
The red carpet for the grand opening of The Pearl, the Palms' new music venue, will be covered with celebrities on Saturday for Gwen Stefani's concert. The Palms is attempting to break a Guinness world record by assembling 160 searchlights. The red carpet takes place from 7:30 to 9 p.m.
SIGHTINGS
Supermodel Heidi Klum, catching lunch Thursday at Joe's Seafood, Prime Steak & Stone Crab in the Forum Shops at Caesars after signing autographs at Victoria's Secret. … Simon Cowell, doing his live broadcast on "Oprah" Thursday from the DAV Productions' studio here. He's in town for the National Association of Broadcasters convention. … Singer R. Kelly, performing for 300 Sony and BMG executives Wednesday at a private event at Pure nightclub in Caesars Palace. Kelly performed songs from his new album, "Doubled Up," out May 29, and he opened his 11-song set with "Rise Up," which he dedicated to Virginia Tech's slain students. … Soap star Catherine Hickland and her beau, attending three shows Wednesday night: "V — The Ultimate Variety Show," Steve Wyrick's magic show and "Mesmerized," all at Planet Hollywood Resort. The ex-wife of David Hasselhoff plans on seeing a total of 12 shows this weekend.
THE PUNCH LINE
"In lieu of flowers, Sanjaya's family requests that you send hair clippers." — Jimmy Kimmel
Norm Clarke can be reached at 383-0244 or norm@reviewjournal.com. Find additional sightings and more online at www.normclarke.com.
NORM CLARKEMORE COLUMNS