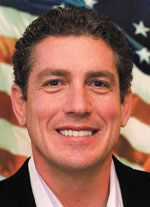 Add another name to the "Showdown in Searchlight."
But this RSVP isn't exactly the one Tea Party activists have welcomed for the March 27 weekend event.
U.S. Senate candidate Jon Scott Ashjian said he plans on attending as the only candidate in the country running under the third party Tea Party of Nevada banner.
He isn't scheduled to speak — he just wants to show up.
But members of at least 20 grass-roots Tea Party organizations in Nevada signed petitions denouncing Ashjian's candidacy and the creation of his third party.
"The TPN is not now, has never been, and will never be affiliated with grass-roots efforts in Nevada," the petition reads. "…The TPN will not be invited to or allowed to represent themselves at conservative grass-roots events and functions across Nevada."
Diana Orrock, of the Nevada Patriots, signed the petition last week that denounces the third party.
"The third choice (Ashjian) is offering has never been a viable option," Orrock said.
"He splits the vote, and he lets the undesirable candidate, Harry Reid, win essentially. What he wants to accomplish is really detrimental to what the Tea Party movement wants to do."
Other statewide conservative groups who signed the petition include Anger is Brewing, Grassroots Nevada, Las Vegas Tea Party, Patriot Caucus, Nevada Action Conservatives, and Western Representation PAC, among others.
On its face, both Ashjian and Tea Party activists statewide seem to promote similar conservative values.
Side-by-side parts of the Tea Party of Nevada's bylaws and the petition read congruently:
Smaller government, fiscal responsibility and more freedoms.
More recently, both also are distancing themselves from Republicans for different reasons, Ashjian's being pressured to run as a GOP candidate, and Tea Party activists say they don't want their movement hijacked by any party.
Orrock, who serves on the executive board of the Republican Party in Clark County, said those in the local Tea Party movement got involved in local politics to "make truly positive change."
"True change is starting from the bottom and working up," she said. "That's why we would embrace Mr. Ashjian if he were to join us. I would think if he wanted positive change that he would know the two-party system is what you have to work within."
But Ashjian said that isn't happening.
"By them saying I should fall in line is an insult," Ashjian said. "I'm not asking for an invitation. I think they should get behind me, not fall in line like sheep. They're so paranoid, it makes me think they have weak candidates and they're afraid.
"The more they attack, the more they show their hand, and I mean that across party lines. It's not politics as usual. We're running a different campaign, and they're scared to death."
Contact Kristi Jourdan at kjourdan@reviewjournal.com or 702-383-0279.
U.S. Senate candidate Scott Ashjian Web site.