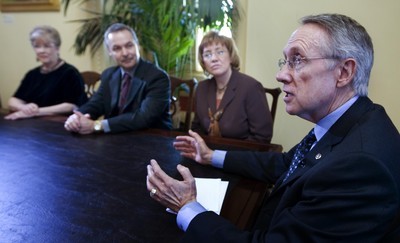 WASHINGTON — Melanie Teemant peered down from the gallery of the House watching President Bush deliver his final State of the Union address Monday. She was expecting her students at Miller Middle School in Henderson were sitting before their televisions at home, doing the same.
The seventh-graders in Teemant's reading classes were given the task to watch the president's speech and to be ready to talk about it when Teemant, the 2007 Nevada Teacher of the Year, gets back to school later this week.
"The assignment for them was to watch the speech so we can have that discussion over what issues are hot and what the president is thinking about," she said.
Teemant flew to Washington at the invitation of Sen. Harry Reid, D-Nev., to watch the event. Reid also invited:
• Washoe County Sheriff Mike Haley.
• Army Lt. Jesse Tafoya, who grew up in Las Vegas, graduated from Valley High School and just returned from a 15-month tour in Iraq.
• Kari Frilot, chief executive of the Pahrump Valley Chamber of Commerce.
• Mesquite Mayor Susan Holecheck.
Reid, who was entitled to 10 visitor passes as Senate majority leader, invited the Nevadans to send Bush a message.
"I wanted the president to know that real people are watching this," Reid said.
Nevada lawmakers varied in their responses.
Reid struck a conciliatory note, saying he looks forward to working with Bush in the final year of his presidency.
"If the president works with us, Nevada can become the world leader in renewable energy," Reid said. But Reid said Bush "must stop playing political games and start working with Congress to forge the solutions people need."
Nevada's other congressional Democrat was defiant at the president's call to further curb earmarked spending.
"It will be a cold day in hell before I give back the $341 million for the veterans hospital in Southern Nevada," Rep. Shelley Berkley said.
Reps. Dean Heller and Jon Porter, both R-Nev., expressed disappointment that the president did not talk more about his economic stimulus package.
"I truly do not think the stimulus goes far enough in cutting individual and corporate tax rates," Heller said.
Porter said the stimulus should include more funding for senior citizens.
As for Bush's veto threat on earmarks, Porter said, "I was disappointed the president didn't focus on his own earmarks, and I would be anxious to see which of those he would like to cut."
Sen. John Ensign, R-Nev., said it is important for Congress to act on the president's request to pass the Foreign Intelligence Surveillance Act, which expires Friday.
Teemant was listening to hear whether Bush would talk about schools. He declared the No Child Left Behind Act a success, and urged further action "to increase accountability, add flexibility for states and districts, reduce the number of high school dropouts and provide extra help for struggling schools."
But Teemant said the speech lacked any references to possible changes in the law. "I do agree that some of (the law) is working, but it was a vague remark and not a concrete example of what to do," she said.
Frilot's concern was rural infrastructure while Holecheck's was renewable energy. Haley wanted to know where Bush was headed on wiretapping and whether there would be privacy and search protections. Tafoya was eager to hear from the commander-in-chief about the war although the uniformed soldier did not offer an opinion on it.
Holecheck was encouraged that Bush devoted a few lines to promoting renewable energy, but she is disheartened that extended tax breaks for energy production for wind, solar and geothermal sources have not been approved.
Holecheck and Frilot said they had a clear view of the event from their seats, and could see the interplay between the president and the lawmakers who applauded at their favorite parts while sitting stonefaced at others.
"It was just watching history unfold," Frilot said. "Being there in person, it is real. It has everything. You don't miss anything.
Contact Stephens Washington Bureau Chief Steve Tetreault at stetreault@stephensmedia.com and reporter Tony Batt at tbatt@stephensmedia.com or (202) 783-1760.
RELATED STORY Reid: State of the Union more exciting than Super Bowl, Series