Theories on why 9/11 hijackers visited Las Vegas
September 7, 2011 - 12:59 am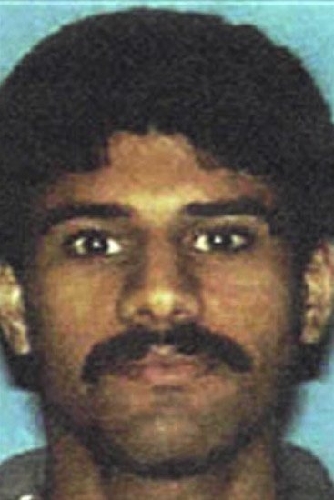 A decade after hijackers slammed jetliners into the World Trade Center and the Pentagon, investigators still can't explain with certainty why several of the terrorists visited Las Vegas before the deadly attacks.
But two prevailing theories have emerged in investigative reports and interviews with key players in the nationwide investigation into the worst act of terrorism ever committed against the United States.
One theory suggests that Mohamed Atta and the other pilots who led the hijacking teams were here planning the Sept. 11 attacks in New York and Washington, D.C. A secret police intelligence report viewed by the Las Vegas Review-Journal goes as far as saying the "most crucial planning" could have taken place here.
The other theory surmises that the al-Qaida terrorists came to Las Vegas to scout potential targets, including Hoover Dam.
"I don't believe in coincidences," said Sheriff Doug Gillespie, who as a patrol commander participated in the massive investigation that tracked the Las Vegas movements of the hijackers. "The fact that five of the hijackers were here, and they were here on multiple occasions, plays into both of those theories.
"And you know what? They could have been doing both of those things here."
Investigators have pretty much discarded other theories that the hijackers looked to launder money at casinos or partake in the bountiful sins of Las Vegas. Casino surveillance tapes revealed no signs of the hijackers, and reports that some of them were spotted at strip clubs were never confirmed. They kept a low profile.
The 10-page intelligence report, prepared several years ago by the Homeland Security Division of the Metropolitan Police Department, talks about the difficulties investigators faced after the Sept. 11, 2001, attacks.
In Las Vegas, FBI agents and police spent weeks pounding the pavement round-the-clock, checking out several thousand leads on the Strip and in the seedier areas of the tourist corridor, where some of the 19 hijackers killed in the attacks had stayed in low-budget motels.
"With all the suspects dead and limited conclusive evidence of any accomplices," the intelligence report said, "investigators have been left to recreate the architecture and orchestration of the 9/11 plot largely from the recorded details of the hijackers' brief American lives: Their cellular phone calls, credit card charges, Internet communications and automated teller machine withdrawals.
"What has emerged is a picture in which the roles of the 19 hijackers are so well defined as to be almost corporate in their organization and coordination."
The terrorists took flight training before the attacks in Florida and Arizona and spent time together in New Jersey and Southern California.
But according to the intelligence report, "They chose as their meeting place the same locale where generations of American conventioneers have met to exchange information about their crafts: Las Vegas, where it is thought the most crucial planning within the United States occurred.
"Unlike most people who visit hotel/casinos that replicate the Pyramids, Europe or the New York City Skyline, the leaders and their logistics men stayed at the not so glamorous end of the Las Vegas Strip, at cheap motels guaranteed not to have surveillance cameras. They stayed briefly, only as long as it took to exchange important information."
The report does not explain what planning took place, but former Las Vegas FBI agents involved in the massive investigation to retrace the steps of the hijackers said it was likely that Atta, the leader, was firming up the flight selection process for the Sept. 11 attacks.
Atta, who piloted American Airlines Flight 11 from Boston into the North Tower of the World Trade Center, spent hours in June and August at the now-closed Cyber Zone, an Internet cafe across from UNLV. The former agents believe he was searching travel Web sites for seats that were available on flights back East for the attacks.
"They looked at flights and seats but never purchased anything here," said Terry Hulse, who was assistant special agent in charge of the Las Vegas FBI office when the attacks occurred.
Hulse, who helped spearhead the local Sept. 11 investigation, said Atta and company appeared to be focused on the East coast attacks.
A former Sept. 11 investigator said Atta also likely was staying in touch at the Cyber Zone with al-Qaida operative Ramzi Binalshibh, described by authorities as a "key coordinator" of the Sept. 11 attacks. Binalshibh, who is now in U.S. custody, spent most of his time overseas, primarily in Germany.
Authorities have concluded that Atta did not have any support here.
Las Vegas, with its large transient population and steady base of international tourists, was simply a place where the hijackers could blend in and feel comfortable, investigators said.
In May 2001 , Atta and the other pilots, Hani Hanjour, Marwan al-Shehhi and Ziad Samir Jarrah, began making cross-country test flights from the East Coast. Each time they flew first class so they could observe up close the cockpit and the activities of the nearby flight attendants. They booked flights on Boeing 757s and 767s, which they ended up commandeering in the attacks.
After some of those test flights, the terrorists flew to Las Vegas from either San Francisco or Los Angeles.
There is no smoking gun in either of the two Las Vegas theories, and current and former investigators said it may never be known for sure why the terrorists were here. They can't be questioned, and in interrogations with U.S. authorities, captured al-Qaida leaders, including Binalshibh and Khalid Sheikh Mohammed, suspected of being the mastermind of the Sept. 11 attacks, have not shed light on their activities in Las Vegas.
There also has been no word on whether intelligence authorities have gleaned any information about Las Vegas from the evidence taken at Osama bin Laden's compound in Pakistan.
A spokeswoman for the FBI in Washington declined comment for this story.
In its 2004 final report, the National Commission on Terrorist Attacks Upon the United States concluded: "Beyond Las Vegas' reputation for welcoming tourists, we have seen no credible evidence explaining why … the operatives flew or met in Las Vegas."
And Dale Watson, the FBI's former assistant director for counterterrorism who led the criminal investigation into the Sept 11 attacks, echoed those words.
"No one has ever really satisfied me as to the actual reason why they were there," said Watson, now a senior advisor at Booz Allen Hamilton, a government consulting firm in the Washington area. "The trips to Vegas did not make any sense. We tried our best to figure it out."
Watson doesn't think the terrorists were looking for Las Vegas targets: "My gut tells me this was not a big plot to go and bomb Vegas. They were committed to what they were going to do. The big prize was the World Trade Center and the Pentagon."
But the Las Vegas police intelligence report gives credence to the theory that the hijackers could have been scouting potential targets here.
"Las Vegas or its infrastructure was never mentioned in evidence as it relates directly to the attacks on (Sept. 11)," the report said. "However, surveillance videos may give reason to suspect otherwise."
Spanish authorities had seized videotapes from al-Qaida associates in 2002 that included footage of Las Vegas casinos with other landmarks around the country, the report said. The tapes later became the focus of a well-publicized and controversial terrorism trial in Detroit.
Christopher Blakesley, a UNLV law professor regarded as an expert on terrorism, said the fact that Sheikh Mohammed didn't reveal anything about Las Vegas under repeated waterboarding, which some consider torture, adds validity to the target theory.
"If we were deep targeted, he wouldn't say anything about it because it could be coming up in the future," Blakesley said. "He was as tough as it gets in terms of holding the line and not giving up anything other than what he wanted to give up."
Quinn John Tamm Jr., a former FBI agent and investigator for the Sept. 11 Commission, also thinks the Sept. 11 hijackers may have been looking to evaluate Las Vegas as a target.
"I base that on the fact that they were engaged in surreptitious activities to avoid detection," said Tamm who spent several days in Las Vegas in January 2004 with another commission investigator looking at the city's connection to the Sept. 11 attacks.
Tamm said Sheikh Mohammed's original plan called for a much broader assault on the United States, which could have left open the possibility of including Las Vegas as a target. Sheikh Mohammed told interrogators that he wanted to use 10 planes in attacks on both coasts, but bin Laden scaled back the plan.
In an eight-page report to the Sept. 11 Commission, dubbed "Las Vegas Investigative Summary," Tamm and the other investigator, FBI Agent Marco A. Cordero, suggested that the first pilot to visit Las Vegas, al-Shehhi, went about his business in a suspicious manner.
He began taking counter-surveillance measures immediately upon his arrival from San Francisco on May 24, 2001, for a two-day trip.
Al-Shehhi, who had flown first class to San Francisco from New York in what is believed to be the terrorists' first cross-county test flight, took a room as a "walk-in" at the Travelodge near Sahara Avenue and Interstate 15, the investigators reported. Once there, he called eight other hotels and motels before checking out and moving the next day to the St. Louis Manor, which was not on his list of calls.
The report said al-Shehhi, who would later crash United Airlines Flight 175 from Boston into the South Tower of the World Trade Center, may have changed motels for "operational reasons."
The St. Louis Manor was one block away from the Stratosphere Tower.
"If al-Shehhi was evaluating Las Vegas buildings as potential targets for a terrorist attack, he relocated next to the highest structure in the city," Tamm and Cordero wrote.
On May 25, before leaving Las Vegas for San Francisco and then New York, al-Shehhi mysteriously changed rental cars, leaving the commission investigators with the impression he was trying to "frustrate physical surveillance." He rented a new car at another agency and drove it for about three hours before returning the first rental. He returned the second car as he left Las Vegas later in the day.
Jarrah's presence in Las Vegas from June 7 to June 10, 2001, was described in the commission report as the "most perplexing" to Tamm and Cordero.
Jarrah, who would go on to take control of United Flight 93 from Newark, N.J., before it crashed 80 miles outside Pittsburgh on Sept. 11, flew first class on United Airlines from Baltimore to Los Angeles before taking a connecting flight to Las Vegas.
Witnesses saw Jarrah with an unidentified man of apparent Middle Eastern descent when he rented a car at McCarran International Airport on June 7.
The investigators were not able to track the miles on the car because Jarrah had a contract for unlimited miles, and they initially had trouble finding where Jarrah stayed in Las Vegas. Eventually, through a record of phone calls, Tamm and Cordero learned that Jarrah had stayed at the now-closed Maxim hotel-casino just off the Strip on Flamingo Road.
Jarrah flew first class back to Baltimore June 10 on another United flight before moving on to Fort Lauderdale.
FBI agents and the commission investigators were never able to positively identify the man with Jarrah in Las Vegas. They believed, however, that the man had been here before.
On June 28, Atta flew first class from Boston to San Francisco on a United flight, and then connected to a flight to Las Vegas, Tamm and Cordero wrote in their report.
According to the executive summary of the FBI's investigation into the Sept. 11 attacks, this was the first time Atta had flown out of Boston, and it may have been his first "overt reconnaissance" at the Boston airport.
The FBI summary said it did not know why Atta decided to visit Las Vegas.
But Tamm and Cordero said in their investigative report that one of the first things Atta did after leaving McCarran late in the afternoon was open an Internet account at the Cyber Zone. He got there at 6:40 p.m. and stayed until a little after 8 p.m.
Investigators do not know what Atta did from the time he left the Cyber Zone until his 1 p.m. check-in the next day at the Econo Lodge, a low-budget motel on the Strip near Charleston Boulevard. Like the St. Louis Manor, the Econo Lodge is in the shadow of the Stratosphere, an area known for its pawn shops, strip clubs, tattoo parlors and adult bookstores.
Later, Atta logged on at the Cyber Zone at 2:21 p.m. for an hour and 20 minutes and again at 6:29 p.m. for an hour and three minutes, according to the commission's investigative report. He likely returned to his motel room after that.
On June 30, the report said, Atta spent most of the afternoon and evening at the Cyber Zone and left Las Vegas at 6 a.m. the next day on connecting flights to Denver, Boston and New York.
Tamm and Cordero were very interested in determining whether Atta had made a trip to scout Hoover Dam as a possible target.
They interviewed Las Vegas FBI Agent Tracy Dockery, who had done an analysis of the mileage of the rented Chevrolet Malibu Atta had returned.
Dockery, who now heads the local FBI's organized crime squad, could not account for 73 miles traveled by Atta.
"Mrs. Dockery stated that Atta could have traveled to the Hoover Dam in Boulder City and back to the Econo Lodge at 1150 Las Vegas Boulevard with 3.5 miles to spare," the commission investigators wrote in a separate report.
FBI agents went to the dam to check license plates recorded at the parking garage but could not find any record of Atta's rental car being there, the investigators said.
On the morning of Aug. 13, Atta returned to Las Vegas first class on an America West flight from Washington, roughly 48 minutes after Hani Hanjour and another hijacker, Nawaf al-Hazmi, had arrived here. Hanjour, the pilot of American Airlines Flight 77 from Washington that would crash into the Pentagon, and al-Hazmi, who was one of the hijackers on that flight, had flown first class from Washington to Los Angeles and then took a Las Vegas flight.
Tamm and Cordero said they suspected Atta met with Hanjour and al-Hazmi at the airport during his August trip because of the closeness of their arrivals.
The investigators did not know, however, what Hanjour and al-Hazmi did in Las Vegas before they flew coach back to Baltimore on Northwest Airlines the next morning.
Atta checked into a room at the Econo Lodge at 2:55 p.m. on Aug. 13 and returned to the Cyber Zone at 11:29 p.m., where he logged on to a computer for about 29 minutes. He went back to the Econo Lodge at 12:46 a.m.
The next morning, the investigators wrote, Atta checked out of the motel, returned his rented car and boarded a Continental Airlines flight to Houston, where he connected to a flight to Fort Lauderdale. This time, Atta also flew coach.
All of the 37 miles he drove was accounted for, Tamm and Cordero said.
Throughout their visits here, the hijackers managed to go unnoticed.
"They did nothing to attract attention," said Las Vegas police Lt. Tom Monahan, director of the Southern Nevada Counter-Terrorism Center, a joint intelligence-gathering operation formed after the Sept. 11 attacks. "We host 40 million visitors every year. Most people don't pay attention."
The effort to learn what the hijackers were doing here is considered the largest and broadest investigation ever undertaken in Las Vegas.
"It was the most intense investigation I've ever participated in during my three decades with the FBI," said Grant Ashley, the special agent in charge of the Las Vegas FBI office when the terrorists struck in 2001.
Despite being unable to learn for sure what the hijackers were doing, Ashley, who retired from the FBI in 2006, said he had never seen such "coordination and dedication" within the law enforcement, public service and intelligence communities. FBI agents worked hand-in-hand with Las Vegas police and other law enforcement agencies throughout the investigation.
The mere fact that the hijackers spent time in Las Vegas continues to hit close to home with authorities a decade later.
"It tells me exactly what I've been thinking since 2001," Monahan said. "We would be a very, very attractive target to our enemy whether it's in organized groups such as al-Qaida or some lone wolf who just doesn't like the nature of Las Vegas with its reputation of Sin City and its iconic value to the world."
Contact Jeff German at jgerman@reviewjournal.com or 702-380-8135.