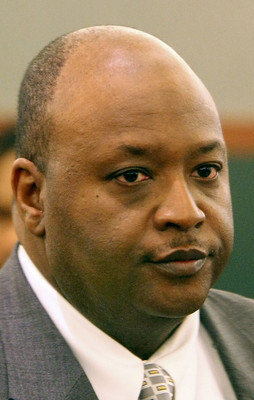 An attorney for former University Medical Center CEO Lacy Thomas is trying to get the Clark County district attorney's office thrown off the former hospital executive's corruption case.
Citing what he called a conflict of interest, Daniel Albregts told District Judge Michael Villani that county prosecutors should be replaced with a special prosecutor without ties to the district attorney's office. The district attorney's office represented Thomas while he was CEO of UMC and therefore shouldn't prosecute a former client, he said.
Among other things, the district attorney's office gave Thomas legal advice on contracts, he said.
Chief Deputy District Attorney Scott Mitchell disputed Albregts' claims. He said county attorneys provide limited legal advice to county officials and don't have an "attorney-client" relationship.
County attorneys once advised Thomas that a contract was illegal and that it needed to go before the hospital's board, he said. The advice didn't go beyond that, he said.
Mitchell also argued the district attorney's office is responsible for prosecuting county employees.
The office is prosecuting several Las Vegas police officers, as well as former county Recorder Fran Deane and former County Commissioner Lynette Boggs.
Deane is facing charges that she accepted money to sell copies of information she was supposed to keep for the public. A grand jury indicted Boggs on allegations that she lied about living in her district.
"The law requires that the county prosecute county officers. You can't gloss over that fact," he said.
A grand jury in February indicted Thomas on five counts of theft and five counts of misconduct of a public officer. Authorities allege that Thomas used his position at the hospital to steer lucrative contracts to friends.
Villani scheduled a hearing on the issue for June 16.