December 19, 2007 - 10:00 pm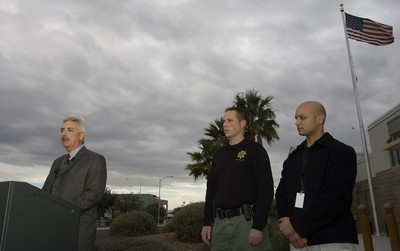 Police announced Tuesday that they have arrested three more suspects in the Dec. 11 school bus stop shooting that wounded six, including four Mojave High School students.
Authorities took into custody on Monday night Erica Adams, 20, Dresden Williams, 18, and Franklin Jackson, 17, in connection with the shooting at Alexander and Walnut roads in the northeast valley.
The arrests were made after witnesses at the bus stop told police that Williams and Jackson, who police say are gang members, were the only shooters.
Nicco Tatum, 18, a gang member who was arrested in Denver on the day after the shooting, has been accused by some witnesses and police of being one of the gunmen, according to a police report.
Police said Tuesday that they're searching for more suspects.
"Any subject who is identified as being involved in this investigation will be arrested," said Capt. Kirk Primas of Las Vegas police's gang unit. "This type of incident will not be tolerated. All those involved will be … prosecuted."
Police said Jackson and Williams — cousins, originally from Louisiana, who go by "Frankie J." and "DooBear" — were at the bus stop with Tatum and others to fight a rival gang when events took an unexpected turn.
The rival gang never showed up, but friends and relatives of Mojave student David Macias — all Hispanic — did.
Macias and Tatum had fought the day before, prompting Macias to call on friends and family to protect him. Macias was afraid that Tatum would be waiting at the bus stop to beat him up, the police report states.
Macias' protectors weren't looking for a fight and didn't know any of people who opened fire on them, said Michael Sardinas, 21, who was wounded in the shooting.
Williams, Jackson and Tatum, who are black, were "surprised by a group of Mexicans," a witness told the police. Williams and Jackson pulled out guns and started firing at them, according to a witness quoted in the report.
Someone yelled "get out of the (expletive) way," and then shots were fired into the air, another witness told police. Students exiting the bus "began to run frantically for safety," the police report states.
Tatum, who spoke with Las Vegas police in Denver following his arrest, told officers that Williams and Jackson fired the shots, not him. He told police that as the three of them fled the scene, Williams and Jackson yelled, "'We have to wash our hands off with bleach,'" according to the report.
Immediately after the shooting, the three went to the Casa Sorrento Apartments, 3850 E. Alexander Road, where Jackson and his girlfriend, Adams, had lived before Adams' family kicked them out, the report states.
Jackson and Adams, who police said is affiliated with gang activity, then moved to a nearby apartment. Detectives obtained a warrant Sunday night to search that North Las Vegas address after family members told them Jackson and Adams were staying there. Two firearms and cocaine were found inside the apartment, the report states.
Later that night Williams, Adams and Jackson were taken into custody and questioned by police, the report states.
On Monday, about 11 p.m., Williams and Adams were arrested and booked at Clark County Detention Center. Jackson was also arrested and taken to a juvenile detention facility.
"I feel good we got those people off the street," said Calvin Smith, the father of Mark Smith, one of the shooting victims. The 17-year-old Mojave senior was the only victim of the shooting still hospitalized at University Medical Center Tuesday night.
"I know my son is going to be OK," Calvin Smith said, "but these kids have to realize what they have done. They probably didn't think about it all."
• Williams is charged with six counts of attempted murder with a deadly weapon, six counts of battery with substantial bodily harm and one count of possession of a stolen vehicle. A drug trafficking charge was dropped during a court appearance Tuesday. He was being held at the Clark County Detention Center Tuesday with bail set at $215,000.
• Adams is charged with possession of a stolen vehicle and accessory to murder. Police also booked Adams on an outstanding warrant for burglary and felony theft. During a court appearance Tuesday, a judge dropped a charge of harboring a fugitive. She remained in Clark County Detention Center on Tuesday with bail set at $65,000.
• Jackson faces six counts of attempted murder and six counts of battery with a deadly weapon, Primas said.
• Tatum remained in the custody of the Denver County Sheriff's Office. During an appearance Friday in a Denver courtroom, he agreed to return to Nevada without a legal fight. Last week, police said Tatum faced six counts of attempted murder with a deadly weapon and six counts of battery with a deadly weapon. Police wouldn't say Tuesday whether those charges would change.
"They are so young. I don't feel like they should behind bars for their whole lives," said Sardinas, who admitted feeling "a lot better" Tuesday after the arrests.
In addition to Smith and Sardinas, Macias, Daniel Jimenez, Jesica Garcilozo and Alex Rios were struck by the gunfire at the bus stop.
School police have called the incident one of the worst acts of school-related violence in the history of the Clark County School District.
"There's no joy and pleasure in any of this," Superintendent Walt Rulffes said. "But there is some satisfaction and relief because of the arrests."
Police asked anyone with information about the shooting to call Crime Stoppers at 385-5555.
Review-Journal writers Antonio Planas and Brian Haynes contributed to this report. Contact reporter Beth Walton at bwalton@reviewjournal.com or (702)383-0270.