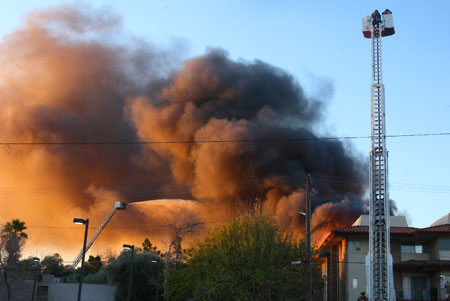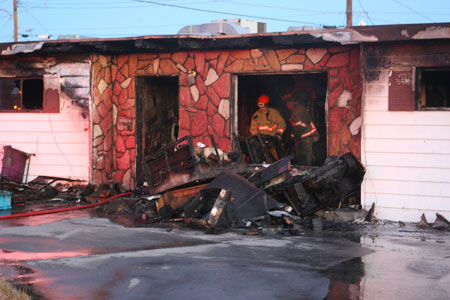 A wind-whipped blaze swept through an apartment complex this morning in a neighborhood east of the Strip, injuring at least two people and displacing dozens of others, a fire official said.
Two older women were being treated at University Medical Center after they were rescued from an apartment where investigators believe the blaze started about 6:15 a.m., Clark County Fire Department spokesman Scott Allison said.
"They had burns to the face, singed hair and smoke inhalation," Allison said, adding that the cause of the fire was under investigation.
Firefighters went door-to-door evacuating residents as flames, pushed by strong winds, spread from one roof to the next in two- and three-story buildings set close together in the 1100 block of Dumont Boulevard, just west of the Boulevard Mall.
Allison said four multi-unit buildings were destroyed, although it was not immediately clear how many apartments were affected. With several roofs collapsing, charred beams poked skyward amid the smoldering ruins.
Allison said as many as 100 residents might have been evacuated. With temperatures in the 40s, authorities brought a transit bus to the site to provide shelter for the displaced.
"Winds this morning didn't help," Allison said.
Dramatic aerial video from television news stations showed flames spreading through the densely built block while winds blew streams of water from fire hoses back toward firefighters.
The National Weather Service reported winds in the area at 28 mph about 6 a.m., with gusts to 40 mph. Winds diminished to 20 mph with gusts to 31 as firefighters worked to get the fire under control two hours later.
It was the largest of three predawn fires in and around the city.
Two people were burned, including a 72-year-old man whose injuries were described as critical, in a fire that gutted a home just before 5 a.m. in a neighborhood west of downtown, Las Vegas Fire Department spokesman Tim Szymanski said.
Whipping winds contributed to that fire, which the two men tried to smother with a blanket before it spread from a rear patio into the house, Szymanski said.
"The wind is completely fanning (the flames) and creating a blow-toch effect," Szymanski said about the fires.
A separate two-alarm blaze in an apartment building just northwest of downtown damaged four apartments in a two-story building and displaced 22 people, Szymanski said. No injuries were reported.
Investigators think that fire started in a heating unit in the complex near Martin Luther King Boulevard and U.S. Highway 95, Szymanski said.
Contact Review-Journal reporter Mike Blasky at mblasky@reviewjournal.com or by calling 383-0283.
View Apartment fire in a larger map