Titus slightly increases lead in 3rd Congressional race
September 12, 2010 - 11:00 pm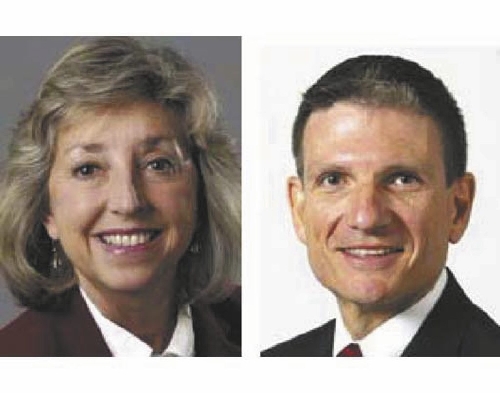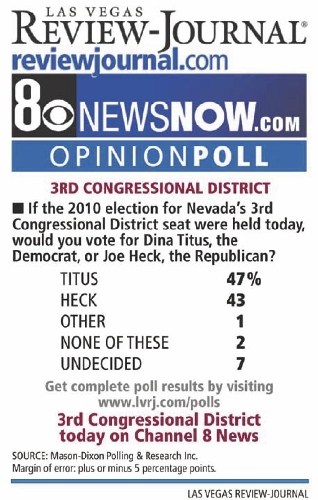 Rep. Dina Titus put some space between herself and challenger Joe Heck in the race for Nevada's 3rd Congressional District seat, although it cost about $1 million to do it.
Titus, D-Nev., leads Heck, a Republican former state senator, 47 to 43 percent among likely voters, according to results of a new Las Vegas Review-Journal/8NewsNow poll.
She widened her lead by 3 percentage points since a similar poll published Aug. 15 showed Titus up 43 to 42 percent.
It suggests at least some voters noticed a controversial series of attack ads from the Titus campaign and independent supporters and that the cost of moving the needle in her direction is more than $300,000 per point.
However, since Heck didn't even launch television ads until Thursday, people on both sides of the hotly contested race continue to debate whether Titus' lead is a demonstration of strength by a tough campaigner or shows the incumbent is so weak she barely benefited from a major, one-sided advertising barrage.
"Dina Titus has thrown her best punch, all of her pals have thrown their best punch, and we have withstood them," said Ryan Erwin, a consultant to the Heck campaign. "What it means is their attacks are not sticking."
Not so fast, said Jim Ferrence, a Democratic consultant who has worked for Titus in the past.
Ferrence says the poll results show Titus is gaining momentum.
That's critical in a close race that is being watched nationwide as an indicator of whether Republicans can convert general voter discontent into an Election Day surge that washes Democrats from the majority in the House of Representatives.
"A couple of percentage points here or there is a major move," Ferrence said. "It seems to be a trend; clearly the attack against Joe Heck is effective."
Titus campaign spokesman Andrew Stoddard said results show voters "see the clear differences between Dina and Senator Heck's record of putting insurance companies and banks first, ahead of the people in District 3."
Titus' lead is within the 5 percentage point margin for error in the poll of 400 likely voters in the 3rd Congressional District.
Her campaign spent nearly $175,000 on advertising while outside groups spent more than $800,000 attacking Heck.
The poll numbers and other indicators include objective evidence for Titus and Heck to claim an upper hand in the race.
Among the positive indicators for Titus is her 51 to 39 percent lead among women respondents.
Also, the percentage of respondents who viewed Heck unfavorably increased from 16 to 31 percent from Aug. 15 to the latest poll. His favorable rating increased just slightly, from 35 to 39 percent.
Titus' favorable rating rose from 42 to 46 percent and her unfavorable rating fell from 44 to 41 percent.
"I'm frankly a little surprised Titus is doing as well as she is," said Nathan Gonzales, who covers Congress for the Rothenberg Political Report. "She has a lot of colleagues who are in far worse shape."
It suggests ads — deemed misleading by non partisan observers — that claim Heck voted against a cervical cancer vaccine is working.
The claim was included in ads from the Association of State, County and Municipal Employees. The union spent more than $750,000 to saturate the airwaves with the claim.
The nonpartisan website FactCheck.org says the ads are misleading because Heck, as a state senator, voted against a mandate to force insurance companies to carry a specific brand of vaccine for HPV, which can be a precursor to cancer. He didn't oppose a cancer vaccine.
True or not, Ferrence said it appears to have worked for Titus.
"That is a devastating attack against him and his response was weak," Ferrence said. "It seems to have turned the tide."
Another independent group, Emily's List, is also running with the dubious claim in its own anti-Heck ads.
Still, there are other indicators that suggest trouble ahead for Titus.
An ad from her campaign uses a clip from Heck on the nonpartisan television show Nevada Newsmakers.
The clip shows Heck saying "The role of Congress is not to create jobs," but doesn't include the rest of his sentence explaining that Congress should create an environment for private business to create jobs.
Titus took flak from nonpartisan observers, including Nevada Newsmakers host Sam Shad, for using Heck's statement out of context.
Potentially even more problematic than criticism of the ad was a recent statement from President Barack Obama, a Democrat, that appears to undermine it.
"I've never believed that government's role is to create jobs or prosperity," Obama said during a speech in Ohio, putting the leader of Titus' party in line with her opponent on the issue.
"It shows something Democrats have been struggling with, an inconsistency in their message," said David Damore, a political science professor at theUniversity of Nevada, Las Vegas, of Obama making a remark that directly contradicts a key line of attack from Titus.
Titus is also facing an overall political environment that favors Republicans.
She has been identified as among the most vulnerable incumbents in the House of Representatives.
And on Friday Nate Silver, the number-cruncher behind the New York Times' 538 political blog, posted a forecast stating there is a 56 percent likelihood Titus will lose based on his numerical models.
Brad Coker, managing director of Mason-Dixon Polling & Research, the firm that conducted the Review-Journal/8NewsNow poll, pointed to other troubling indicators for Titus.
Statewide 53 percent of respondents said decreasing regulations so businesses can create jobs is the best way to improve the economy while 34 percent said the government should lead the way to recovery.
Also, 45 percent said the Social Security program should be modified to allow for individuals to choose their own private investments while just 40 percent said the program should remain the same even if it means raising the retirement age or pumping in more money.
Those responses are in line with Heck's stated views and against the grain of Titus' positions on the issues.
"Clearly there is a mindset out there that government isn't going to solve problems," Coker said of the responses.
Expect Heck, when his campaign goes on the attack, to raise those points.
"If you believe government should be the solution to every one of your problems, Dina Titus is your candidate," Erwin said.
Contact reporter Benjamin Spillman at bspillman@reviewjournal.com or 702-477-3861.