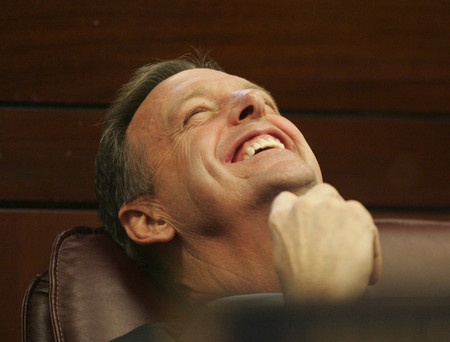 Turnout was predictably low for Tuesday's municipal elections, but the results were anything but predictable as two candidates won by razor thin margins that may prompt recounts.
The election's tightest race came in Las Vegas City Council Ward 4, where Stavros Anthony edged Glenn Trowbridge by 10 votes.
Meanwhile in Henderson, the contest for mayor came down to 45 votes, as Andy Hafen outlasted fellow City Councilman Steve Kirk.
North Las Vegas voters had no such trouble picking their next mayor. City Councilwoman Shari Buck took 55 percent of the vote to defeat longtime Councilman William Robinson.
It is unclear if Kirk plans to seek a recount, but Trowbridge said he definitely will, calling the results "practically a tie."
MONDAY
'SINE DIE' ON TIME
The Nevada Legislature wrapped up its work on time for the first time in a decade, but not before passing one last set of bills, some of them over the veto of Gov. Jim Gibbons.
Passed on the final day was a measure forcing transportation officials to reopen F Street in West Las Vegas, and another measure clearing Washoe County to raise fuel taxes to pay for road improvements. A last-minute maneuver to revive part of a bill that would revise an indoor smoking ban also succeeded late Monday.
TUESDAY
WILDCAT MAKES COVER
Las Vegas High School sophomore Bryce Harper has landed somewhere unexpected: the cover of Sports Illustrated.
The 16-year-old baseball standout appears on the latest cover swinging a bat next to the words "Chosen One."
Already he is projected as top pick in 2011, the first draft for which he will be eligible.
WEDNESDAY
ASHLEY'S FUTURE SHAKY
University of Nevada, Las Vegas President David Ashley's job might be in jeopardy in the wake of several complaints about his management style.
Jim Rogers, the higher education system's chancellor, expressed "great concern" and said he has not decided whether to recommend that Ashley's contract be renewed.
Ashley signed a four-year contract in 2006. Typically, contracts are renewed the year before they expire.
THURSDAY
DOLPHIN DIES AT MIRAGE
Sgt. Pepper, a dolphin at Siegfried & Roy's Secret Garden and Dolphin Habitat, died of complications from a lung infection. The dolphin is the 14th to die at the educational attraction since it opened at The Mirage in 1990.
Animal welfare advocates have complained that dolphins aren't suited for such public displays, and that the exhibit's confines are inadequate when compared to the natural habitat of the ocean.
Sgt. Pepper was born to two other Mirage dolphins on June 8, 2007. The pair, both in their 30s, are among five remaining dolphins at the habitat.
FRIDAY
DARLING CLEARED
The pickup driver involved in last month's collision that killed Las Vegas police officer James Manor will not face any criminal charges, the Metropolitan Police Department announced.
Police cleared Calvin Darling after an investigation showed Manor was driving at 109 mph with his flashing lights and siren off.
Police also said no charges will be filed against the 14-year-old girl whose domestic violence call triggered Manor's rapid response.
Week In Review
More Information
BY THE NUMBERS
13.1
The percentage of eligible voters who cast ballots in Tuesday's Las Vegas City Council contest between Stavros Anthony and Glenn Trowbridge.
10
The number of votes that decided the Ward 4 race for Anthony.
43%
Voter turnout in Mesquite on Tuesday, highest among the five cities that had elections. Boulder City saw 42.3 percent turnout. No one else broke 15 percent.
14.1%
Drop in April gaming revenues compared to the same month last year. It is the seventh straight double-digit decline for the state's largest industry.
21 feet
The distance, as of Friday, Lake Mead would have to drop to trigger a vote on controversial plans to tap groundwater across eastern Nevada.
QUOTES
"Right now, I'm going to finish my taco."
Glenn Trowbridge
Reacting with little enthusiasm to news Thursday that 18 mail ballots turned up after the votes were counted in his Las Vegas City Council race. Trowbridge lost to Stavros Anthony by 10 votes. Clark County Registrar of Voters LARRY LOMAX said the 18 late ballots will not count.
"They said they're going to get the heavyset black guy and the white guy that drives the Hummer. I was kind of disappointed because I've been losing weight."
Earl White
joking about a death threat he received after he and Walt Walters started trying to clean up the crime-ridden neighborhood next to the Stratosphere.
"It is a big ugly box in the middle of an unbelievable location."
Stephen Siegel
Describing Neonopolis, which blocks the view of Fremont Street from the Gold Spike hotel-casino. Siegel owns the Gold Spike.
MULTIMEDIA
THE END OF THE 2009 SESSION OF THE NEVADA LEGISLATURE
SWAP MEETS
MOVIE MINUTE
FEAR AND LOAFING: Pool Cleaner
CAR CRASHES INTO BUS STOP
LOCAL REACTION TO OBAMA SPEECH
DECEASED HIGH SCHOOL SENIORS
BRYCE HARPER ON SPORTS ILLUSTRATED