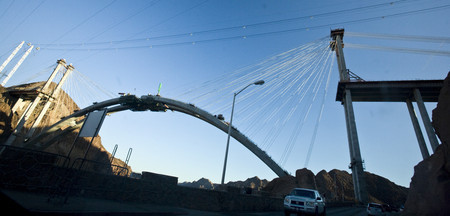 The man who opened fire inside the New York-New York was convicted on dozens of felony charges Monday.
A District Court jury deliberated for 41/2 hours before finding Steven Zegrean guilty on 51 of 52 charges.
They included 17 counts of attempted murder with a deadly weapon, stemming from the July 6, 2007, shooting that left four people injured.
Zegrean walked into the casino with a 9 mm handgun, five loaded magazines and dozens of loose cartridges.
In all, he had 249 rounds of ammunition on him when he started shooting, prosecutors said.
The 53-year-old's lawyers said the former house painter never meant to kill anyone.
They said Zegrean was suicidally depressed over losing his wife, house and job and hoped to commit suicide by cop.
MONDAY
UNWELCOME SIGN
A Clark County cleaning crew was dispatched to clean graffiti off the famous diamond-shaped "Welcome to Fabulous Las Vegas, Nevada" sign.
Vandals with a red marker had scribbled initials along the bottom of the sign.
It was the first time in recent memory that anyone had defaced the iconic sign at the south end of the Strip.
Though the sign lies outside the city limits, Las Vegas Mayor Oscar Goodman had this to say of the vandals: "Off with their heads."
TUESDAY
PRESIDENTIAL POLITICS
More than 100 college professors crowded into a windowless ballroom at the University of Nevada, Las Vegas to offer input on who their new boss should be.
The previous president, David Ashley, was removed from his position last week.
Ashley's critics said he wasn't a good communicator and lacked the proper management skills to do the job effectively.
It will be up to Chancellor Dan Klaich to come up with a recommendation to the Board of Regents for an interim president.
The full board would then have to approve the selection.
After that, Klaich has said he plans to launch a search for Ashley's permanent replacement.
WEDNESDAY
IT IS A DESERT OUT THERE
The mercury in Las Vegas hit the 110-degree mark for the first time this year at the official weather station at McCarran International Airport.
The temperature spike would lead to an excessive heat warning for Southern Nevada and prompted the city of Las Vegas to open eight "cooling stations," mostly for the benefit of homeless people with no other means of relief.
The heat wave was expected to last into early this week.
THURSDAY
CONCESSION OR WASH?
Clark County firefighters were voting on a proposed contract change that a union leader calls a strong concession and one commissioner dismisses as a zero gain for the county.
The proposal calls for reducing this year's cost-of-living raise from 3 percent to 2 percent.
In return, each employee would get two more vacation days.
"I don't see where there's a concession. It's a wash," Commissioner Steve Sisolak said.
The reduced cost-of-living raise would save $1.2 million for the year, but the two vacation days would cost $1.3 million in overtime to fill the spots of vacationing firefighters, Sisolak said.
FRIDAY
SWINE FLU DEATH
A third Clark County resident died from the H1N1 virus, commonly known as swine flu.
The 47-year-old man had underlying medical conditions, the Southern Nevada Health District reported.
The swine flu has been linked to four deaths in the county.
One person was visiting from out of state.
The health district has recorded 145 confirmed cases of H1N1.
Week In Review
More Information
8
Apollo training missions conducted on and around the Nevada Test Site between 1965 and 1972.
11
Astronauts who completed some geology field training in Nevada before walking on the moon.
841.3
Pounds of moon rocks brought back to Earth during the Apollo program.
253°
The high temperature on the moon on July 20, 1969. The high in Las Vegas that day was 100.
10 cents
Price for a head of lettuce at Foodland, 15th and Fremont Street, on the day of the moon landing, according to a Review-Journal ad from July 21, 1969.
"When they graffitied my tortoise, I said, 'Off with their thumbs!' This deserves, 'Off with their heads!'"
Las Vegas Mayor Oscar Goodman
In a written statement Expressing his outrage over the vandalism of the "Welcome to fabulous Las Vegas, Nevada" sign on the Strip.
"I'm nervous. This is my first time in Las Vegas. It was my first time on a big plane."
Darvin Moon
A logger from Oakland, Md., After making it to the final table at the World Series of Poker on Wednesday. He and eight others will reconvene at the Rio in November to play for the $8.55 million top prize.
"He didn't go there to have dinner. He went there with an intention."
Prosecutor David Schubert
On New York-New York casino shooter Steven Zegrean, who was convicted Monday on 51 charges related to the 2007 attack that left four people wounded.
"If we see someone acting a little silly, we're not gonna assume he's on drugs. We're gonna assume he's overheated."
Allen Anderson
pipefitter general foreman at the Water Reclamation Facility Project in North Las Vegas, on working conditions at the site when temperatures top 110.
MULTIMEDIA
WORLD SERIES OF POKER: THE FINAL NINE
ABORTION PROTEST
MINXX NIGHTCLUB SHOOTING
MOVIE MINUTE
MOON ANNIVERSARY
BELT SANDER RACES