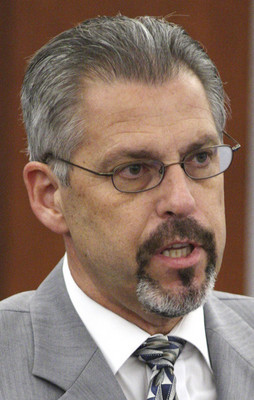 O.J. Simpson's kidnapping and armed robbery case has been called a circus, but it's beginning to look as if it should be dubbed an emergency room.
Witness Charles Ehrlich testified Tuesday that he's had two heart attacks since the Palace Station incident on Sept. 13, 2007. He blamed the trauma of the incident for his health problems.
Another witness who testified previously, memorabilia dealer Bruce Fromong, suffered four heart attacks after the September 2007 incident and had to stop giving testimony at the start of the trial because of health problems.
This is on top of Vanity Fair celebrity journalist and author Dominick Dunne, who was rushed to the hospital Monday morning from the trial for health reasons.
Dunne, 82, is suffering from bladder cancer. He later said that he suffered a urinary tract infection Monday.
Simpson, 61, and his co-defendant Clarence Stewart, 54, are facing kidnapping, armed robbery and other charges. Authorities said Simpson and several other men tried to rob two memorabilia dealers of more than $80,000 worth of merchandise.
Simpson and Stewart have pleaded not guilty. Simpson's attorneys claim the Heisman Trophy winner was only trying to recover personal belongings.
***
Even celebrity defendants need to eat.
Simpson and his defense team took a lunch break Tuesday afternoon at the Courthouse Bar & Grill, next door to the Regional Justice Center where Simpson is on trial for kidnapping and armed robbery.
The Courthouse Bar & Grill has been celebrating the Juice's trial by serving a lunchtime O.J. Simpson-themed special. On Tuesday, the "O.J. special" was rotisserie chicken with mashed potatoes.
Sources said Simpson did indeed order the menu item named after him.
Contact reporter David Kihara at dkihara@reviewjournal.com or 702-380-1039.