Trial on in slaying of WWII vet
November 11, 2008 - 10:00 pm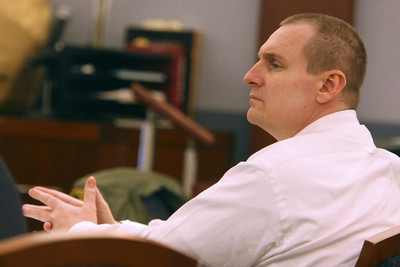 World War II veteran John Herda was a fighter to the end.
Herda, who founded Herda Discount TV & Appliance, was a Marine who fought at Guadalcanal and Tarawa in the Pacific during the war. He later brawled with the government when Clark County took his house in an eminent domain dispute.
His final fight came on Aug. 11, 2006, when a man broke into his Spanish Oaks house and killed him during a robbery. Authorities said Herda, 83, shot the man with a .22- caliber pistol before dying. Herda was shot six times and died from gunshot wounds.
"He was a Marine," said his son, John J. Herda. "He would put up a fight."
The man accused of killing the elder Herda, Bryan Crawley, is on trial in District Court. Crawley, 40, also tried to kill a woman during a robbery and stabbed a man during a fight outside a bar three months after Herda's slaying, Chief Deputy District Attorney Marc DiGiacomo said Monday.
After Crawley was arrested, he asked his cellmate at the county jail to kill three witnesses and wanted to fabricate evidence in the Herda case, DiGiacomo said.
Crawley is facing more than 20 charges, including murder and solicitation to commit murder. He could get the death penalty if convicted. His trial is expected to last more than three weeks.
One defense attorney, Anthony Sgro, said during opening statements that other people in the criminal justice system have blamed Crawley to get leniency in their cases.
"Bryan Crawley, in this case, has been everyone's get-out-of-jail-free card," he said.
Several of Crawley's co-defendants have taken deals. Christopher Brewer, who was a close family friend of the Herdas, pleaded guilty to voluntary manslaughter, accessory to murder, robbery and other charges related to Herda's slaying. Authorities said Brewer approached Crawley about robbing Herda because he knew Herda's schedule and where he lived.
District Judge Jackie Glass sentenced Brewer in January to eight to 20 years in prison.
Crawley's girlfriend, Allison Kiel, and another woman also pleaded guilty in connection with the case. Kiel will likely testify against Crawley.
Authorities said Brewer and Crawley went to Herda's house in Spanish Oaks in August 2006 to rob him. Brewer, authorities said, waited outside in a car while Crawley robbed and killed Herda.
The next day, when Herda didn't show up to work at the bar he owned, his son went to check on him. John J. Herda testified Monday that he found his father dead in the house.
At first, he believed his father had committed suicide. The elder Herda's wife died of cancer a few months earlier, and about a year earlier, the Herdas lost their homes to the county in an eminent domain case. Father and son lived next door to each other for more than 20 years before the county took their homes to make way for work on Interstate 15 at Silverado Ranch Boulevard.
Crawley fled Las Vegas after the killing and went to Mexico for medical help. A doctor there removed the .22- caliber slug and patched him up, DiGiacomo said.
Crawley wreaked havoc upon his return to Las Vegas, authorities said. On Nov. 26, 2006, he got into a fight with a man outside a bar, stabbed him and stole his 9 mm handgun.
Two days later, Crawley, dressed as a Fed-Ex delivery man, approached a woman outside her house in Henderson and beat and robbed her, DiGiacomo said. During the confrontation, Crawley fired the gun he was holding against the woman's head, but it didn't go off, according to a Henderson police report.
Kiel acted as a lookout during the robbery, the report states.
Las Vegas police arrested Crawley in late 2006. While in jail, he asked his cellmate, Kenneth Haywood, to kill three witnesses in his case, DiGiacomo said.
Haywood agreed to bring a digital recorder into the jail, and authorities have four hours of audio recordings of Crawley discussing the plot, he said.
Crawley also tried to fabricate evidence by smuggling bloody gauze from the jail, DiGiacomo said. One of Crawley's co-defendants was supposed to smear the bloody gauze on a spent .25-caliber bullet.
Then the bloody bullet would be delivered to Crawley's attorney to prove that Crawley was shot and wounded by a .25-caliber gun, not Herda's .22-caliber, DiGiacomo said.
Contact reporter David Kihara at dkihara@reviewjournal.com or 702-380-1039.