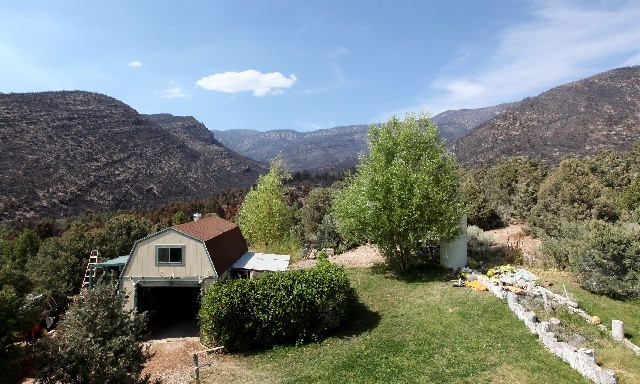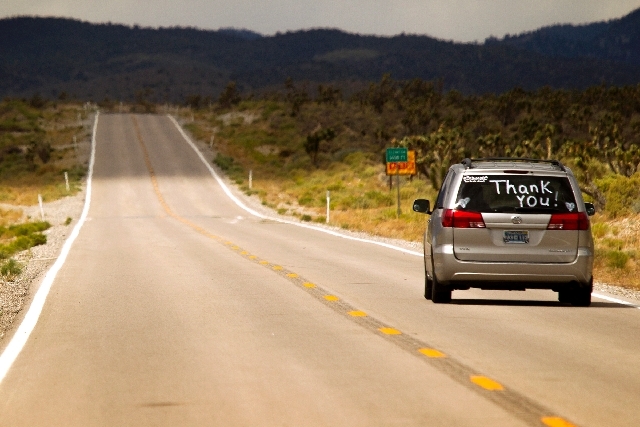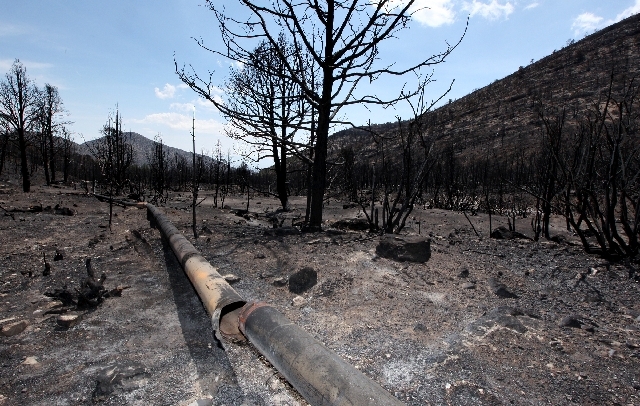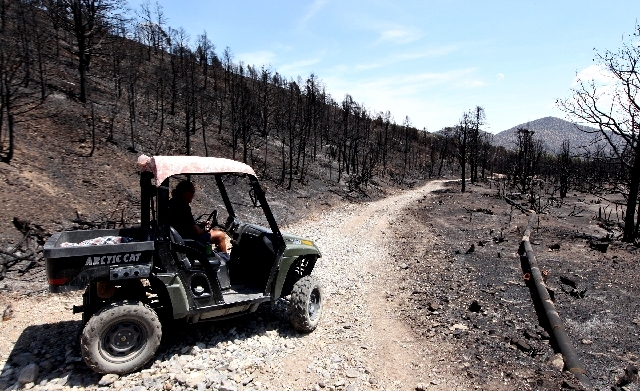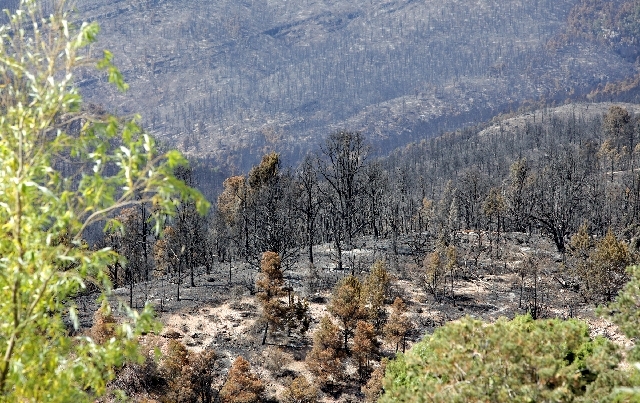 With the mountain still smoldering behind them, a handful of Trout Canyon residents have returned home to count their blessings, even as they adapt to their sobering new view.
From the second-floor window of his cabin, Don Kubinski can easily see how close he came to losing everything.
The patches of blackened earth and burned trees start about 50 yards from the back of his property and extend uphill in almost every direction, a scorched panorama reaching all the way to the ridgeline.
Orange stripes mark where fire retardant was dropped on the surrounding hillsides as firefighters dug in to save this small cluster of cabins 60 miles west of Las Vegas.
"It took my scenery. It's upset the wildlife. But it didn't take my house," Kubinski said from his still-green yard Tuesday. "There's a tragedy that just happened. We'll just deal with it."
The big problem right now is water.
The homes in Trout Canyon are supplied by a single pipeline that stretches almost 3 miles into the mountains to tap a natural spring inside a cave.
The gravity-fed system was built a half century ago, and the fire caused the old metal pipe to break in as many as 50 places.
It could take weeks to repair the damage. Until then, the only way to get water is to haul it up the mountain on 11 miles of dirt road.
Trout Canyon is home to about 20 cabins, but fewer than half of them are lived in full time, Kubinski said. As of Tuesday, he figured he was one of about five residents trying to make a go of it without a steady water supply.
He said the lightning strike that sparked the Carpenter 1 Fire on July 1 hit a ridge about a mile from the cabin he and his wife, Carol, have lived in for the past 15 years.
The fire initially burned up the mountain away from their canyon and then swept back down toward them.
"I was going to stay here until the end, but when the water went out there was nowhere else to go but down," Kubinski said.
That was July 3. He was finally allowed to return home Sunday.
Kubinski could hardly believe his eyes. Before the fire, the forest of cedar and pinion juniper behind his property was so thick with green underbrush that you could hardly walk through it. Now dust devils of windblown ash spin across black hills studded with burned trees.
"Just to look at it, I don't even know the words for it," he said. "Oh man, you want to cry."
For now, Kubinski is using the water he has left in a pair of 1,600-gallon tanks on his property. When those run dry, he'll have to hire someone with a tanker truck to come fill them up again.
Two houses over, Pete and Flo Provenza are back home on the property they have owned for more than 30 years.
He is 92 and she is 88, and they are living on bottled water and the contents of three 50-gallon barrels next to their cabin.
Pete Provenza took a walk through the charred forest Tuesday afternoon and came back shaking his head.
"We're very lucky," he said. "I can't believe it came that close and we didn't get sucked in."
The Provenzas are meticulous about fire protection. They keep their trees trimmed and yard clear of brush, and they put in a wide driveway through their property to a double gate at the back, so firetrucks can easily access the forest behind the house.
They did all that, she said, "because I didn't want this house to burn down nor anyone else's house to burn down. I've always been worried about fire."
Plans are already in the works to repair Trout Canyon's water line, but it won't be easy.
Bruce Floyd is co-owner of Floyd's Construction in Pahrump. His family has owned a place in Trout Canyon since the early 1980s.
He said the pipeline probably can be fixed in "four or five days." First, though, the rocky path leading to the spring needs to be cut into a road that can accommodate the trucks and equipment needed to do the job. Then more work will be needed to shield the pipeline from boulders and mud that might wash down the now barren hillsides.
It's unclear how much all that will cost or where the money will come from, but homeowners might end up footing the bill.
Floyd said he's willing to supply as much materials, labor and equipment as he can, but "we're not going to do it all for nothing."
As of Tuesday evening, the Carpenter 1 Fire was 85 percent contained, with hot areas in Kyle Canyon near Cathedral Rock and state Route 157.
The fire has consumed 27,881 acres.
Fire information officer Annaleasa Winter said the blaze won't be fully contained due to the steep terrain above Cathedral Rock. A team will stay on site until the last of the flames burn out.
Fire crews are now shifting their focus to something called Burned Area Emergency Response, which is designed to prevent further damage from the effects of the fire, mainly floods and landslides.
Residents of Trout and Lovell canyons were allowed to return home Sunday, and Lee Canyon residents were allowed home Monday.
Kyle Canyon evacuees are expected to be able to return home at 10 a.m. today.
The lifting of the evacuation order for Lee Canyon, which was untouched by the fire, allowed one man to head into the valley for supplies for the first time since July 4.
Marcel Barel has lived on Mount Charleston and worked at the ski lodge since 1967. While other people fled in the face of the growing fire, Barel stayed behind to keep an eye on his mountain.
He watched the activity of the firefighters as he took his daily bike rides and hikes. "I felt I could take care of myself," Barel said. "I didn't feel threatened by the flames."
But why take the chance?
"Look around," he said.
Contact reporter Henry Brean at hbrean@reviewjournal.com or 702-383-0350. Contact reporter Rochel Leah Goldblatt at rgoldblatt@reviewjournal.com or 702-383-0381.
Fire information
(through Wednesday)
702-799-4610
Related Story
Officials begin reductions in crews for Carpenter 1 fire