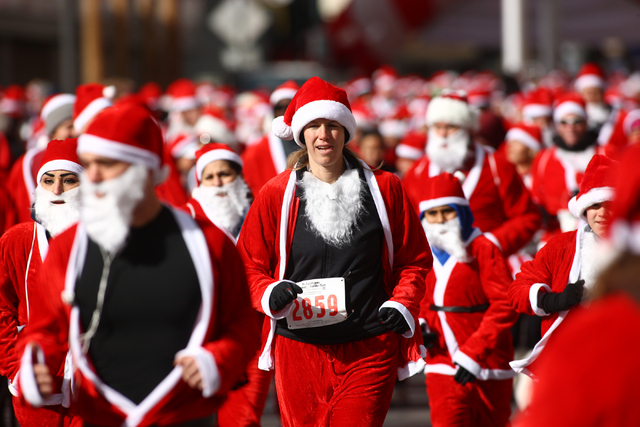 The Las Vegas Great Santa Run shattered its previous record Saturday, and the event founder cited numerous factors.
The turnout jumped from 9,670 last year to 11,221. Liverpool, England, broke that previous mark last week, surpassing 10,000.
It didn't hurt that country star Shania Twain lent her starpower, said Linda Smith, associate executive director of Opportunity Village and founder of the event.
Returning to downtown after five years at Town Square also might have helped, she said.
An early strategy was to have the Santa Run the same weekend of the Las Vegas Marathon, thinking it would increase participation.
When the marathon moved its date, "we felt we had grown enough that we could stand on our own," Smith said. That contributed to more media coverage, she added.
Another boost came from corporate competition, mainly The Venetian and Caesars Palace. The Venetian won, with more than 1,000 participants and Caesars was close behind, Smith said.
BRUNSON'S RODEO ROOTS
Long before he became a poker icon, Doyle Brunson ran with the rodeo crowd. At Hardin-Simmons University in Abilene, Texas, Brunson, a basketball standout, lived in the barracks with members of the rodeo team.
"They had a wooden horse and wooden calf set up in the barracks" for training, said Brunson, whose basketball career was cut short by injury.
Hardin-Simmons became a national rodeo power behind bronco riding champions Dick Barrett and Joe Chase.
Barrett shared Brunson's passion for Texas Hold 'Em and they played in the 1987 World Series of Poker.
The WSOP was founded in 1970 by fellow Texan Benny Binion, who had moved to Las Vegas and established the Horseshoe.
The WSOP wasn't Binion's only pet project. He joined forces with Las Vegas Events President Herb McDonald to engineer a coup for Las Vegas: In 1984 they pried the National Finals Rodeo away from Oklahoma City, the host site the previous 20 years.
Brunson had moved to Las Vegas in 1969 to purse high-stakes poker. He's won 10 WSOP bracelets.
Brunson, now 80, and Binion, who died 1989, often attended the NFR at the Thomas & Mack Center. The World Poker Tour's Doyle Brunson Five Diamond Poker Classic takes place through Wednesday at Bellagio.
FANTASY HOME
One of the largest edible structures ever built in Las Vegas was unveiled Friday at Bellagio's Conservatory and Botanical Gardens.
Almost a ton of chocolate was used to cover a 16-foot-high house (8-by8-foot square) in this year's holiday display.
About 1,500 dark and milk chocolate shingles make up the roof. The house was created by Sylvain Bortolini, executive pastry chef, and Simon Bregardis, assistant executive pastry chef. Bortolini said it was his largest project.
The annual tree-lighting ceremony featured a 45-foot-high Shasta fir, the largest holiday tree installed since the tradition began 15 years ago.
SIGHTINGS
Texas A&M quarterback Johnny Manziel, cutting a wide swath in Las Vegas for his 21st birthday celebration. He partied at Hakkasan (MGM Grand) early Thursday, played blackjack at the Hard Rock on Friday and was seen in a photo with rapper Drake at an unidentified hotel. Manziel, who had shut down his Twitter site on July 31 after a storm of negative publicity, alluded to his birthday early Wednesday when he wrote "twenty first" on his Twitter site. … Jimmie Johnson, at Surrender nightclub (Wynn) with fellow drivers Dave Earnhardt Jr., Brad Keselowski and Denny Hamlin and singer Gavin DeGraw after the NASCAR awards dinner at Wynn Las Vegas. Johnson was the NASCAR Sprint Cup Series champion for the sixth time in eight years. … NASCAR CEO and chairman Brian France, dining with friends at La Cave Wine & Food Hideaway (Wynn) on Friday. … Billionaire Tony Hsieh, doing Fernet Branca shots at the newly opened Crush restaurant Thursday with MGM Grand President Scott Sibella and Crush co-owners Michael and Jenna Morton and John O'Donnell.
THE PUNCH LINE
"Danica, I hope you're not too uncomfortable. I know you're not used to being this close to the front." — Jay Mohr, with the first of many zingers at the NASCAR awards dinner on Friday.
Norm Clarke's column appears Sunday, Monday, Wednesday and Friday. He can be reached at 702-383-0244 or email him at norm@reviewjournal.com. Find more online at www.normclarke.com. Follow Norm on Twitter @Norm_Clarke. "Norm Clarke's Vegas" airs Thursdays on the "Morning Blend" on KTNV-TV, Channel 13.