UNLV researchers dissect species invasion of Lake Mead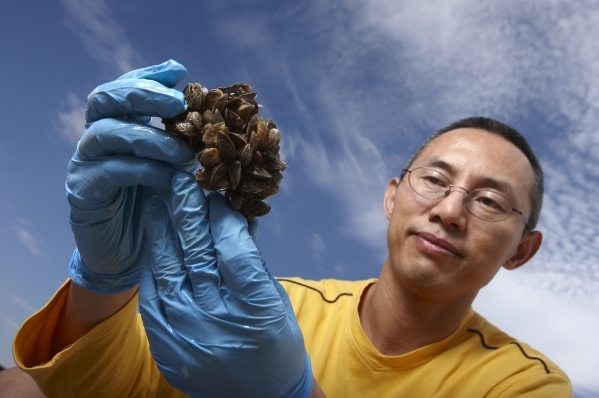 If you want the perfect summer beach read for your next trip to Lake Mead, two UNLV researchers might have just thing.
Shawn Gerstenberger and Wai Hing Wong have written the book —€" well, technically, they edited it —€" on the invasion of non-native mussels at Lake Mead and elsewhere in the West. The new text compiles about seven years of study on the staggeringly prolific aquatic pests, much of it done by University of Nevada, Las Vegas researchers.
"€œBiology and Management of Invasive Quagga and Zebra Mussels in the Western United States"€ was published in May and is available in hardback for $149.95.
The 566-page book includes 30 journal articles and '€œa ton of student authors being published for the first time, which is exciting,"€ said Gerstenberger, dean of the School of Community Health Sciences.
About 10 of the chapters are based on research at UNLV, where Wong, one of the nation'€™s leading experts on quagga mussels, used to work as a professor.
In 2012, just five years after the mussel was first discovered in the nation'€™s largest man-made reservoir, Wong developed estimates for the quagga population at Lake Mead. The numbers were shocking and hard to comprehend: more than 1.5 trillion adult quaggas and 320 trillion microscopic mussel babies known as veligers living and thriving on almost every submerged surface, from wave-top to deepest, darkest depth.
Gerstenberger said Lake Mead is largely considered a lost cause "€œunless it dries up completely, and none of us wants that to happen."€ With no hope of eradicating quaggas, the only options left are preventive treatment and regular maintenance to keep fast-growing colonies from clogging water pipelines, power plant cooling systems and marine equipment.
The goal of the textbook is to give other Westerners the information they need to try to keep lakes, rivers, reservoirs and canals free of invasive mussels, Gerstenberger said.
"€œYou do not want these things in your waterways. They will cost you millions of dollars and destroy ecosystems,"€ he said.
Quagga mussels are native to the Ukraine but have spread across Europe. They arrived in the Great Lakes in the early 1980s, most likely in ship ballast water, where they have caused billions of dollars in damage and preventive maintenance costs.
Wong thinks the mussels probably arrived in Lake Mead before summer 2005, at least 18 months before anyone noticed them. They have since spread and begun to cause problems in lakes Mohave and Havasu downstream from Hoover Dam and water systems in California and Arizona.
On the Arizona side of Lake Mohave, the National Park Service wants to drill a series of shoreline wells to replace a floating water intake barge that has become so infested by quaggas it requires continuous maintenance.
Until they showed up in Lake Mead, the bivalve mollusk with the striped shell no bigger than a man'€™s thumbnail had never been found west of the Mississippi River.
As a result, Gerstenberger said, much of the research was focused on the mussels' behavior and effect in the eastern United State. Hence the need for a new book focused on the West, where quaggas have proved far more resilient and adaptable than some predicted.
"€œThey have just proved us wrong in almost every way,"€ Gerstenberger said.
Topics covered include the quagga'€™s ability to survive in warm water and to reproduce multiple times in a year; analysis of various techniques for detecting and destroying them; and an examination of some unusual and previously overlooked ways in which the mussels might colonize other waterways.
Gerstenberger said one study looks at whether air tankers used to fight wildfires could spread quaggas inadvertently by scooping up water from Lake Mead and dropping it on burning vegetation near streams or ponds.
"€œIt's a unique vector of transport we hadn'€™t thought about, but it seems 100 percent plausible,"€ he said.
And now you can read all about it.
Contact Henry Brean at hbrean@reviewjournal.com or 702-383-0350. Find him on Twitter: @RefriedBrean.