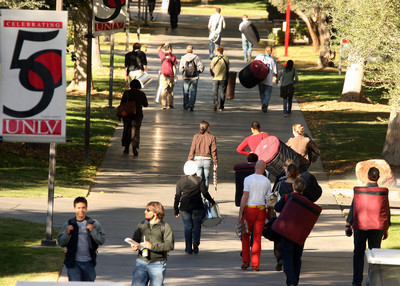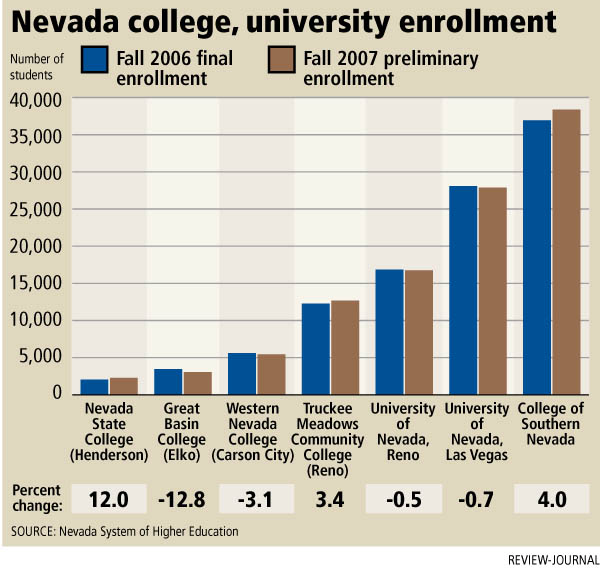 The number of students at Nevada's two universities fell slightly this fall, which could help spur steep fee increases as early as next year.
Preliminary data showed a modest enrollment increase in the entire Nevada System of Higher Education of 1.2 percent, about 1,200 students more than 2006.
Three of the system's seven colleges saw increases in enrollment: the College of Southern Nevada, Nevada State College in Henderson and Truckee Meadows Community College in Reno.
Tougher entrance requirements caused University of Nevada, Las Vegas' enrollment to drop 0.7 percent and the University of Nevada, Reno to experience a 0.5 percent decrease, officials suggested.
The figures are not official and probably will change by the end of the semester as students drop out or enter classes that do not traditionally start with the rest of the campus in August, said Diane Muntal, associate director for UNLV's Institutional Analysis and Planning.
Official enrollment figures are not tallied until the end of the fall semester.
The modest growth comes at a tough time for the university system, which is facing threats of budget cuts of 8 percent this year and next year. Gov. Jim Gibbons has asked the system to develop a plan to trim its budget because of lower-than-expected tax revenues.
UNLV already is starting its own budget cuts in anticipation of more enrollment drops.
The potential cuts and the declining enrollment at UNLV and the UNR could usher in what have been described as big fee increases for university students as soon as next year, Chancellor Jim Rogers said Monday.
Rogers said he is talking with legislators this week about significantly increasing fees for university students.
Under his proposal, those fees would go toward the universities, rather than the Legislature, and more funding would be made available for scholarships and financial aid.
Yet the changing enrollment is a sign that Nevada's higher education system is maturing into a three-tiered system in which students forgo attending a university in favor of a community college or the state college, officials said.
"I'm delighted that the three tiers appear to be working," Rogers said. "But you're going to have to take three or four years of data to see the trend."
But in the next few years, the universities will be forced to find new ways to keep and attract students as they see decreasing enrollment levels, UNLV Executive Vice President and Provost Neil Smatresk said.
After nearly a decade of robust growth, Smatresk said, university officials were expecting the lower enrollment level this year and expect another decrease next year.
Several factors have caused the enrollment drop, he said:
•An increase in the grade-point average requirement to 2.75 last year excluded many students from attending the university. The requirement will jump to 3.0 in 2008.
•Fewer students are eligible for the Millennium Scholarship and therefore could not afford to attend UNLV.
•UNLV stopped offering remedial courses in 2005, which encouraged many students to attend CSN.
The changes could help UNLV to become a better university, Smatresk said.
Nevada's institutions receive funding from the Legislature based on the number of students they have. Students who drop out cost the system state funding.
So as UNLV enrolls fewer students, officials are becoming more devoted to keeping the ones it has, Smatresk said.
The university's retention rate is abysmal, Smatresk and Rogers admit. Only 40 percent of students graduate within six years.
"That is something that has not been a strong focus at UNLV in previous years," Smatresk said. "We're trying to get caught up to other institutions across the country."
Rogers hopes to persuade Nevada legislators to overhaul the state's funding formula to reflect the university system's changing nature.
"I think the whole funding formula needs to be re-examined," Rogers said. "It was always based on bodies delivered, rather than the quality of the bodies."
Contact reporter Lawrence Mower at lmower@reviewjournal.com or (702) 383-0440.