Up and downside of faltering economy is water conservation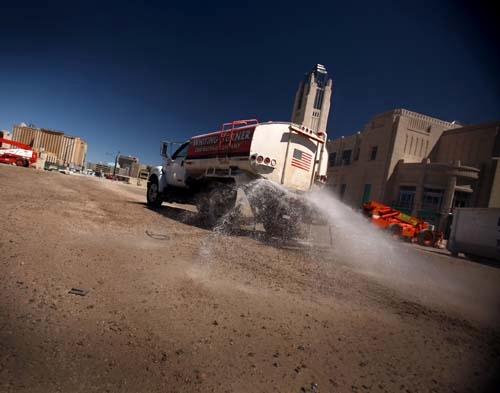 Sure, it destroyed property values and put thousands of people out of work, but the collapse of the local construction market wasn't all bad. At least it saved some water.
When builders stopped building, they also stopped dumping billions of gallons of water a year onto the ground to compact soil and control dust.
Figures from the Las Vegas Valley Water District chart the impact nicely. During fiscal year 2002, when local water use hit an all-time high, almost 15,000 acre-feet of drinking water was consumed at construction sites. Last year, that number fell to just over 4,000 acre-feet, a difference equivalent to the annual water supply for about 20,000 homes.
Even at its peak, construction use never amounted to more than about 5 percent of the water consumed in the valley. But even the smallest wedge in the water-use pie chart can hold a whole lot of liquid.
"There's literally billions of gallons in there," said Doug Bennett, conservation manager for the Southern Nevada Water Authority.
After topping out in 2002, construction water use hovered between 10,000 and 12,000 acre-feet for the next six years. "Then it fell off a cliff," said water authority spokesman J.C. Davis.
In fiscal year 2009, it dropped by more than half to 4,082 acre-feet, and it fell again last year to 4,051 acre-feet.
One acre-foot of water is enough to supply two average valley homes for one year. More than 60 percent of all the water delivered by the authority goes to residences, and about three quarters of that is consumed at single-family houses.
Water use in the valley overall has declined, with consumption almost 100,000 acre-feet less last year than it was in 2002.
So how have we benefited from the collapse in construction water use?
Bennett said at least a portion of that unused water can be banked for future use, either by pumping it into the local groundwater table or socking it away in Lake Mead, which could use any extra water it can get these days.
"It's just like your paycheck. Every month you don't spend the whole thing, you're accumulating something you can use down the road," he said.
That's the good news from the bad. The bad news from the good is that when the community starts to grow again, construction water use is bound to go back up.
"It's another one of those sectors where the economic downturn has created some savings, but they're not permanent," Bennett said.
Construction water use is tracked using meters builders rent from the water district.
Davis said that even at the height of the boom, water theft at construction sites was never much of an issue because the penalty for getting caught siphoning unmetered water from hydrants was just too high.
"I would think the fire department would have kind of a limited sense of humor about that," he said.
Besides, Bennett added, many contractors seemed more than happy to pay for water, and use a lot more of it than they needed, so they could avoid something far more serious: an air quality violation.
In 2005, when construction-water use rivaled the amount consumed by all the valley's parks, schools and government buildings, the authority teamed with UNLV on a study aimed at reducing waste without compromising efforts to control dust.
The report identified ways to improve efficiency and cut water use by as much as 30 percent, but it never seemed to gain much traction in the construction community. Bennett said everyone was too busy to stop and switch out the nozzles on their water trucks.
"It's difficult to make a compelling argument to a running man," he said. "At the time we did that study, we couldn't even rent a water truck in the Las Vegas Valley. They were all out working."
Bennett doesn't expect construction-water use to go back up as quickly as it fell. He's no economist, but everything he has read talks about a slow and cautious recovery, not a spasm of growth as before.
Maybe this time around, he and others will have better luck getting builders to think more about water efficiency during construction.
He said he plans to dust off the study from 2005 and give it another try.
Contact reporter Henry Brean at hbrean@review journal .com or 702-383-0350.