Upbeat Berkley packs up, reflects
November 16, 2012 - 4:05 pm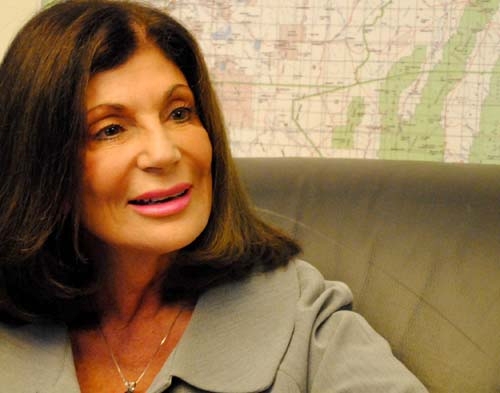 WASHINGTON – Much of Rep. Shelley Berkley's office was packed up weeks ago. It just was not known whether the boxes were going to be carted to the other side of the U.S. Capitol or shipped to Las Vegas.
The destination became all too clear to Berkley on election night when she lost her race for U.S. Senate. The cartons are going home.
"This is the biggest challenge, breaking down the office," the Nevada Democrat said Thursday as aides continued to pack stacks of boxes labeled with "SB" sticky notes.
Berkley's personal office had been crammed floor to ceiling with all things Las Vegas, neon-kitschy and otherwise.
It was a reflection of the flashiness for which she became known in the House even as she accumulated seven terms of seniority and a seat on the influential Ways and Means Committee.
Now, mementos such as the Rat Pack photos and the bobbleheads of the Las Vegas "Pawn Stars" are gone. Remaining to be boxed are the life-sized Liberace cardboard cutout, the neon-framed wall clock, a half-dozen or so panoramic poster boards of the Strip and the plush bunny that sings "Viva Las Vegas" when you squeeze its paw.
The tape sealing the packages signals closure on Berkley's 14-year career in Congress, extended only by a lame-duck session expected to last until Dec. 21.
She is selling two townhouse properties she and her husband own on Capitol Hill. The tiny black Smart Car she drove around the neighborhood also is for sale.
GOING HOME
"I never thought of myself as a Washington, D.C.-based person, so I am going home," Berkley said.
To what, who knows?
In an interview, Berkley did not close the door to future public service that might include elected office but indicated it was not at the front of her mind either, at least not at this time.
Married to Dr. Larry Lehrner, a prominent Las Vegas nephrologist and investor with a shared wealth of at least $9 million, Berkley, 61, acknowledged she does not have to work for a living. She laughed when asked whether she might become a lobbyist.
"I'm very lucky in that I don't have to get a job tomorrow to pay the rent next Friday, and that gives me options some others may not have," she said. "So I will see what comes my way and where I can do the most good and be of the most benefit for the issues I care about and for the people of Nevada in one capacity or another."
Berkley and Republican Sen. Dean Heller engaged in a heated campaign that Heller won by 12,127 votes out of 994,618 cast, according to unofficial results posted to the Nevada secretary of state website. Berkley, who spent more than $10.2 million on the race, said she expects to end up in the red. She loaned her campaign $250,000 in mid-October, but it was not enough.
"I had a good-faith belief I was going to win. I know we were ahead at the end of early voting," she said.
She said a late barrage of Republican ads challenging her ethics "probably is what turned the tide in the end, and by that time I had limited resources."
"We were pretty close to zero by the time we ended the campaign, or we would have been putting more money on TV, but we just didn't have the money," she said. "I suspect Larry and I will incur a loss."
Outside groups spent $3 million against Berkley in the final week of the campaign, according to the Center for Responsive Politics.
Berkley declined directly to link the late attack money with billionaire casino owner Sheldon Adelson, her old foe who spent as estimated $70 million to help GOP candidates, "but I think we all know where it came from."
In the end, Berkley said the ongoing investigation by the House Ethics Committee proved too dark a cloud, even as she spent millions of dollars attempting to rebut the attacks and explain her side.
"We were never able to quite get the message out," she said. "But for that I'd be a senator."
RESOLUTION FOR ETHICS PROBE
Berkley said she pressed the House Ethics Committee to complete its probe by the election. Now she said she wants it done by the time Congress adjourns and she is gone for good.
The panel is investigating allegations Berkley used her authority to press colleagues on issues that benefited her husband's practice, including rescuing the kidney transplant unit at University Medical Center from federal decertification in 2008, without disclosing that Lehrner's firm, Kidney Specialists of Southern Nevada, held a hospital contract.
Berkley has denied any wrongdoing, arguing Lehrner's contract was not tied to the transplant unit, and "it would have never even occurred to me" to put her thumb on the scales. Berkley said she has yet to be questioned by the committee, nor has she been subpoenaed.
"I would not need to be subpoenaed," she said. "I would very willingly go."
"I am still requesting the Ethics Committee dismiss the charges because I would like to go out without any doubt in anyone's mind," she said. "It very much makes a difference to me. I pride myself on being a very ethical person."
Berkley appeared relaxed during a 45-minute interview, joking and laughing while reminiscing about her time in Congress. The spontaneity was a marked difference from the Berkley who rarely strayed from message and whose accessibility to the media was limited during her Senate run.
She apologized for the campaign strategy. "It was a different philosophy entirely," she said.
Looking back on her years in Congress, Berkley said she was proud of the constituent work performed by her staffers, many of whom stayed throughout her tenure.
Her term comes to an end months after the completion of the project for which she might be best remembered. The Department of Veterans Affairs in August opened a new hospital in North Las Vegas for Southern Nevada's burgeoning population of military retirees. During much of her career, Berkley pressed the VA to keep the hospital on track .
"A lot of that just had to do with tenacity and appreciating the need in that community for some serious veterans health care," Berkley said. "There will be generations of veterans in wars unknown to us today. When they come home they are going to have a state-of-the-art hospital."
Berkley, the daughter of a hotel waiter and the granddaughter of Jewish immigrants who spoke no English when they arrived in the country, said she will leave Washington with no regrets. She plans to offer her official papers to the University of Nevada, Las Vegas, where she was the first member of her family to attend college.
"This is a great country," she said. "In two generations, we have gone from penniless immigrants to having a seat in the United States House of Representatives. It's wonderful, just fabulous."
Contact Stephens Washington Bureau Chief Steve Tetreault at stetreault@stephensmedia.com or 202-783-1760. Follow him on Twitter @STetreaultDC.