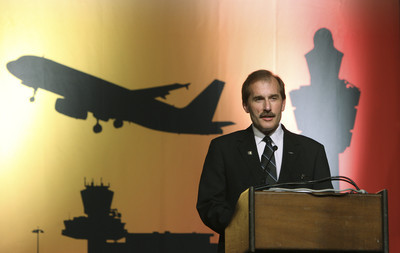 Jeffrey Skiles is just about done with the celebrity life.
Since helping splash land US Airways Flight 1549 in New York's Hudson River, the 49-year-old co-pilot has been on a whirlwind publicity tour, chatting with David Letterman, waving at the Super Bowl and picking up countless awards.
The latest stop brought Skiles to the Rio on Wednesday, where he and pilot Chesley "Sully" Sullenberger were recognized by the National Air Traffic Controllers Association. The union also recognized two of its own, Patrick Harten and Bill McLoughlin, for their roles in the Jan. 15 episode.
Skiles said he's lost count of the many certificates and plaques he's received.
"I don't even know anymore," he said. "More than I can hang on a wall."
His busy schedule even cost him the chance to grand marshal the St. Patrick's Day parade in his hometown of Oregon, Wis., a city of about 10,000 near Madison.
After two months on a whirlwind tour, Skiles said he's looking forward to ending his star turn at the end of the month and getting back into a cockpit and out of the spotlight.
"I see no future in being a long-term celebrity," he said.
He'll complete time in a simulator for the Airbus A320 before taking to the skies. The extra training is necessary because he had just learned to fly the aircraft before the crash after years of flying Boeing 737s.
Skiles said he suffered some post-traumatic stress symptoms after the incident, mostly sleepless nights spent replaying the ordeal in his head. That lasted about a week and a half, he said.
"I got over it pretty quick," he said.
What keeps him awake now is the stress of making public speeches and meeting various bigwigs, such as House Speaker Nancy Pelosi.
"You don't train for that," he said.
For McLoughlin, an air traffic controller and union official, training and experience were key in the safe landing of the jetliner that lost thrust in both engines after hitting birds.
He praised the work of Harten, a 10-year veteran who calmly worked with Sullenberger to find a safe place to land.
Harten testified before Congress last week that he believed that the plane was doomed after it dropped from his radar screen. Harten has not spoken to the media because of labor tensions between the union and the Federal Aviation Administration.
McLoughlin also braced for the worst as he and his fellow controllers watched the jet descend behind the Manhattan skyline before dropping off the radar.
"It's sort of a helpless feeling," he said Wednesday after receiving his award at the union's annual safety conference.
But relief replaced dread when McLoughlin and the others learned that all 155 people aboard were alive and safe.
"It went from the worst day in my career to the best day of my career in less than two hours," he said.
Contact reporter Brian Haynes at bhaynes@reviewjournal.com or 702-383-0281.