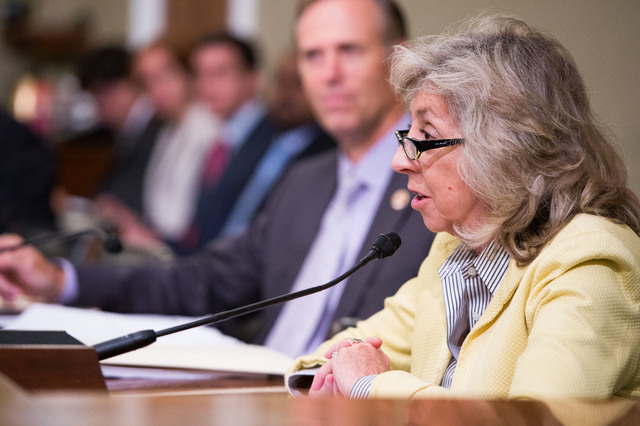 The Veterans Affairs regional benefits office in Reno was so overwhelmed with disability claims last year that it sent half of them to out-of-state VA offices for decisions, according to a letter Rep. Dina Titus released Thursday from a top VA official.
Of the 10,322 claims in its peak inventory in 2013, the Reno VA office — which is responsible for Nevada veterans — sent 4,678 Nevada claims from the state to VA regional offices in Cleveland, Philadelphia and Boise, Idaho, for brokering. Those brokered claims resulted in 68 percent favorable decisions, which means 32 percent were denied, according figures Titus received in a Jan. 30 letter from Allison Hickey, VA undersecretary for benefits.
Of the claims handled by staff at the VA Reno office, 71 percent were decided favorably for veterans. The 29 percent that were denied can be appealed. Both the in-state and out-of-state brokered claims decisions were on par with the national, one-third denial rate, according to Titus' staff.
Veterans receive disability compensation for injuries and illness incurred or aggravated during their active military service. The amount of the compensation is based on a rating assigned by the VA. A veteran rated 100 percent disabled who lives alone receives $2,816 per month. The rate increases to $3,099 for a 100 percent disabled vet with a dependent spouse and one parent. For comparison, a veteran rated 30 percent disabled with a spouse is entitled to $442 per month.
Titus, D-Nev., is the ranking member of a House Veterans Affairs subcommittee that oversees veterans disability and memorial affairs. She sent VA Secretary Eric Shinseki a letter on Dec. 20 seeking claims-completion performance data from the Reno office because she was "concerned that veterans in Nevada continue to face delays due to poor performance by the Reno Regional Office."
In a telephone interview Thursday about the VA's response, Titus said, "It was very interesting for me to see just how many of the claims were brokered. It just confirms what we've been saying for a year: That office has not been performing adequately in meeting the needs of veterans of Nevada."
A claim submitted to a VA benefits office for a disability rating is considered backlogged after a 125-day lapse with no action.
Much of the caseload at the Reno office resulted from a considerable backlog of claims that had lapsed for more than a year or even two years.
Hickey stated in her letter to Titus that since an initiative was launched in April to clear the oldest claims first, all of the 592 claims pending more than two years were completed and all but eight claims from the 3,945 pending more than a year — 99 percent — were completed.
"The average days pending decreased from 343 days in January 2013 to 165 days in December 2013, meaning Veterans are now waiting 178 fewer days for a rating decision," Hickey wrote.
Titus said officials at the VA Reno office have blamed the delays on "a lot of turnover in staff, and they're trying to do more training and they have to deal with California," referring to the Reno region that includes some veterans from northeastern California.
"It's been one excuse after another," Titus told the Review-Journal.
Based on her own experience with trying to get answers from the Reno office, she said she sympathizes with Nevada veterans. "I can understand their frustration."
She noted that the VA Reno benefits office was among the five worst in the nation in 2013 for completing claims that had sat idle for more than 500 days.
"I'm glad they brokered half of those cases because those veterans would have been waiting for years, not months," she said.
Of the claims that went to Cleveland, Philadelphia and Boise, Idaho, for brokering, the veterans who filed them received decisions in an average of 525 days. "This fiscal year, over 1,200 brokered claims have been completed," Hickey's letter states.
At the Reno office, the average days pending decreased from 343 days in January 2013 to 165 days in December. That means veterans can now expect to wait 178 fewer days for a rating decision.
But according to Hickey, a big challenge for the VA to complete claims looms on the horizon.
"With the conclusion of military operations in Afghanistan and Iraq, VA anticipates national receipts to increase in FY 2014," Hickey said. "However, by utilizing a national workload management strategy, the impact to any one (regional office) will be mitigated by brokering."
She said the Reno office's "production goal" is 5,590 completed claims this fiscal year, which started Oct. 1. So far the Reno office has completed 1,083 claims, of which 64 percent were decided favorably for veterans.
Contact reporter Keith Rogers at krogers@reviewjournal.com or 702-383-0308. Follow him on Twitter @KeithRogers2.