Vegas mayor will lie down on highway to block nuke shipments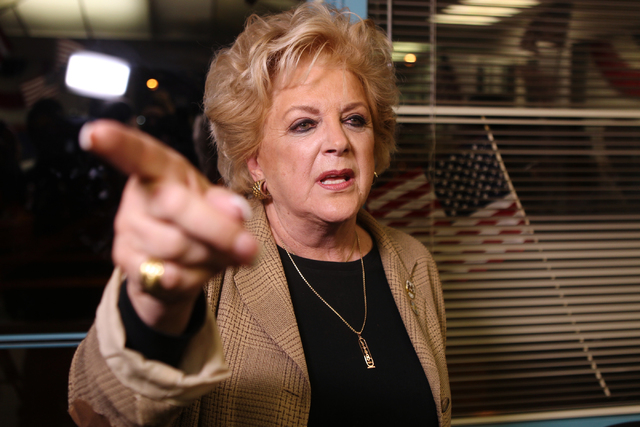 Las Vegas Mayor Carolyn Goodman says she may risk life and limb to stop the transport of uranium waste through her city.
Reacting to Monday's news that the Department of Energy will start shipping waste from Tennessee for disposal in Nevada, Goodman said she would "lie down on (U.S. 95)" to stop the waste shipments, echoing husband and former Mayor Oscar Goodman's threats to do the same several years ago.
"I find it absolutely incredulous," the two-term mayor said of Monday's transport announcement. "This is just not tolerable."
The uranium waste is expected to pass through Las Vegas on its way to a landfill at the Nevada National Security Site, 65 miles northwest of Las Vegas.
Federal officials are not expected to make the shipping schedule public, apparently neutering even tongue-in-cheek threats to try and head off the transports.
The Review-Journal on Monday reported an empty 20-foot cask that could be used to deliver the atom-splitting material was already en route from Tennessee's Oak Ridge National Laboratory and expected to arrive at the Nevada site on Wednesday.
That dry run will give security site contractors practice in lifting the cask by crane, removing its lid and putting the waste material in the landfill, where federal officials hope to eventually dispose of more than 400 such canisters carrying potent uranium-233 mixed with uranium-235.
Gov. Brian Sandoval objected to similar plans to transport the waste in 2013. Sandoval has since conceded that Nevada lacks authority to block waste burial at the security site so long as different types of fissionable material are properly classified for disposal.
Experts in nuclear nonproliferation have expressed concern that waste would remain potentially dangerous for hundreds or thousands of years.
Byproducts from the materials can also be used to make a bomb, fueling fears expressed by Goodman and others that shipments could be hijacked by terrorists or compromised by decrepit road infrastructure.
She called on energy officials to reinvest in researching on-site storage and treatment alternatives for the waste instead of shipping it cross-country and urged like-minded residents to write Nevada's congressional delegation to express their frustration over the move.
"We know what happened in the nuclear testing days," Goodman said. "We were told at the test site, 'These things are harmless, go out and take your children to watch these wonderful mushroom clouds.'"
"I know it would bring funds to Nevada," she added. "Sometimes there's other, better ways to find funding."
She was joined, at least in spirit, by Henderson Mayor Andy Hafen, who raised concerns over the waste shipping plan, but said he wasn't planning a roadside guerrilla protest anytime soon.
Hafen said the best way to stop the shipments may be a flood of letters to Capitol Hill.
"I can't understand why they can't put more effort into funding (waste) recycling efforts," Hafen said. "They've spent a lot of money on Yucca (Mountain). I think all of that money should have been spent figuring out how to recycle it.
"Frankly, I think we just need to take it to our representatives. I'd hope that other states and cities would do the same."
North Las Vegas Mayor John Lee — who threatened a Goodman-esque road blockade to halt planned shipments as recently as 2013 — sounded resigned to the DOE's transport plan Tuesday afternoon.
The former state senator said he and others did "everything we could" to stop similar shipments while serving on Nevada's Legislative Committee on High Level Radioactive Waste.
But now, he said, there may be no stopping them.
"I've heard they don't even tell the governor when they're coming through," Lee added. "I just don't support it. North Las Vegas and the rest of the region is not a septic tank for everyone else's trash."
Contact James DeHaven at jdehaven@reviewjournal.com or 702-477-3839. Follow him on Twitter: @JamesDeHaven.
Related
Nevada nuclear waste challenge: DOE officials thought they had a deal
DOE: Nuclear waste move to Nevada to start in 2014
Concerns raised over plans to bury bomb-usable nuclear material in Nevada