Volunteers air complaints about coordinator at new VA Medical Center in North Las Vegas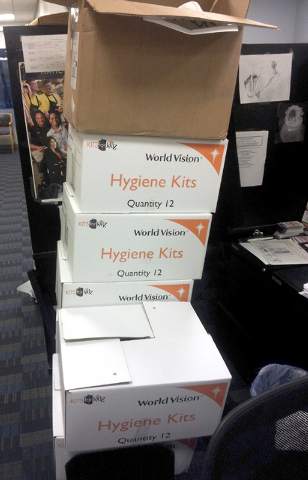 Some volunteers at the Veterans Affairs Medical Center in North Las Vegas are upset with the VA staff member in charge of volunteer services.
Many volunteers left after Karen Cinnamon, the VA volunteer chief, transferred from the VA Pittsburgh office and announced changes that included eliminating meals and compensation they were given for driving disabled vets from Laughlin and Bullhead City, Ariz., to the North Las Vegas hospital.
Two coordinators from Fort Mohave, Ariz., Elaine and Ed Halley, wrote U.S. Sen. John McCain, R-Ariz., on March 13 about their concerns. When asked about the letter, Ed Halley said while the stipend can be dealt with, their main concern is how Cinnamon handled the issue.
"Our only argument is that it could have been changed smoothly, without being misled," Ed Halley said. "The token stipend in question amounted to $5 regardless of daily hours. That's barely enough for a Big Mac and Coke.
"This change affected everyone in the area network volunteering more than six hours, but I doubt it caused much more than a moment of anguish," he said.
"The primary reason for all of the volunteers has always come down to helping veterans. The actions taken by Cinnamon have made that much more difficult."
Two of Cinnamon's VA staffers also filed internal complaints alleging verbal abuse and, in one case, a threat that implied physical harm.
She was suspended in 2013 while officials probed the matter but was reinstated in February. Meanwhile, she refused to let staff members distribute boxes of hygiene kits for homeless vets, according to one of the staffers. The boxes remain in storage at the VA Medical Center.
VA officials declined a request to interview Cinnamon.
The Halleys said in their letter to McCain that they took over as coordinators in 2012 "after the preceding coordinator had a nervous breakdown dealing with the stress of the program. Since August, 2012 we have had problems with VA Volunteer Services located at the new hospital in North Las Vegas."
According to the Halleys, those problems began when Cinnamon told them "there would be many changes."
"Our drivers and dispatchers questioned her about the lunch money, and she said we would not be getting anything. We tried to get a local restaurant to fulfill a void, as per her suggestion, but (VA Volunteer Services) never followed thru on the contract," they wrote in their letter.
Elaine Halley said McCain's office has responded to their letter. "They have contacted the hospital and will get back to me," she wrote in an email Saturday.
The Halleys noted that drivers pick up their vans at 4 a.m. and depart the Laughlin area at 5 a.m. to take veterans to appointments at the VA hospital and clinics in the Las Vegas Valley. They don't return until after 3 p.m. Veterans needing rides come from a database of some 200.
"The drivers who commute to L.V. only get a meal at the VA hospital when they get a voucher on site," the Halleys wrote in their letter to McCain.
"Immediately we lost eight drivers because of the bureaucratic changes. They said that it wasn't right that drivers assigned to Lake Havasu City and Kingman got paid (over $10 an hour) to drive to Prescott but we wouldn't even get a $5 voucher. It seems that Nevada doesn't pay their counterparts."
The Halleys said they struggled through 2012 to operate the van service. Then two VA staff members transferred, leaving no one to process required information.
"They couldn't bear the harassment and micromanaging of Karen Cinnamon," the Halleys' letter said. "They were close to having mental problems. From the time they left until the present, we are unable to get anything done."
Their concerns landed them on Cinnamon's list of "troublemakers," they said.
On Nov. 15, "Ms. Cinnamon was escorted out of her office due to an investigation. We were not privileged as to why, but know that she threatened someone in her office. She also threatened our driver. … His complaint was never investigated," their letter said, referring to the complaint. "Others in the (VA Volunteer Services) office were having emotional pain, but the thought of not having a job if they complained was paramount in their minds."
VA spokesman Richard Beam released a statement Wednesday: "Volunteers are an indispensable resource to the VA Southern Nevada Healthcare System. Their acts of volunteerism enrich the lives of both VA staff and the Veterans they support.
"Currently, (VA Southern Nevada Healthcare System) is rebuilding and reorganizing the volunteer service program and we recognize these changes may not match the needs of some who volunteer with us. We fully expect the new changes will make our volunteers experience more rewarding and meaningful," Beam wrote.
Complaints by the Halleys and staff about volunteer services leadership are the latest in a series of concerns that have surfaced since late October when blind Navy veteran Sandi Niccum endured a painful ordeal waiting for treatment of a ruptured abscess in her colon at the VA Medical Center's emergency department.
Niccum, a diabetic, died Nov. 15 at a hospice. A chronology of her experience that Niccum asked her neighbor, Dee Redwine, to submit to the Review-Journal prompted a probe by the VA's inspector general which has been ongoing since December.
In addition, other veterans have complained about rude treatment by staff at local VA clinics and long waits at the emergency room at the $1 billion VA medical complex, which lacks a short, direct ambulance access. In January, a $16 million construction project began to expand the emergency department and improve ambulance access just 17 months after the medical center opened.
Meanwhile, the planned community living center at the campus is being used by VA administrators and staff while construction continues on a $43 million administration building adjacent to the emergency department construction site.
Contact reporter Keith Rogers at krogers@reviewjournal.com or 702-383-0308. Follow him on Twitter @KeithRogers2.