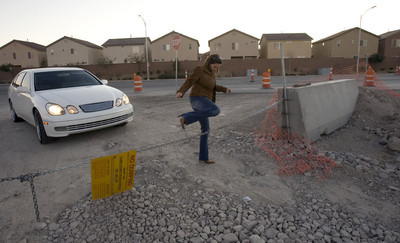 Gwenn Rypkema spent Thursday evening steering a borrowed Lexus through sketchy neighborhoods off Boulder Highway, searching for homeless kids.
It may as well have been a foreign country.
"I have no idea where we are," said the Summerlin resident, who deals in high-end real estate. "I am so not familiar with this side of town."
The 52-year-old volunteered to spend four hours counting street kids in the last leg of a countywide, point-in-time homeless census. She borrowed her daughter's Lexus because her own Acura was making funny noises.
"I thought I'd have homeless kids in my car," she said. "I wanted to make sure we were safe."
But Rypkema, one of hundreds of volunteers who fanned out across the Las Vegas Valley on Thursday to do the count, was told during a brief orientation at the Nevada Partnership for Homeless Youth that she would merely be counting, not transporting or helping, any homeless youths she encountered.
She was told to look for teenagers wearing dark clothing and dirty shoes who were carrying overstuffed backpacks. She would have to make a judgment call because nobody wants to admit they're homeless.
She was told she might not see a single homeless youngster all night because they are good at hiding. They don't mingle with the adult homeless population, and they tend not to want to be found.
The homeless youngsters would be hard to spot, she learned, though their numbers might have doubled in the past year because of the dismal economy. A year ago, about 50 new homeless minors each month stopped by the partnership looking for help. Now, the Maryland Parkway office sees more than 100 each month.
The Clark County School District now classifies more than 4,300 students as homeless, a 35 percent increase from this time last year.
That number includes children who are homeless with their parents and who might live in cars or shelters, not just "unaccompanied" kids who live on the street — the kids Rypkema was attempting to count.
She steered the Lexus behind strip malls and fast-food restaurants; she peered between trash bins and walked in her high-heeled boots along the banks of the wash. Meanwhile, she talked about growing up in Los Angeles, traveling extensively through Europe and eating the yummy seared foie gras at Rosemary's Restaurant.
The single mother of two grown children said she has mostly been blessed and has always believed in giving back.
When the weather's cold, she can often be found driving slowly through the downtown homeless corridor, handing out hand warmers. When her children were young, the family spent holidays serving the needy at the rescue mission.
One of Rypkema's favorite stories involves handing her gourmet leftovers to a man who clearly needed them more than she did.
"On the way home from dinner, I saw a homeless man and asked him if he was hungry," she said. "I handed him the bag and said, 'It's duck and lamb.' That must have sounded ludicrous to him, but he started eating it almost instantly."
"I feel really lucky to have the things that I have," she continued. "Especially now, I am really conscious that homelessness could happen to anyone. It could be you or me."
Like so many others in the worsening economy, Rypkema has fallen on tough times. The local real estate market isn't what it used to be.
"I gave up my housekeeper," she said. "I can't travel the way I used to. I'm really careful about what I buy at the grocery store. It's a whole different life."
Rypkema's own changing circumstances have only increased her desire to help others, she said.
At the end of the night, though, she returned to Nevada Partnership for Homeless Youth without having encountered a single homeless youth.
"I so wanted to contribute," she said, her face etched with disappointment. "I feel like I failed."
Contact reporter Lynnette Curtis at lcurtis@reviewjournal.com or 702-383-0285.