WEEK IN REVIEW: Reporters' Notebook
November 28, 2010 - 12:00 am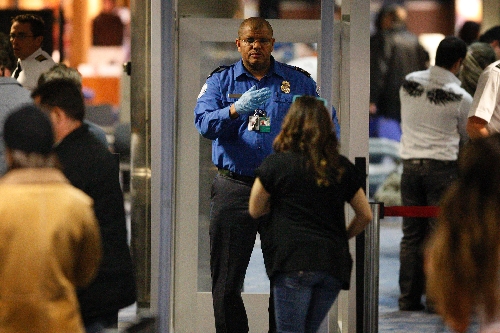 An incident following Tuesday's election canvass prompted a Twitter exchange between Secretary of State Ross Miller, who tweets at @rossjmiller, and two Las Vegas Sun reporters, Anjeanette Damon (@AnjeanetteDamon) and David Schwartz (@schwartznews). The Vogel referenced in the exchange is Review-Journal reporter Ed Vogel, who does not tweet.
Here's how it appeared on Twitter:
Miller: Finished canvass then nearly tumbled down the stairs but @schwartznews caught me; I owe him for not breaking my crazy neck
Damon: Heroic Sun reporter saves politician.
Miller: No – "Heroic Sun reporter @schwartznews saves Democracy."
Schwartz: RJ's Vogel appropriately chided me for ruining good story.
RICHARD LAKE
Those who visited the Lloyd George U.S. Courthouse early Wednesday may have felt like extras in Alfred Hitchcock's 1963 thriller "The Birds."
For about 45 minutes, a massive flock of birds overtook the canopy that sits 175 feet above the courthouse entrance near Las Vegas Boulevard.
While the noisy critters exhibited none of the vicious characteristics of the birds in Hitchcock's film, they did manage to "fowl" the plaza entrance. Anyone caught gawking at the birds overhead soon realized it was, quite literally, raining bird poop.
Georganne Neubauer from Henderson's Bird Viewing Preserve, seemed unfazed by the news.
"Everybody poops," she said matter-of-factly.
Neubauer couldn't be sure what type of bird swarmed the courthouse, or why. "They could have been starlings, and they could have been migrating," she guessed.
Neubauer acknowledged that explanation would make more sense if the flock had been seen over a cornfield, rather than in downtown Las Vegas. "But you know, the weather's been weird," she said.
CARRI GEER THEVENOT
Cricket Wireless gave away 250 turkeys to the needy for Thanksgiving. The company also handed out slices of pizza, drinks, pony rides and tickets for carnival games.
One man was overheard on a cell phone telling someone about it: "Hey, Eddie, they got a beer truck here and everything. Oh yeah. Partying up. It's better than Mardi Gras."
For the record: There was no beer truck and, while the atmosphere was fun, it was not better than Mardi Gras.
RICHARD LAKE
Week In ReviewMore Information