WEEK IN REVIEW: Reporters' notebook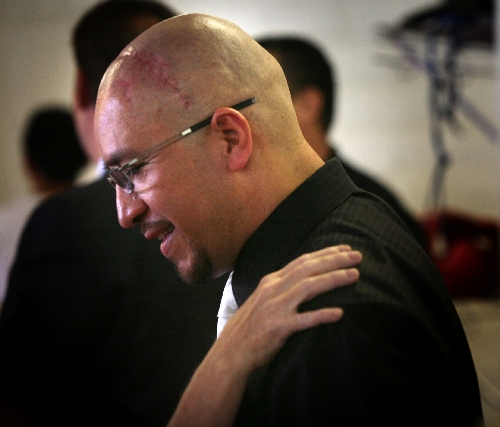 Zappos CEo Tony Hsieh has been heralded as an entrepreneurial genius and the possible savior of downtown Las Vegas. Maybe all the hero worship is going to his head.
Consider Zappos' website. When you order something from the online retailer, you get the obligatory "How did you hear about us?" question. And if you pick the first answer that pops up in the drop-down menu your exchange with Zappos will read like this:
Q: How did you hear about us?
A: "Delivering Happiness" book by Tony Hsieh, Zappos CEO.
Obviously, this is just a none-too-subtle effort to drive book sales. But if you're shopping for a new way to suck up to the Seer of Stewart Avenue, all you have to do is buy some shoes.
HENRY BREAN
Alex V. Lopez, the guy who guarded Gestapo founder Hermann Goering during the Nuremberg Nazi war crime trials, had a canine companion that saved his life in World War II.
"When I was in France, I picked up a little puppy, Scrappy, and I took care of him. He ate K-rations and he got to where he hated Krauts," Lopez, 86, said. "So, when we were in Czechoslovakia, we were going up a mountain and he started running. I'm behind him and my whole squad is behind him."
While under heavy artillery fire, Scrappy led them to a safe ravine, where they all huddled in a hole and escaped the shelling.
"That little dog knew where to go," Lopez said, adding that they stayed there "until those suckers had come and gone."
That evening, Lopez found a strategic spot to set up his .30-caliber machine gun. "When I'd have the machine gun going at night, he'd sit there and watch and growl."
KEITH ROGERS
TWEET OF THE WEEK: @Danger
Guerrero (who writes about TV for UPROXX.com) That chimp should be posthumously awarded the Presidential Medal of Freedom for clearing my timeline of depressing Penn State-related news.
BONUS TWEET: @EricStangel (head writer and executive producer "Late Show with David Letterman") Bryce Harper is now the 2nd youngest player to bat in an #ASG behind Bryce Harper who batted 45 minutes ago… #History