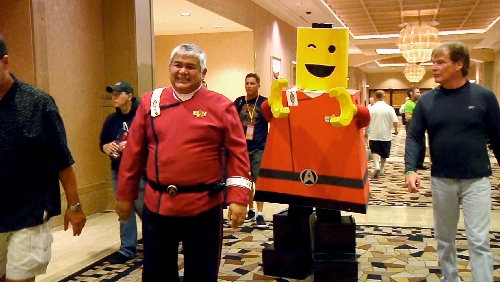 A downgrade in the nation's bond rating touched off a roller coaster of a week on Wall Street, prompting fears of fallout for Nevada's fragile, tourism-dependent economy.
The new AA+ credit rating for the federal government is the same rating Nevada had until March when Standard & Poor's downgraded it to AA. In downgrading Nevada, S&P cited the state's dependence on tourism spending and the need for an economic recovery in other states as primary factors for the change.
Dow Jones values went up and down all week but have dropped nearly 2,000 points in the past three weeks.
Gaming stocks went along for the nauseating ride. Shares in Wynn Resorts Ltd. fell 7 percent on Aug. 5 and 9 percent on Monday, then rose 10 percent on Tuesday, fell 4 percent on Wednesday, before rising 5 percent on Thursday and 3 percent on Friday.
MONDAY
Paid to resign
Less than three months after she crashed her car and was arrested on drunken driving charges, Henderson City Attorney Elizabeth Quillin agreed to resign in exchange for roughly $120,000 in pay and benefits.
She still faces misdemeanor charges including drunken driving in connection with the May 23 crash.
City Council members approved the deal because they said the city ran the risk of having to pay several hundred thousand dollars had Quillin decided to challenge any attempt to fire her.
TUESDAY
City, union scolded
A frustrated judge ordered North Las Vegas officials and the police supervisors union to make nice and help the city avoid financial disaster.
During a hearing on a union request to freeze $1.1 million in cuts to police supervisors' pay and benefits, District Judge Susan Scann told city officials and union representatives to meet with another judge for a "mandatory settlement conference" in hopes they can agree on concessions to help the city trim its $4.9 million shortfall.
The city is running out of time to make cuts for fiscal 2012, which began July 1.
WEDNESDAY
Blaze snarls traffic
A tractor-trailer hauling 9,100 gallons of gasoline exploded on southbound Interstate 15 just north of the Spaghetti Bowl, closing a six-mile stretch of freeway for hours and snarling traffic.
The driver escaped unharmed, but flames continued to shoot into the air for almost two hours after the early morning crash.
THURSDAY
School talks stall
Stalled talks between the Clark County School District and its teachers union might put 800 jobs at risk.
District officials announced the two sides have reached an impasse in bargaining that is unlikely to be resolved by Aug. 29, the first day of school.
The stalemate isn't expected to impede the launch of the new year, but it makes clear that the union is unwilling to grant concessions sought by the district, which needs to close a $56 million budget hole.
FRIDAY
Still coming? Really?
Despite 13.8 percent unemployment and an epic housing bust, recent indicators hint that people are still moving to Southern Nevada.
The number of out-of-state driver's licenses surrendered in Clark County surged in the first half of 2011, up 21.7 percent over the first six months of 2010.
Then there are customer numbers from NV Energy, which rose about 1 percent and, unlike the driver's license figures, do take into account the recently departed.
Week In Review
More Information
NUMBERS
452
Pounds of cocaine seized during a traffic stop near Jean on Wednesday, "the largest cocaine seizure on record in Southern Nevada," a Las Vegas police press release said.
851
Pounds of cocaine found by Las Vegas police on a coach bus on Interstate 15 in 1993.
$482,883
The amount allegedly stolen from a multimillion-dollar sports betting operation started by gambler-developer Bill Walters.
47th
Nevada's rank in job creation, according to a University of Nebraska study. Only Arizona, Mississippi and South Carolina were worse. Nevada was seventh in 2008.
QUOTES
"They were a strange bunch. I'm glad they're gone."
Lukey Corral
Talking about the recent departure of her neighbors on Gilbert Lane in Las Vegas: Followers of Polygamist leader Warren Jeffs, who was sentenced to life in prison in Texas on Tuesday.
"I knew he was going to kill me."
Janeen Placencia
After a man forced his way into a northwest side condominium and pointed a gun at her on Monday. Her assailant, 36-year-old Allen Stout, was later shot by Las Vegas police but survived.
"You fight battles for so long, it starts to wear you down."
Tom Morton
who announced his resignation as head of Clark County Family Services on Monday because he said he was tired of having too few resources to protect children.
"They are out of the relationship and want to express themselves. They were living through their hair for their partner."
Staci Linklater
salon director of Globe Salon, who says 80 percent of women who change their hair after a breakup do so because their ex liked it that way.